Grandparents loom large in young children's lives, and storytimes featuring these beloved family members are especially welcome as Grandparent's Day (September 8) nears.
Grandparents loom large in young children's lives, and titles featuring these beloved family members are particularly welcome, including such favorites as Helen E. Buckley's Grandmother and I and her Grandfather and I. Consider these new titles to update your storytime programming or displays as holidays and Grandparent's Day (the first Sunday after Labor Day) near.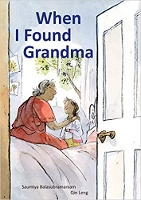 BALASUBRAMANIAM, Saumiya. When I Found Grandma. illus. by Qin Leng. 32p. Groundwood. Mar. 2019. Tr $17.95. ISBN 9781773060187.
K-Gr 2–Maya's grandmother comes to visit and her arrival takes a bit of adjustment. Grandma wears a "fancy" sari from her home country, she wakes to her loud prayer bells each morning, she cooks nuts in her rice, calls Maya, "Mayalakshmi," and most of all—she's very loud. With detailed ink and delicate watercolor, the illustrations of Maya at school and at home emphasize her bewilderment at her grandma's strange ways, her embarrassment, and finally her anger at a possible halt to vacation plans, changed to celebrate the Holi festival with their guest. In a full-page scene of their family trip to an amusement park island, a collection of family groups interact within the crowd around a monstrous Ferris wheel. Suddenly the little girl's fear and isolation surround her as a small dark space when she realizes her separation from her family. Each succeeding page reveals Maya's reunion with her family due to Grandma's resourceful actions and a growing realization of the elder woman's love for her granddaughter. Maya's first-person narrative and trusting face relates the young girl's changing feelings. There are warm smiles and "thumbs up" for Grandma's cooking, even rice with nuts, and the prayer bells now sound "like the sweet tinkle of Grandma's bangles." VERDICT A child's-eye view of cultural differences and working through family relationships; a suggested first-purchase for all libraries.–Mary Elam, Learning Media Services, Plano ISD, TX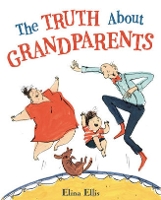 ELLIS, Elina. The Truth About Grandparents. illus. by Elina Ellis. 32p. Little, Brown. Sept. 2019. Tr $17.99. ISBN 9780316424721.
PreS-Gr 3–While a young boy admits that his grandparents are "really old" with "wrinkly faces, a little bit of hair, and funny teeth," the things he's heard about old people just don't align. The cover, which features the child, dog, granny, and grandad jumping barefoot on a trampoline says it all. In this perfect marriage of text and illustrations, each spread dispels another myth about the aged. "NOT MUCH FUN" shows the narrator sandwiched between his grands on a riotous roller coaster; "SLOW…" has them skateboarding and roller skating downhill; "NOT BENDY" pictures them in a yoga class; "SCARED of new things…" shows the boy and Grandpa playing a video game while Grandma is engrossed with her laptop. And "…they definitely don't care for ROMANCE" shows the couple sharing a tender kiss. Grandson concludes that he "…knows the truth…Grandparents are…AMAZING!" The illustrations, rendered in pen, ink, gouache, and photoshop, depict a short, round grandma with red dress and shoes and a tall, thin balding grandpa with suspenders and bow tie while the short, stout tyke seems to favor gran. The little brown dog adds to the fun, growling at a robo-pet, dancing with abandon or hiding under a pillow from the loud music. The endpapers show a vibrant household cluttered with African masks, suitcases, sports equipment, books, and family photos. VERDICT A delightful read-aloud that celebrates grandparents and the special bond they share with their grandchildren.–Barbara Auerbach, Cairo Public Library, NY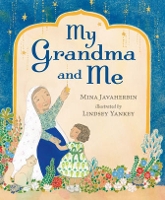 JAVAHERBIN, Mina. My Grandma and Me. illus. by Lindsey Yankey. 32p. Candlewick. Aug. 2019. Tr $16.99. ISBN 9780763694944.
PreS-Gr 2–Grandparents can have an enormous effect on their grandchildren and books that showcase such relationships are always welcome. The Iranian grandmother here has endless patience and love for her little granddaughter. When Grandma swept, the child swept; when Grandma prayed, the girl prayed; and when Grandma cooked, her granddaughter did as well. She follows her around daily, mirroring everything she does. The love and kindness the child receives is satisfying and speaks to the bond between the two characters. Some of their interactions are specific to their culture, such as fasting during Ramadan and donning their chadors and walking together to the mosque. The illustrations are created using a soft, inviting palette that incorporates tile and rug patterns particular to Iran. This book offers both windows and mirrors into a warm and loving familial relationship and will be appreciated by a wide range of young readers. VERDICT A lovely book for anyone looking for intergenerational stories for one-on-one or group sharing.–Joan Kindig, James Madison University, Harrisonburg, VA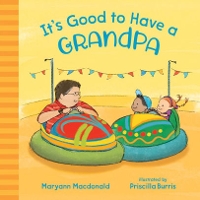 Macdonald, Maryann. It's Good to Have a Grandma. ISBN 9780807536766.
––––. It's Good to Have a Grandpa. ISBN 9780807536759.
ea vol: illus. by Priscilla Burris. 32p. (It's Good to Have a Grandparent). Albert Whitman. Aug. 2019. Tr. $16.99.
Toddler-PreS –These immensely charming books about the attributes of grandmas and grandpas covers a wide range of activities and personality traits. Many children will be able to find some connection with their own grandparents in the pages. Grandmas are patient and funny and don't mind if you spill things. Grandpas are always up for an adventure and full of jokes and like to watch your new tricks at the playground. Both grandmas and grandpas love to tell you stories about when they were young. Difficult topics are not brought up here, but they do both cover that sometimes grandparents live far away and that it's a real treat when grandchildren get to see them. Parents are not found in the pages, which positively keeps the focus solely on the grandparent-grandchild relationship. Burris's illustrations are fairly simple, but they do show many different kinds of families and focus on all of the fun things you can do together. VERDICT These books are full of the warmth and affection that grandparents carry for their grandchildren. Recommended for most picture book collections.–Gretchen Hardin, Bee Cave Public Library, TX
OH, Joowon. Our Favorite Day. illus. by Joowon Oh. 32p. Candlewick. Sept. 2019. Tr $16.99. ISBN 9781536203578.
PreS-Gr 1–Oh's debut picture book captures the precious relationship that exists between a grandfather and his granddaughter. The minimal text is coupled with fetching illustrations done with cut paper and chronicles an old man going through his daily routine. Papa wakes up, drinks his tea, waters his plants, and then takes the bus into town. Once there, he visits a restaurant and gets his usual order of dumplings and then goes home and goes to bed. One day, however, his routine changes. We observe Papa stopping at a craft store for colorful art supplies, getting two orders of dumplings to go, and even picking some flowers on the way home. Then we see him sitting in his kitchen and waiting. The next spread shows an elated little girl in pigtails running headlong toward the old gentleman yelling "Papa!" Readers are then treated to delightful images of the two enjoying their afternoon together. They converse over their shared dumplings and make an adorable butterfly kite out of the craft supplies. The last page contains no text and shows the two contentedly flying the kite in a beautiful open field. VERDICT Less is more with this quiet, lovely read that celebrates the simple pleasures that a grandparent and child can share together. Strongly recommended for purchase.–Amy Nolan, St. Joseph Public Library, MI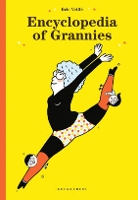 VEILLÉ, Eric. Encyclopedia of Grannies. tr. from French by Daniel Han. illus. by Eric Veillé. 32p. Gecko. Aug. 2019. Tr $17.99. ISBN 9781776572434.
Gr 2-5–There is more to a granny than at first meets the eye. As shown on the first page of this book, children have many questions about grannies: How old is a granny? How flexible is a granny? And, why do grannies have creases? To name just a few. Guided by a helpful feline friend, readers can find answers to many of these inquiries in the selected articles of this "encyclopedia." Each page is devoted to one consideration about grannies, beginning with a brief introduction followed by an illustration and word bubbles to augment the discussion. Fans of Veillé will recognize his iconic illustrative style and sense of humor, expertly translated from the original French. The text often includes quirky phrases and ideas that are directed more to the adults reading this book than to children, though youngsters will appreciate the bug-eyed, zany character depictions. Bound by thick cardboard covers that protect thicker-than-average matte pages within, this high quality production is designed for longevity. VERDICT This book is a comic exploration to share with families of lighthearted grannies of all kinds.–Mary Lanni, formerly of Denver Public Library