Children's Book Week turns 100, and the literacy initiative is providing free resources to help everyone mark the occasion.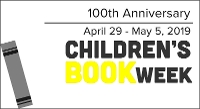 Monday marks the beginning of the 100th Children's Book Week (April 29–May 5). This celebration of books for children and teens is the longest-running nationwide literacy initiative in the country.
Children's Book Week is run by Every Child a Reader, a nonprofit dedicated to "inspiring a lifelong love of reading in children and teens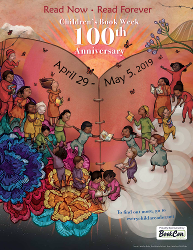 across America." The organization has provided schools and libraries with free resources, including bookmarks, activity sheets, a graphic novel activity kit, and the official poster (left) designed by Yuyi Morales.
In addition, a 12-artist collaborative poster is being revealed, one panel at a time, throughout the year. Each panel/mini-poster is available for download while the commemorative poster builds to a whole.
The week is also a great chance to have kids vote on the Children's and Teen Choice Book Awards.
If you don't have an opportunity to mark the week with an event, activity or program, don't worry. This year, a second Children's Book Week is scheduled from November 4-10. While honoring the centennial anniversary, these weeks are also opportunities to take a look back at the history of the initiative while noting some of this year's highlights: