The debut author spoke with SLJ about releasing her first book during a pandemic, writing novels as a tween, and the key to balancing stories of loss with plenty of love.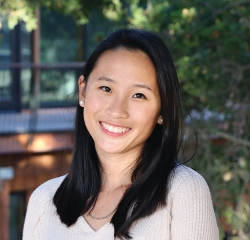 Photo by Bryan Aldana
In Clues to the Universe, 12-year-old Rosalind Ling Geraghty doesn't want to start over. Transferring to a new school after her father's death means a lot of awkward questions and a lot of loneliness. When Ro finds an unexpected friend in laid-back artist Benji, the two embark on unfinished business to bring them closer to their fathers. Debut novelist Christina Li spoke with SLJ about releasing her first book during a pandemic, writing novels as a tween, and the key to balancing stories of loss with plenty of love.
You've mentioned that you started writing this story at 12 years old! What was your writing process like then, and how has it evolved?
I started writing novels when I was 12, and I wrote a couple of manuscripts before I came up with the idea of Clues to the Universe during the summer after my high school graduation. When I was younger, all I wanted to do was to get a story down, and often I had a really fast-paced, plot-driven sense of writing. I was always focusing on what happened in stories, rather than focusing on what happened and why. I also didn't tend to plot a lot when I was just starting out, leading to a lot of trunked (half-written) manuscripts. As I've grown up and written more books, I've started paying more attention to the characters and the emotional stakes of a story, and tried to be more intentional about the way I write and structure my stories, as well.
What is the significance of the title Clues to the Universe?
One of the big mysteries in the book is the location of Benji's long-absent father—the man who also created "Spacebound," which happens to be Benji's favorite comic book series. The series is truly the only tangible thing Benji has of his father. Throughout the course of the novel, Benji and Ro are searching for the "clues" in the comics to see if anything might lead them to his dad. This book is also about two kids navigating the bigger universal questions surrounding friendship and family and grief, and just what happens during a period of major growth and loss. As they're searching for the "clues" to Benji's father and the "clues" to a successful rocket launch for Ro, they're also searching for the larger clues to the world and the universe as well.
Rosalind and Benji's blossoming friendship over personal loss is the heart of your book; how did you craft such a complex friendship for middle graders?
Writing Ro and Benji's progression from awkward science class desk partners to best friends was one of the most nourishing experiences for me as a writer. Friendship is just such a monumental part of growing up, and my all-time favorite middle grade books always involve characters that, through the most unlikely of circumstances, become friends. Ro and Benji, at the beginning of the book, seem to be super different. Ro is a scientist at heart; she's super logical and always has a plan of action for everything. Her way of dealing with loss is trying to do small things that make everything seem "just a bit more okay". Benji, on the other hand, is an introverted artist with a flair for imagination and exaggeration, and his way of dealing with his absent father is to just read his father's comics obsessively and dream up scenarios in which they are reunited. What both characters bond over is the fact that they have lost people who have been so incredibly influential in their lives; Ro with her scientist dad, Benji with his artist father. And when they become friends, they're not just helping each other achieve their goals—they're helping each other cope with that loss as well, in their own ways.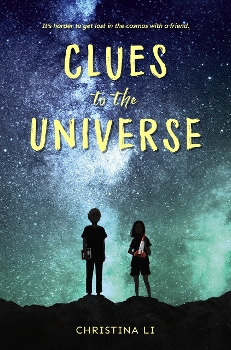 Ro talks candidly about the racism she experiences because she's biracial, both from strangers and her own family. Why was it important for you to showcase these experiences?
I am Chinese-American but not biracial, so in that aspect I definitely tried to approach Ro's identity with a great deal of feedback and sensitivity. One of Ro's struggles is that she feels like she doesn't quite fit in anywhere. She's raised by a Chinese-American single mom in a rather culturally homogenous place, and so she's one of the only Asian kids at her middle school. Everything—from the food she eats at home to the holidays she celebrates—is different from that of the other kids at her school. But also, when she is reunited with the Chinese side of her family, there is judgment and disconnect from them as well. Through writing Ro's character and her experiences, I wanted to capture that cultural struggle between feeling not "American" enough and not Chinese enough.
Your novel centers two unlikely friends pursuing big dreams while touching on serious issues like bullying, grief, and absent parents. How did you approach writing about these tough topics for a middle grade audience?
Kids often do deal with serious and tough topics in real life. I try to go about writing these topics by grounding them in the emotions I would have felt when I was that age. Bullying is really gutting, especially to someone who is growing up and just trying to figure out who they are; it can really ruin their confidence. Grief, too, can feel insurmountable. I try to bring those topics to the story with emotional details that can ground the reader. Grief sometimes is expressed in the minutia—belongings gathered up and boxed tightly away or the empty feeling during passing moments of the day, for example. And so with these big and tough topics, I really tried to just make them feel very, very real.
While Clues does include a lot of heavy and tough topics, it also contains light and warmth as well. The characters experience grief alongside moments of solidarity and support. They learn to stand up for each other. And even though this book is about loss, it is also very much about love.
As a student studying economics, is there a difference in how you approach your studies versus your fiction writing?
There is definitely a difference. Economics is super analytical and logical. There are a lot of numbers involved, and there's always a very direct and causal approach—how does x lead to y? Writing, on the other hand, is much more imaginative. Writing a book is like slowly revealing a secret. Or revealing a journey, I guess. I'm dealing with characters and emotions and motivations that don't quite feel as clear at the outset, but throughout the book, they become much more clear.
What has it been like releasing your debut novel during the pandemic?
It's definitely an interesting experience! Debuting during the pandemic is tough, and there's definitely a lot to learn and to adjust to. But I do have support in this debut process, and for that I'm really grateful. My team at Quill Tree has been fantastic in helping me adjust as a debut author in this pandemic, my friends and family are cheering me on, and the middle grade book community has been so supportive as well with boosting each others' books during these really uncertain times. So it's definitely a challenge, but I'm lucky in that regard.
What's next for you?
I'm currently working on another middle grade book—a contemporary this time! It's been so fun getting back into the drafting mindset, and I can't wait to share more details soon.