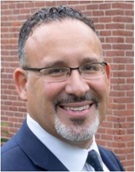 Connecticut Commissioner of Education Miguel Cardona is Joe Biden's nominee for Secretary of Education, fulfilling the president-elect's promise to name a public school educator to the position.
"An educator will lead our Department of Education," Biden tweeted. "I am proud to nominate Dr. Miguel Cardona to ensure our teachers are taken care of, and our children have an opportunity to thrive."
Cardona is a product of the Meriden (CT) public schools and he went on to teach elementary school before becoming an elementary school principal and then an assistant superintendent in the district. In August 2019, he left the district to become the state's commissioner of education.
If approved by the Senate, he will be charged with pulling the U.S. education system out of the pandemic.
"In Miguel Cardona, America will have an experienced and dedicated public school teacher leading the way at the Department of Education—ensuring that every student is equipped to thrive in the economy of the future, that every educator has the resources they need to do their jobs with dignity and success, and that every school is on track to reopen safely," Biden said a Tuesday evening in a statement. He officially introduced Cardona on Wednesday morning.
Cardona indicated on Twitter that he is ready for the challenge, tweeting early Wednesday morning, "It's Go Time!!! #WeGotThis"
During the official introduction, Biden said Cardona would be in charge of the administration's education plans, including forgiving student debt. But much of the focus of Cardona's speech was the impact of the pandemic.
"It's taken some of our most painful, long-standing disparities and wrenched them open even wider," Cardona said. "It's taxed our teachers, our leaders, our school professionals and staff who already pour so much of themselves into their work. It's taxed the families struggling to adapt to new routines as they balance the stress, pain and loss that this year has given. It has taxed young adults trying to chase their dreams to advance education beyond high school and carve out their place in the economy of tomorrow and it has stolen time from our children who've lost something sacred and irreplaceable this year despite the heroic efforts of so amny of our nation's educators."
Saying the impact will last for years and the inequities that existed before and have been worsened will be there when the virus is gone, he called it an opportunity and privilege "to take this moment and do the most American thing imaginable, to forge opportunity out of crisis, to draw on our resolve our ingenuity and our tireless optimism as a people and build something better than we ever had before."
Biden has pledged to get most schools reopened across the country within his first 100 days. While Cardona has said he believes having students physically at school is the best option for them, he has not pushed the issue and has helped districts adapt to meet the needs of administrators, educators, and students. On top of that unprecedented task, Cardona would need to change the national narrative of the previous administration, which criticized public education and pushed school choice. While Secretary of Education Betsy DeVos didn't have a lot of success changing policies or cutting and reallocating the department's budget in her tenure, her impact can be felt at the local level where her talking points took hold.
There were the already many pressing needs of the U.S. education system, which Biden outlined for Cardona in a release announcing the nomination on Tuesday night.
"He will help us address systemic inequities, tackle the mental health crisis in our education system, give educators a well-deserved raise, ease the burden of education debt, and secure high-quality, universal pre-K for every three- and four-year-old in the country. As a lifelong champion of public education, he understands that our children are the kite strings that keep our national ambitions aloft — and that everything that will be possible for our country tomorrow will be thanks to the investments we make and the care that our educators and our schools deliver today," Biden said.
As for librarians, in his home state of Connecticut, Cardona's nomination was met enthusiastically.
"We are excited to have him in this position!" Connecticut Association of School Librarians (CASL) president Barbara Johnson wrote in an email. "The Dept of Ed has been a collaborative partner with CASL under his administration."
Johnson noted Cardona's work to get devices to students around the state so they could access remote learning during the pandemic. She is also looking forward to Cardona possibly collaborating with First Lady Jill Biden.
"I am especially interested to see the how Dr. Biden and Commissioner Cardona work together to provide equity, inclusion, and access to learners nationwide (which would include Certified Librarians and well- funded libraries)," she wrote.
Melissa Thom, school librarian at Bristow Middle School in West Hartford, CT, and CASL vice president, said Cardona has reached out to CASL for information, been interested in their work and included the organization in department discussions. He has asked CASL for help, including working on getting standards in front of the state's board of education, and responded to a tweet earlier this spring and called Thom for "a short chat" about a survey that was being sent out and encouraging her to pass it along to the librarians, Thom said.
"We are very hopeful that he will be attentive to librarians and we plan on using Twitter as one of our vehicles of communication," she said via email.
[READ: Biden Administration's Bold Education Goals Will Require Large Increase in Funding]
Cardona emerged from a shortlist that included Leslie T. Fenwick, who was the dean emeritus of the Howard University School of Education for nearly a decade and is still a professor of educational policy and leadership. While Fenwick had vocal supporters, her "controversial" opinions on some areas of education reform reportedly hurt her chances. While those who championed Fenwick, who would have been the first Black woman to hold the position, are disappointed, the Hispanic Federation and Hispanic Caucus are thrilled with Cardona's selection. Both wrote letters to Joe Biden endorsing Cardona for the position and celebrated the nomination.
Hispanic Federation founder and former president Luis Miranda, Jr. tweeted, "History has its eyes on you!!! @teachcardona Go fly and make us proud!@latinovictoryus@HispanicFed @JoeBiden"
Former president of the National Education Association Lily Eskelsen García, who was also discussed for the role, "proudly supported" the nomination.
"There is much work to undo the damage, destruction, chaos and havoc wreaked on public education by Betsy DeVos during her tenure," García said in a statement. "Dr. Cardona will ensure that the federal government's role in education is to provide access and opportunity for every student — no matter who they are, where they come from or where they live. He will defend our students' civil rights and focus on the success of all students.
"All students deserve equitable access to opportunities that will determine the trajectory of their lives. The work of the U.S. Department of Education is to make the word 'all' mean all. I look forward to working collaboratively with Dr. Cardona to make this a reality."
On Wednesday, Cardona told the story of his grandparents moving from Puerto Rico to Connecticut for the chance at a better life for their family, talked about his parents and about being the first in the family to graduate from college.
"I, being bilingual and bicultural, am as American as apple pie and rice and beans," he said.
Cardona didn't know English when he went to kindergarten. He grew up in public housing in Meriden, CT, and attended the public schools there. After graduating from Wilcox Technical High School, he received a bachelor's degree from Central Connecticut State University, then went on to get a master's in bilingual/bicultural education and a doctorate in education from the University of Connecticut.
"For me, education was the great equalizer but for too many students your zip code and your skn color remain the best predictor of the opportunities you'll have in your lifetime," he said.
Cardona was an elementary school teacher for five years before becoming in 2003 the youngest principal in the state, at age 27. He spent a decade as a principal before becoming the district's assistant superintendent. With Cardona leading the state's department of education, Connecticut just became the first state to require a Black and Latinx studies course be offered at ever high school, starting in the 2021-22 school year.
While the National Federation of Teachers and National Education Association backed the pick, Newsweek found some teachers who criticized the choice, saying they believed Biden's promise meant someone who is in the classroom now would be selected and are quoted as saying that Cardona didn't have enough classroom experience at five years to really be considered a teacher. Most of his career has been spent as an administrator, they said, counting it as a negative to his nomination, adding that without being in the classroom right now, he doesn't understand the pandemic experience.
But administrative experience is important in such a role. As Trump appointments have shown, applicable experience matters a great deal, and to suggest that Cardona doesn't understand what students and educators are going through during the pandemic seems disingenuous at best. To expect Biden to pluck someone straight from the classroom for the post was also not particularly realistic. Experience as a classroom teacher was what Biden promised, and experience as an collaborative administrator and education leader is vital to be successful in such a post.
He pledged that collaboration, translating from a Spanish phrase that he said means, "We gain strength from joining together," and saying he looks forward to "sitting at the table with educators, parents, caregivers, students, advocates, state, local and tribal leaders."
He finished by thanking Biden and vice president elect Kamala Harris.
"I'm grateful for the chance to take on this responsibility," Cardona said. "I look forward to getting to work on behalf of America's children."