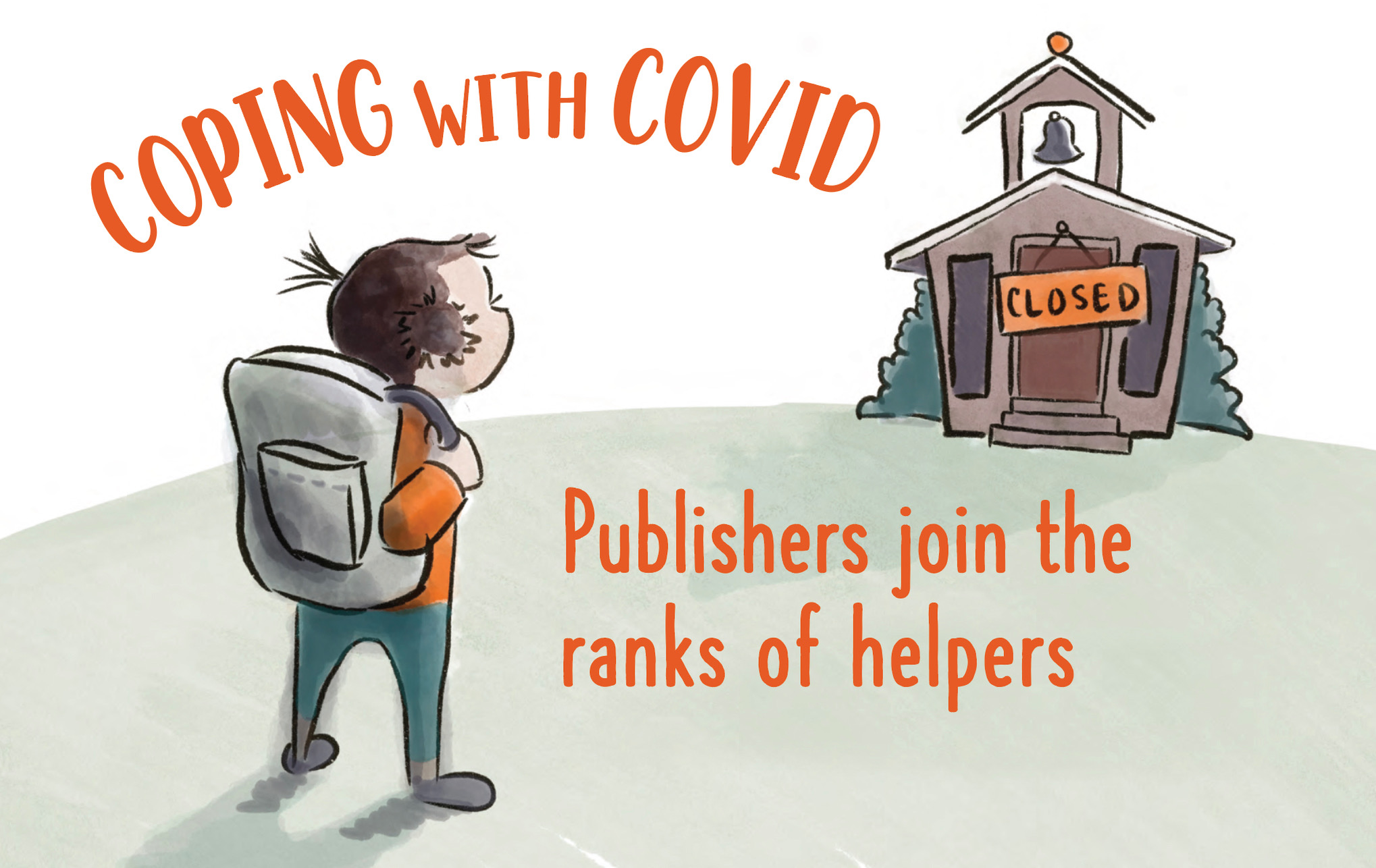 The coronavirus pandemic has turned kids' worlds upside down—schools shut down, their parents are now working from home, and they can't go to playgrounds, play with their friends, or visit family. Children's book publishers recognized a deep need to help kids through this difficult time and jumped into action with educational and reassuring books about the COVID-19 pandemic.

"That ability to have easy to understand facts and also process and cope with the world was the goal of our series," said Kathryn Camisa, marketing director at The Child's World, which pivoted quickly to publish a COVID-19 series by August.

Many publishers echoed Camisa, noting their goal to offer information and explanations in an age-appropriate, accessible way. Their goal is not to sugarcoat anything; instead, they have given kids accurate, actionable information so they don't feel helpless.

"What I think is helpful is empowering the kids to make them feel like they can actually make a difference," said Kelly Barrales-Saylor, editorial director at Sourcebooks eXplore. "Even if it's as simple as washing their hands and covering their mouths...they have the ability to do something about [the pandemic]."

Multiple publishers mentioned Fred Rogers's famous advice to children to "look for the helpers" in times of distress. Many of the COVID-19 books feature helpers and heroes of the pandemic, such as nurses, grocery clerks, and other frontline workers. They provide a sense of hope and appreciation amid a frightening, often uncertain time.

Cherry Lake Publishing Group
The Ann Arbor, Michigan-based company is comprised of five imprints that publish 280 books a year, including series nonfiction, hi-lo series for struggling readers, children's books, and graphic novels. One of the five, Sleeping Bear Press, publishes children's books for the trade market and has actively responded to the pandemic.

"We try to do books that will matter to kids," said Marketing Director Julia Hlavac. "They've dealt with so much upheaval this year; we're trying to give them ways to maintain a sort of normalcy."

In January 2021, the company will release Together We Can: Pandemic, an eight-title series geared for grades 2–5. The 24-page books, authored by Shannon Stocker, address the changes that COVID-19 has brought to children's lives and offer actionable suggestions to help kids through this difficult time. Each title addresses a different aspect of dealing with the pandemic while teaching essential SEL skills like empathy and connection.

One of the most difficult facets of the pandemic for children is tackled in Social Distancing, ISBN 9781534180123. The book explains how social distancing helps prevent the spread of the coronavirus and why it is important to maintain right now. The title also provides creative ideas for kids to be social while staying physically distant, such as hosting virtual hangouts or riding bikes with friends on opposite sides of the street.

Coping with Changes, ISBN 9781534180079, gives children the tools to mentally and emotionally deal with the pandemic and other stressful times. It recommends taking deep breaths, practicing meditation (with a link to a guided meditation program), doing yoga, and spending time in nature.

Learning at Home, ISBN 9781534180109, suggests ways students can help themselves, their teachers, and their parents adapt to their new learning environments, whether that's 100 percent online or some other setup. The book stresses the importance of setting a daily schedule and offers ideas for learning outside of school, such as taking a virtual tour of a museum online.

Together We Can: Pandemic may be purchased as a series or by individual title. The other books in the series are Doing Your Part, ISBN 9781534180086; Staying Connected, ISBN 9781534180093; Celebrating Virtually, ISBN 9781534180116; Finding the Helpers, ISBN 9781534180147; and Staying Healthy, ISBN 9781534180130.

Releasing in March 2021 is a picture book biography about the female scientist who discovered the coronavirus in 1966.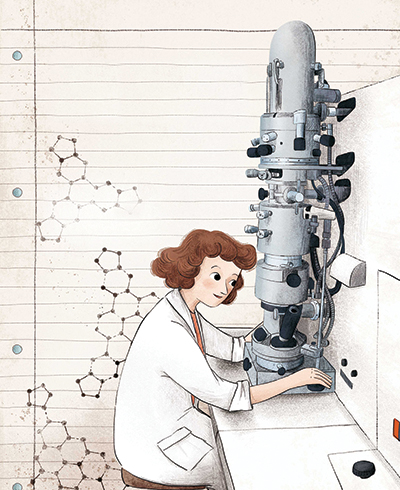 June Almeida, Virus Detective!: The Woman Who Discovered the First Human Coronavirus, by award-winning science author Suzanne Slade, illustrated by Elisa Paganelli, ISBN 9781534111325, is targeted to children ages 6 to 10. The title explores Almeida's life and career, including her passion for science and determination to work in an almost all-male field. Almeida's groundbreaking work continues to inform contemporary virologists' work today, including combating COVID-19.

"The thought behind this book is that there were a lot of misconceptions when the pandemic started about where the virus came from," Hlavac said. "This book addresses the fact that Coronavirus has been a known virus for many years, and it has many different forms."

ABDO Publishing Company
ABDO is a family-run company founded in 1985 that publishes educational books for the school and public library market. The Edina, Minnesota-based firm typically releases 700 to 800 titles per year. In response to the pandemic, ABDO offered free access to all of its e-books to ensure access for children whose schooling moved online. ABDO also created two series to make the pandemic comprehensible to younger kids and middle graders.

The Coronavirus, August 2020, ISBN 9781098205492, is a six-title series for readers in grades pre-K–2. The titles teach children about all aspects of the virus, including distance learning, staying connected and safe, and STEM topics related to COVID-19. For instance, STEM and COVID-19, by ABDO Managing Editor Grace Hansen, ISBN 9781098205553, explains how STEM skills can help address issues related to the pandemic, such as medical workers using a robot to limit their contact with contagious patients.

"(The series) is important for kids," said Hansen. "Their lives might have totally changed in one day and that was probably a little confusing, so we wanted to bring the ABDO Kids coronavirus series to libraries."

Core Library Guide to COVID-19, August 2020, ISBN 9781532194023, is a six-title series for grades 4–8. The books support Common Core standards and prompt critical thinking. Titles include The Economic Impact of COVID-19, by Emily Hudd, ISBN 9781532194030, which examines the pandemic's effect on jobs and how businesses are changing the way they provide goods and services; and World Leaders During COVID-19, by Douglas Hustad, ISBN 9781532194085, which compares how the United States, Germany, France, and New Zealand have handled the crisis.

Sourcebooks
Sourcebooks is North America's largest woman-owned trade book publisher. The Naperville, Illinois-based company launched 33 years ago and has grown to publish 400 titles annually under 11 imprints, including adult nonfiction, fiction, and a variety of children's titles.

The publisher's first response to the pandemic was an addition to one of its series. Baby Medical School: Vaccines, by Cara Florance and Jon Florance, April 2020, ISBN 9781492694007, explains the amazing things that happen in your body when you get a vaccine and how it works to keep you and others safe. The book is one of three titles in the Baby Medical School series.

Heroes Wear Masks: Elmo's Super Adventure, by Sesame Workshop, September 2020, ISBN 9781728236599, is the latest picture book from Sourcebooks's Scribble series with the renowned children's education brand. In inimitable Elmo style, the book aims to ease kids' anxiety about going back to school while wearing masks and what to expect when they get there.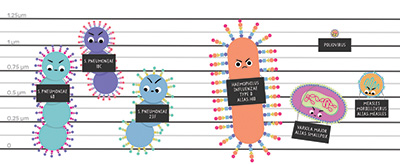 Epidemiologist Neal Goldstein—who wanted to write a children's book about the pandemic with his wife, Joanna Suder, a public health attorney—approached Editorial Director Kelly Barrales-Saylor in the spring. Barrales-Saylor paired them with author Chris Ferrie, who has written and illustrated dozens of titles for Sourcebooks's Baby University series. While targeted to kids up to 3 years old, Ferrie's simple, accessible content appeals even to adult readers.

Goldstein, Suder, and Ferrie produced two 24-page Baby University board books in just a few months. Their first, Pandemics for Babies, October 2020, ISBN 9781728234168, introduces the topics of contagion, disease transmission, virus testing, quarantine, and social distancing. The illustrations use simple, ball-shaped faces to show how a disease can spread and turn into a pandemic. The trio's second title, Germ Theory for Babies, ISBN 9781728234076, will be released in February 2021. It explains how people can get germs directly from other people, surfaces, and animals.

The Child's World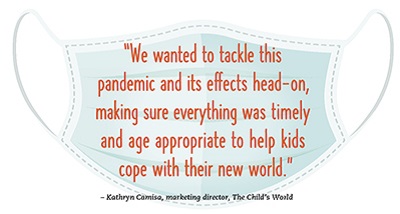 The Child's World, a 52-year-old family-owned publisher based in North Mankato, Minnesota, offers educational nonfiction series and fiction titles for children in grades K–8. The company publishes 200 books a year, covering early literacy, high interest nonfiction, narrative nonfiction, and STEM curriculum titles. Given the company's focus, it was a "no-brainer" to shift gears and publish a series on the pandemic, according to Kathryn Camisa, marketing director.

Pandemics and COVID-19, a six-title set published in August, is the company's best-selling series this fall. The series is written at a third-grade reading level. Each title includes back matter with "think about it" questions and hands-on activities. A companion website offers free supplemental educational content that is accessible to everyone, regardless of whether they purchased the books.

What If I'm Worried about COVID-19? by Emily Dolbear, ISBN 9781503853188, addresses social and emotional needs, fears, and anxieties around COVID-19. It offers ways for children to be mindful and stay calm through deep breathing, yoga, and meditation. Another section helps kids better understand their feelings and communicate them to their families and teachers. The book also offers kids engaging activities, such as starting a journal and writing down three things they're grateful for each day. Who Are the COVID-19 Helpers? by Sara Latta, ISBN 9781503853157, covers a wide range of essential workers, from farm workers, factory workers, and restaurant staff to nurses, doctors, and disease detectives—those who study how people get sick and how viruses travel.

Like all the books in the series, Helpers includes a "good news" section that shares uplifting stories, such as how people in many U.S. cities went outside at 7 p.m. each evening to show their appreciation for essential workers with a round of applause. What Is a Pandemic?, by Kara L. Laughlin, ISBN 9781503853164, talks more broadly about historical pandemics and how vaccines are created. It features large, colorful fact boxes, including one on Joseph Salk, who developed the first successful polio vaccine. One "think about it" section asks kids to imagine they're a doctor, then write three things they could do to prevent a pandemic when a new virus emerges. Hands-on activities also help kids see concepts in action, including one that directs them to replicate virus spread by rubbing flour on their hands and seeing how it spreads during their everyday tasks.

The series's other titles are What Is COVID-19? by Sara Latta, ISBN 9781503852761; How Can I Help During COVID-19? by Dolbear, ISBN 9781503852778; and How Has COVID-19 Changed Our World? by Laughlin, ISBN 9781503853171.

Blair Publishing
Blair is a nonprofit publisher based in Durham, North Carolina. Formerly known as Carolina Wren Press, Blair highlights the voices of emerging and underrepresented writers, including people of color, LBGTQ people, differently abled writers, women, and people from the American south, particularly Appalachia. Blair releases about a dozen titles a year, including one or two children's books.

In August, children's book author Beth Bacon approached Blair with a unique proposal. A few months earlier, Bacon had written a children's book, COVID-19 Helpers, with illustrator Kary Lee. Entered in a competition for the best children's COVID-19 e-book, which was organized by Emory University's Global Health Institute, the book won the top prize out of 260 submissions. The e-book was available through Emory, but Bacon wanted a physical edition too. It was an easy decision for Blair Publisher Lynn York, who thought COVID-19 Helpers struck just the right note for children, to take on the book.

"It's really hard to get the tone right," said York. "You want to inform children, you want to treat them with respect, but you also don't want to scare them," York said. "You want to make sure they have accurate information that's actionable...there's this feeling of helplessness, so actionable is important."

Written for children ages 5–11, COVID-19 Helpers, November 2020, ISBN 9781949467604, sends the message that children play an important role in fighting the pandemic, too, by staying home and practicing social distancing. The book explains the virus and talks about the various helpers, including garbage collectors, grocery workers, researchers, and health care workers, all of whom have a frontline role during the pandemic.

ReferencePoint Press
Founded in 2006, ReferencePoint Press publishes nonfiction books focusing on current events and core curriculum topics, along with some general and high interest titles, for grades 6–12. In 2019, t
he San Diego-based publisher launched its BrightPoint Press imprint to produce nonfiction for reluctant teen readers. When the pandemic hit, Publisher Dan Leone knew ReferencePoint had to do something about the rampant misinformation and confusion concerning COVID-19.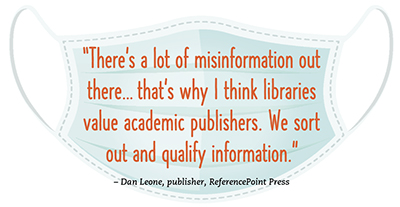 The COVID-19 Pandemic: The World Turned Upside Down, by Hal Marcovitz, August 2020, ISBN 9781678200183, covers the early stages of the pandemic, including its origins in China and how it spread globally. The book's main focus is the U.S. response to the virus: lockdowns, school closures, the impact on hospitals, health care, and the economy. The final chapter considers what the future will look like after the pandemic. The 80-page photo-illustrated book targets grades 6–12.

Understanding the COVID-19 Pandemic, February 2021, is a five-title ReferencePoint series for middle and high school readers. The series explores various aspects of the pandemic, including the origins of the novel coronavirus, the illness and outcomes it produces, and the race to develop a vaccine. With solid facts, plus personal accounts from people on the front lines of the crisis, each 64-page book in the series provides clarity and context to help readers understand the pandemic.

Titles in the series include: Health, Illness, and Death in the Time of COVID-19, by Bradley Steffens, ISBN 9781678200343; The Origins and Spread of COVID-19, by John Allen, ISBN 9781678200381; The Search for a COVID-19 Vaccine, by Craig E. Blohm, ISBN 9781678200404; Heroes of the COVID-19 Pandemic, by Barbara Sheen, ISBN 9781678200367; and COVID-19 and the Challenges of the New Normal, by Marcia S. Gresko, ISBN 9781678200329.

The COVID-19 Pandemic is another five-title series publishing in February 2021. This BrightPoint hi-lo YA nonfiction series explores how COVID-19 affected the world in 2020, from how it spread to the measures being taken to stop the virus. Unique to this series, Past Pandemics and COVID-19, by Walt K. Moon, ISBN 9781678200640, views the current pandemic in historical context by comparing it to the bubonic plague of the 14th century and the 1918 influenza pandemic.

Orca Book Publishers
Based in Victoria, British Columbia, Orca Book Publishers was established in 1984. The independently owned publisher releases 90 children's books per year, including board books, picture books, middle grade titles, young adult fiction, and hi-lo fiction. In response to the pandemic, Orca created the Digital Class Set + License, which allows educators to share one of its e-books with an entire class for three years.

In early April, author Eric Walters came to Orca with an idea for a middle grade fiction novel about the coronavirus. Orca released the e-book in just 43 days, followed shortly by the paperback. Walters's book, Don't Stand So Close to Me, September 2020, ISBN 9781459827875, is for readers ages 9–12. It tells the story of a group of eighth grade students planning a school dance. When the pandemic breaks out, the students must not only rethink their plans for the dance but also adjust to a new reality. Walters, a former teacher, incorporated into his book feedback from students, whose input kept the book true to teenage life.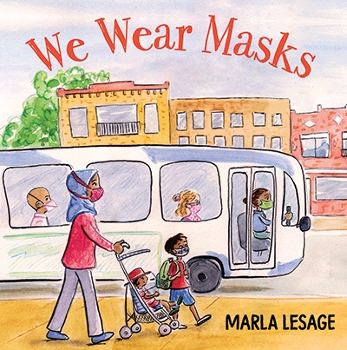 Orca also published We Wear Masks, by Marla Lesage, November 2020, ISBN 9781459828797. Written for children ages 3–5, the picture book came about after Lesage took her kids to a petting zoo while wearing face masks. Her children realized face coverings have additional benefits—like masking bad animal smells!—and are actually used by many people for work. The rhyming book talks about scuba divers, pilots, scientists, graffiti artists, and many others who wear masks to do their jobs.

Lerner Publishing Group
Minneapolis, Minnesota-based Lerner specializes in nonfiction series for schools and libraries and also publishes picture books and single title nonfiction. The company releases 500 to 600 books a year for grades pre-K–12. About 80 percent of the titles are nonfiction.

Recognizing the need for COVID-19 resources, Lerner moved quickly to release a four-book series in August 2020. The hi-lo series COVID-19, written at a third grade reading level for students in grades 5–8, helps readers understand the pandemic and its effects. One title, Social Distancing, by Heather DiLorenzo Williams, ISBN 9781728428017, discusses the stay-at-home orders, wearing masks, social distancing, staying connected, adjusting to virtual learning, and keeping active.

A second title, A Lasting Impact, also by DiLorenzo Williams, ISBN 9781728427997, examines the lockdowns that occurred throughout the world and how they affected everything from the economy to the environment. The book includes infographics, including one that shows U.S. unemployment spiking amid the shutdown. Other titles in the series include: Essential Workers, Essential Heroes, by DiLorenzo Williams, ISBN 9781728427980; and The Science of the Coronavirus, by Renae Gilles, ISBN 9781728428000.

Stay Healthy with Sesame Street: Understanding Coronavirus, by Mary Lindeen, January 2021, ISBN 9781728427621, employs a friendly question-and-answer format to make the pandemic accessible to children in grades pre-K–2. This engaging book uses the series's beloved characters to teach kids about topics such as what happens if you get COVID-19 and how to use belly breathing to calm yourself.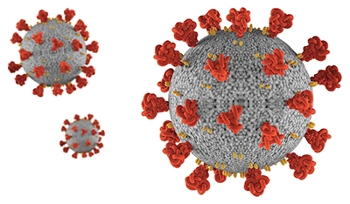 "The main objective here is to provide comfort and reassurance about what's going on because it feels so uncertain," Lois Wallentine, Lerner's school & library marketing director, said of the Sesame Street book.

A single title, The COVID-19 Pandemic: A Coronavirus Timeline, by Matt Doeden, January 2021, ISBN 9781728427706, starts with the harrowing story of a real person who had COVID-19 but got better after receiving a platelet transfusion from a recovered coronavirus patient. The book then jumps back to the beginning of the pandemic and charts its spread worldwide. This 'biography' of the pandemic is intended for grades 4–8.

Conclusion
It's clear that children's book publishers feel a keen responsibility to do whatever they can to address kids' needs surrounding the pandemic. Whether that's tackling their confusion with accurate information or alleviating their anxiety with actionable suggestions, the unifying thread that runs through these titles is giving children clear, age-appropriate materials to help them process and cope with COVID-19.

As ReferencePoint's Dan Leone said, "For once, I think all of us publishers did not have to debate what we're going to publish this spring."
SPONSORED CONTENT