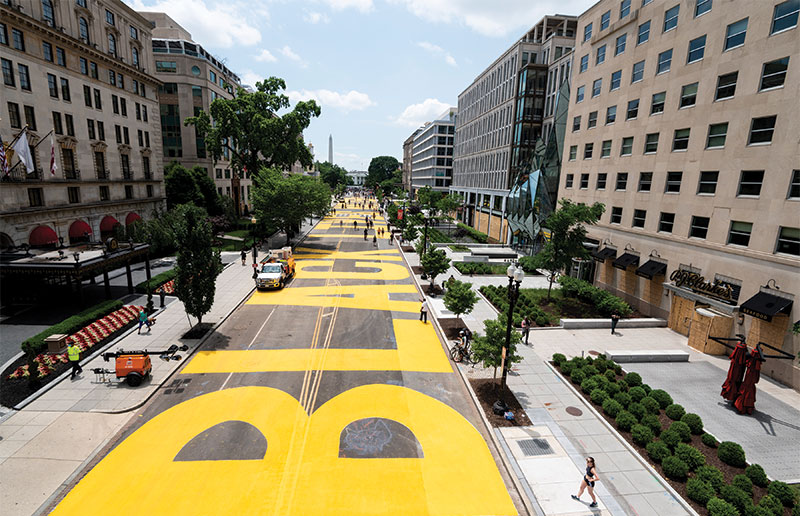 The District of Columbia renamed a portion of 16th Street NW "Black Lives Matter Plaza" in June.
Photo by Bill Clark/CQ Roll Call via AP Images/Assisted by City of DC
Addressing systemic racism in U.S. education will require a multifaceted approach, and revising the curriculum is a crucial part of it. Now may be the time.
"There is an opening for reevaluating a lot of what we take for granted in education," says Lindsay Hall, librarian at Dunbar High School in Washington, DC. "Everything from curriculum and standardized testing is being reimagined as we attempt to figure out what is even possible in schools. It will be a matter of time and effort to determine if the better school system that serves all students is possible for us."
While officially changing a curriculum is a lengthy process, many lesson plans and resources are available for teachers who want to get started. Black Lives Matter (BLM) at School, a national coalition working toward racial justice in education, and the 1619 Project Curriculum are two of the more extensive collections of materials, offering classroom resources from kindergarten through college.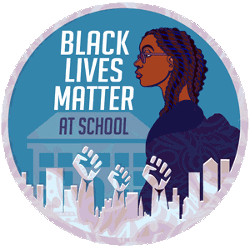 BLM at School provides lessons, activities, readings, and book recommendations by age group, from early learning through postsecondary. At the high school level, there are cross-curricular resources, including related lessons for math and the arts.
"Yes, we do want African American history and ethnic studies courses," says Christopher Rogers, curricular chair of BLM at School, which also offers guides for participating in the Week of Action, held during the first full school week of February. "But these are things that can be taught through social studies; these are things that can be taught through math."
The 1619 Project is a New York Times Magazine initiative that reexamines slavery and American history, and the continued impact on the country since the arrival of the first enslaved Africans in Virginia. The curriculum was created in partnership with the Pulitzer Center and has been used by at least one school in every state, according to project creator Nikole Hannah-Jones. Reading guides, activities, and lesson plans are available for all ages.
As the BLM movement swept across the country this spring and summer, many sought antiracism books to help them learn and inform their teaching. Educators who want to read Stamped: Racism, Antiracism, and You by Jason Reynolds and Ibram X. Kendi in the classroom can refer to the free educator's guide (bit.ly/2P6dGJR).
In addition, materials from Rethinking Schools, the Zinn Education Project, and Teaching Tolerance can help educators seeking to add historical context to the current protests and voting rights issues. The National Women's History Museum has resources on Black women throughout history.
Facing resistance
There has already been pushback to teaching these lessons. Some objection to teaching is local, coming from school staff members, administrators, parents, or even students. In the case of the 1619 Project, the objection is national. The largest attempt to disrupt these efforts came from Arkansas senator Tom Cotton, who proposed legislation to withhold federal funds from any school that taught the 1619 Project. President Trump has since tweeted that the Department of Education was investigating and schools that teach with the 1619 Project would lose federal funding.
"The reality is schools are places where white middle class values are taught," says Pren Woods, a seventh grade world history teacher in Summerville, SC. "School systems are set up to reinforce white middle class values inadvertently or purposefully hurt brown and black children."
The BLM at School curriculum focuses on centering Black lives, past and present, and not just those at the lectern and on the pedestals, as Rogers puts it. The efforts of individuals such as Martin Luther King, Jr. and Rosa Parks should be acknowledged, he says, but educators must address the collective power of Black people coming together to fight for what's right.
This year, spurred by the national uprising, BLM at School is expanding the Week of Action to a Year of Purpose in the 2020–21 academic year. Its updated resources will reflect this larger initiative.
"The centerpiece of the Year of Purpose is asking educators to reflect on their own practices in relationship to antiracist pedagogy and to constantly challenge themselves to center Black lives in their classroom," says Rogers, who notes that policy changes must come with the curricula.
The Year of Purpose will also call for specific days of action, including a back-to-school first day of action in September, a day to remember George Floyd, a call for defunding the police in October, and a Transgender Day of Remembrance in November.

Spotlighting the "less-heralded"
Hall has used the BLM at School resources throughout the year to spark bigger discussions with middle school and high school students. She used the materials to create a book display, make a guide for teachers, and more.
"I had the opportunity to present less-heralded people and movements in Black history, and Black Lives Matter at School was another useful starting point for that," she says. "But even better, those conversations weren't just limited to that one week in the school year."

READ: After crisis, opportunity: Embracing antiracist teaching
Terry Jess, a social studies teacher at Bellevue (WA) High School, has participated in BLM at School for a few years and pushed for it to be mandated across the district. As a white educator, he notes, he shouldn't be the creator of curriculum addressing Black Lives Matter.
"It's been amazing to see, nationally, educators of color coming together and fleshing out and building out lots of curricula for lots of different grade levels," says Jess.
Stephanie Price, an elementary school speech pathologist in Monroe, OK, says she tries to incorporate the 13 guiding principles of Black Lives Matter—diversity, restorative justice, unapologetically Black, Black families, Black women, Black villages, globalism, loving engagement, empathy, queer-affirming, transgender-affirming, intergenerational, and collective value—in her daily lessons.
Last year, she asked the librarian if she could take over the library for a week in February and teach third to sixth graders about Black history in Oklahoma. Price, who is mixed race, grew up in the state and says she never felt represented at school and that she wasn't taught about local Black history, including the Tulsa massacre. She remembers the racism she experienced as a child, and now she sees the impact her presence has on students of color, who seek her out even if they don't have her as a teacher.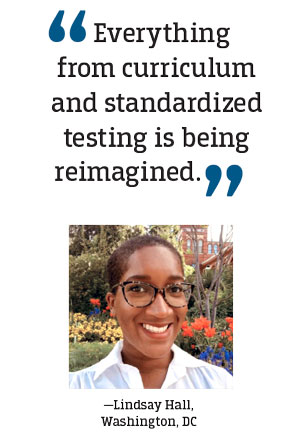 Price takes daily steps to show students they matter by wearing BLM and Pride pins, teaching with diverse picture books, and hanging posters of inclusivity on her wall.
"There are ways kids see all year, in everything that we do, that all people have value," she says.
In South Carolina, Woods is making sure his students feel seen as well and that he doesn't just teach history but talks about current events and connect the two when possible.
"When I'm teaching, I always bring in current events," he says. "I'll always stop what we're doing and do a pulse check and say did you guys hear what was going on in Israel with the Palestinians. Let's table Mao Tse-tung and talk about that."
As an African-American male teaching in what he describes as a fairly conservative town, Woods says he has often been "accused" of pushing a specific narrative or liberal agenda. He typically has a demanding curriculum for his 7th graders, but during summer break, he tossed it, deciding he can't ask students to meet the high standards he sets in a typical academic year. He decided to teach while helping them through the ongoing trauma of the novel coronavirus pandemic and racial unrest and social justice protests and movements. Woods might not use BLM at School curriculum during this unusual year, but his class content will certainly overlap.
"Ordinarily Black Lives Matter is not something in my curriculum," he says. "George Floyd is not something in my curriculum. Breonna Taylor is not something in my curriculum. But what is in my curriculum is empathy."
Woods says his students know the most important thing to him is not that his students can recite specifics but that they grow up to be engaged, empathetic citizens who use their voice for good.
"You're supposed to use the education and our civil discourse and you're supposed to go out into the world and make it a better place," he says. "I want you to be people who have the attitude of whatever happens to this person is also happening to me. And this person doesn't have to look like me. This person doesn't have to be my gender. This person doesn't have to have my values. We are connected. It's a very strong empathy piece in my class. What comes with these very difficult conversations is I have to teach my 7th graders how to be respectiful and listen and to have civil discourse. We may not agree with each other, but we're going to hear different points of view."
The difficult conversations on what some consider controversial topics has often led to parental complaints about Woods. But he has fought back each time, kept his job (something he attributes to the high achievement of his students on state tests) and continues to hold peers accountable. Despite often feeling like the lone voice, he and Price consistently push their schools for representation and educational equity.
"People still don't understand why it's important to truly address bias in order to improve the education of all students," she says. "I am not going to preach to everyone I meet about why it's important, but I feel like we can plant the seeds by having conversations with people, building relationships."
Radical possibilities
Teachers, who previously felt colleagues avoided the discussion of racism and bias, may find more colleagues open to the conversation now as industries and institutions are facing an overdue reckoning with racism.
"In the wake of the murders of George Floyd, Ahmaud Arbery, Breonna Taylor, Tony McDade, and others, a great uprising for Black lives has swept the nation and the world that is creating new urgency and new possibilities for uprooting institutional racism," says Rogers.
It has raised the level of consciousness in the country, he says. "Popular education" is everywhere, according to Rogers, with new platforms for collective study created daily through social media threads and memes, YouTube videos, Zoom conversations, and other formats.
"Teachers and schools have so much work to do to keep up," Rogers says. "We see ourselves committed to being a bridge for this work within a larger vision of educational justice for the abolitionist world we want."
This, perhaps, is the year that the focus on Black history and Black history makers won't just happen in February.
"During Black History Month, you see sincere and genuine attempts to be able to make a connection between what's on the curriculum for today and the history of Black struggle in the United States," says Rogers.
Often, though when the calendar switches to March, the attempts are lost.
"Not all of this is based on teacher inadequacy," he says. "You have to talk about the institutional pressure of statewide testing and how that looks. That definitely ramps up in April."
Many states are asking for waivers to opt out of the standardized tests this year, which Rogers thinks may help further the opportunity to challenge the educational status quo.
"[There's] more room for radical possibility," Rogers says. "But if you've been waiting for this to happen before pursuing teaching the social justice lessons our communities require, you might need to catch up."