Julia Torres challenged faculty to bring students to the school's collection and make independent reading part of the campus culture.
The professional development session was about literacy, and Julia Torres seized the opportunity.
The teacher librarian at the new library on a campus shared by five schools in far northeast Denver, CO, read aloud to faculty members from Jason Reynolds' For Every One.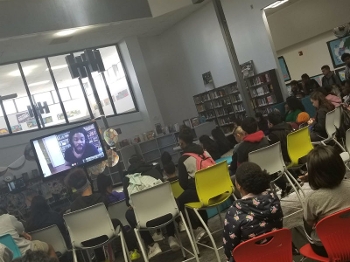 Then she suggested maybe the staff wasn't bringing students to the library to check out books because "they didn't have healthy reading lives themselves."
"Perhaps it was accusatory, and maybe a little bit of an intense way to kick things off," Torres admits.
But it was effective.
"I got many faculty coming through after to check out books for themselves because I think they were forced to think about when the last time was they took the time to sit down and read a book start to finish," she says. "Then also, how were they blocking students from being able to check books out."
There had not been a library at the high school for eight years. It was not only absent from building and schedule but reading outside of the curriculum was lost from the culture. Now, that the campus is shared with four other schools, the logistics are difficult as well.
The library and campus serve approximately 2,000 students attending five schools—Denver Center for International Studies (DCIS) Montbello Middle School, DCIS Montbello High School, Noel Community Arts Middle School, Noel Community Arts High School, and STRIVE Prep Montbello Middle School.
"This library is shared between five schools that don't have the same bell schedule," says Torres. "The struggle is, when will people be in here, and how are they going to share me? Logistically what does that look like?"
In October, the district held a celebration of the grand re-opening of the library. Everyone was excited. There were orientations for students, and early in the year, faculty brought classes through. But soon, only one middle school's sixth graders had a standing monthly scheduled class with Torres. The rest of the students and faculty were not coming in regularly—neither for class nor to browse the stacks and check out books to read on their own.
When Torres scheduled Reynolds to Skype in and talk to students, Torres had 300 students for the session. To get them, she went to teachers individually and told them how it would specifically support their curriculum. She also searched her system to find each child who had checked out a book by Reynolds and wrote individual passes to get them out of class.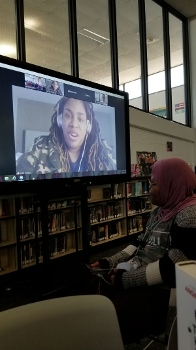 When The Hate U Give author Angie Thomas Skyped in the next semester, and teachers were unwilling to let their students take advantage of the opportunity, Torres was disillusioned and frustrated.
"There's no excuse," she says. "Kids were a door away from being able to interact with Angie Thomas, and [teachers] did not let their kids leave.
"Not knowing some of the best authors of our time right now for kids, and then blocking students from being able to come and hear them? I see that as inexcusable and what some folks like to call educational malpractice, but that's the current climate that we're living in. There are a lot of barriers that are in place even after we fought so hard to get this library back."
So she didn't hold back at the professional development session, and her point was made. After the faculty found their way to her collection and checked out books for themselves, special education and ESL classes came in with students, too. Within four days, she says, she saw all of the ninth- and tenth-grade language arts classes. It wasn't easy, but there was interest.
"You take a library away from someone in fifth grade, and the last book they read was Diary of a Wimpy Kid," she says. "They come in the library as an 11th grader, they don't know what they like. They don't know how to find what they like. They don't know what's available. They don't know what they can read comfortably."
Her goal is for the kids to find what they want on their own, and most of the students are excited to explore the collection and make their own choices. Right now, the favorites are books by Stephen King, the "Goosebumps" series, The Hate U Give, anything that has become a Netflix movie, and true crime, she says.
The impact of these library visits and the new focus on reading for enjoyment was almost immediate—on students and faculty.
"A teacher told me just yesterday he gave his students 10 minutes to read, gave them an additional 10 minutes without them knowing, and he was going to end independent reading time and they wanted to keep going," Torres says. "They asked if they could do it every day."
That teacher told Torres he has realized it's probably more important that the students enjoy reading again than that they read the assigned texts. It is a step toward Torres's goal to make the library an integral part of campus culture and convince faculty and staff that it is "an important part of a child's academic experience."