Picture books editor Kimberly Fakih chats with SLJ Best Books cover artist Duncan Tonatiuh, the illustrator of the 2021 Best Book, Gloria Amescua's Child of the Flower-Song People: Luz Jiménez, Daughter of the Nahua.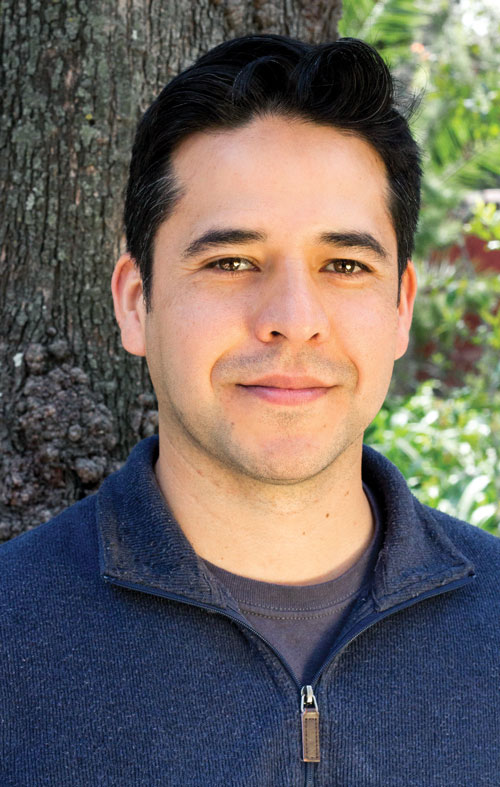 Photo by EugeniaTinajero
With dozens of illustrators to choose from for the cover of our annual December Best Books issue, there was a unanimous sentiment that award-­winning Duncan Tonatiuh, who created the art for Gloria Amescua's Child of the Flower-Song People: Luz Jiménez, Daughter of the Nahua, was a perfect fit.
The SLJ cover illustration was based on an early iteration of the Child of the Flower-Song People cover, itself based on a painting by Diego Rivera. From that sketch, the current cover blossomed and became something new. Tonatiuh's art hearkens back centuries, but his point of view is modern. He has the sleight of hand required to juxtapose past and present in a way that reinvents both, creating for readers a moment of time travel.
In a pandemic, Tonatiuh offers the ultimate salvation—he takes us somewhere else.
The book is about Julia Jiménez, better known as Luz. She is a hero with the sturdy intelligence and strength of character to straddle two cultures; that of her Nahua people and the new era wrought by Spanish invaders, who needed the Indigenous population to collectively forget who they were. Luz ended up a model for the greatest artists of the era, and also a teacher of her culture and language. One scene shows her next to a sculpture, while in the distance are skyscrapers. To see illustrations of a modern cityscape in the style of pre-Columbian art invites viewers in, where they find the old ways pushed up against the new.
Tonatiuh knows these contrasts, and the straddling of cultures, well. He grew up in San Miguel de Allende, Mexico, and moved to the United States when he was 15. He has since returned to San Miguel, where he and his wife tended their children as well as Tonatiuh's in-laws during the first year of the pandemic.
He usually works alone, having collaborated with other writers only three times.
"I like writing and illustrating my own books," Tonatiuh says of works such as Feathered Serpent and the Five Suns: A ­Mesoameri can Creation Myth and Funny Bones: Posada and His Day of the Dead ­Calaveras. "But doing someone else's presents welcome new challenges." For example, Susan Wood, who wrote Esquivel! Space-Age Sound Artist, used sound words throughout the text.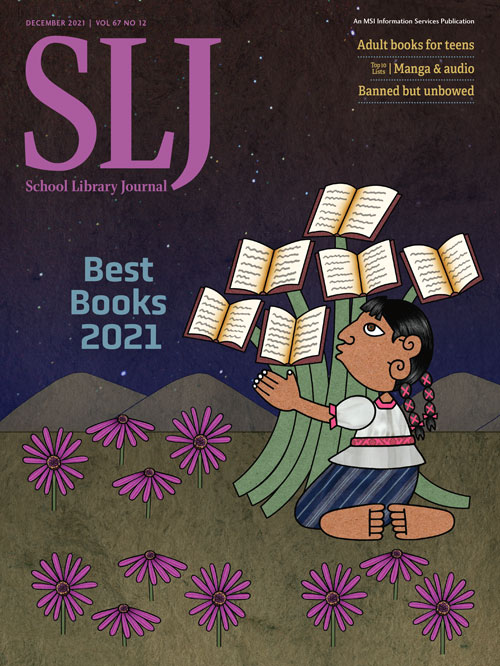 "For the first time, I had the opportunity to really work with hand lettering," Tonatiuh says. The lettering he's referring to ranges from a psychedelic "Whee-Doop-Di-Doop!" to a squiggly Palmer-Writing-Method "Squiddle-didly-squee!" They surround a child drawn like a pre-Columbian nerd, in horn-rimmed glasses, a two-toned shirt, and cowboy boots.
Tonatiuh was originally just consulting on Child of the Flower-Song People. "When my editor [Howard Reeves, at Abrams] first showed me the text, it was to get my take on it, because I'm from Mexico. But I really like the story of this woman, who is familiar from all these paintings and artwork, but we don't know her story," he says. "We don't know the actual person. We always know the painter, but not the model." There is one more reason the story spoke to him.
"I'm always interested in unsung heroes," he adds. "I am drawn to them."
The pandemic brought new challenges as Tonatiuh and his wife tried to balance parenting with young children at home and work. For the first part of the pandemic, he didn't even try to create. "It was hard to find time. I was very limited," he says.
Then his daughter started virtual school. "We shared a little office," he says. "I'd be working on the book on my computer, and if she needed help on something, I'd stop and give her a hand."
The opening art he created for the Best Books section came not from history, but from home.
"Absolutely every night, my wife and I alternate putting my kids to bed," he says. "I love reading to them at night, and just being cozy while I read."
He smiles sheepishly. "But I also often fall asleep before they do," he notes. "And so I decided to draw that." Time travel catches up to us all.