Fans of "Raya and the Dragon" should enjoy these titles.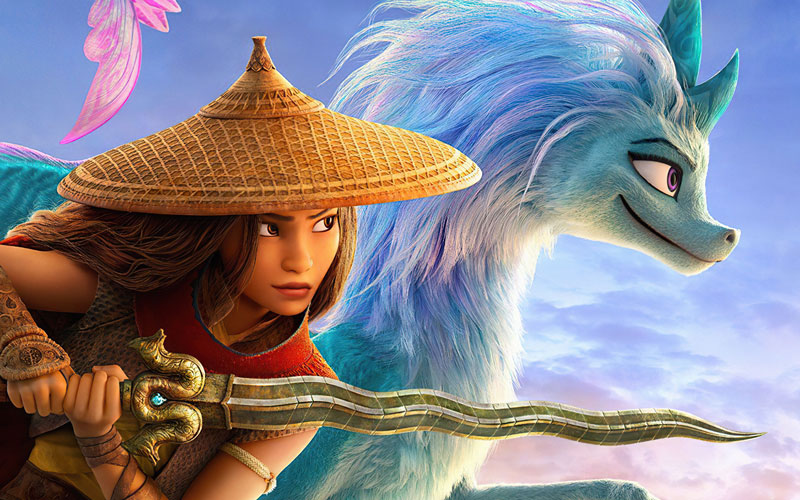 Disney+
Raya and the Last Dragon
Disney+. Rated PG. Available now.
Starring Kelly Marie Tran and Awkwafina, this Disney animated feature released to the full Disney+ audience in June. Set in an Asian-inspired fictional kingdom, Raya must attempt to unite her divided homeland with the help of an awkward young dragon.

READ-ALIKES
Where the Mountain Meets the Moon by Grace Lin. Little, Brown. 2009.
Gr 3-6–In this enchanting fantasy adventure story, Minli, who is Chinese, goes on a quest with a dragon to find the Old Man in the Moon and bring fortune back to her rural village. Readers who enjoy stories based on Asian lore and adventure stories with strong female characters will love this award-winning tale.
Anya and the Dragon by Sofiya Pasternak. Houghton Mifflin. 2019.
Gr 4-6–Eleven-year-old Anya, who is Jewish, embarks on a quest to capture an evil dragon for the reward money to save her family's home in this fast-paced fantasy adventure. Hand this one to fantasy readers who love quest adventures and magic in their tales.
The Serpent's Secret by Sayantani DasGupta. Scholastic. 2018.
Gr 4-7–When a demon attacks her home on her 12th birthday, Kiranmala, an Indian American girl, is thrust into a magical world she never knew existed in this funny, action-packed fantasy story based on legends of India. This series starter is a surefire hit for fans of Rick Riordan's mythology-based fantasy.
Abby Johnson is the collection development leader at the Floyd County (IN) Library.