With the release of Diary of a Wimpy Kid: Big Shot this week, Jeff Kinney gives young readers the comfort of familiar characters and a little bit of normal in these continued chaotic times.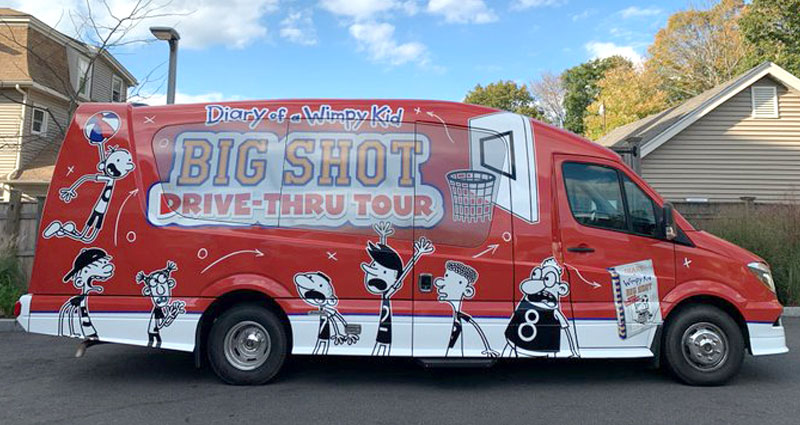 Ask any elementary or middle school librarian about the most circulated books in their collection, and they will no doubt mention "Diary of Wimpy Kid." Jeff Kinney's series has been a favorite since the first title was released in 2007. In the ensuing 14 years, 15 more books have chronicled Greg Heffley's awkward middle school days and engaged even those students who are least enthusiastic about reading. For more than a decade, children have grown up laughing with (and at) Greg, Rowley, Rodrick, and the rest of the Plainview crew, who have stayed dependably the same.
"Since the beginning of 'Wimpy Kid,' my take has always been that it's closer to a comic strip property than a literary property," says Kinney, whose 16th title in the series, Diary of a Wimpy Kid: Big Shot, was released this week. "That's why Greg doesn't age, and the characters don't change. We want our cartoon characters to be reliable.…That's just an important part of culture is that comic strip characters stick around, and they don't change."
Kinney doesn't plan for Heffley's middle school adventures to end any time soon.
"You look at Charles Schultz, he did 'Peanuts' for 50 years, [and] some comics have gone on for longer than that," he says. "I haven't even gotten to 20. So, I don't know—the ideas might dry up or I might go in a different direction, but, for now, I'm planning on doing this at least until it hits 20. And then we'll see where life takes us."
Right now, Kinney's life is back on the road for his fourth book tour during the pandemic. Like all authors, he has had to figure out a new way to connect with his readers.
"Some authors are quite happy to be off the road to be doing things from their living room," says Kinney, who has spoken to dozens of authors throughout this time. "Some say they'll never tour again. Others are really experiencing a kind of pain from not being able to reach readers. They just feel really sad and anxious about it. I guess I can understand both sides."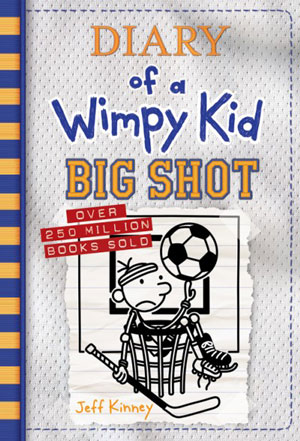 For Kinney, though, book sales, library waitlists, and Zoom events aren't enough to convince him that his work has landed. He needs to connect with readers in person, so he and his team created drive-thru events since the summer of 2020. At a time when children's lives have turned upside down, another "Wimpy Kid" title is a sign of whatever normalcy remains. The parents' and kids' appreciation of Kinney's efforts to give them an event to go to has brought a "warmth and joy" to these tours, especially the first one, says Kinney. And, they're fun.
"What's really special and unusual about these drive-thru tours is that in cars, people bring their whole family," he says. "You get mom, dad, oftentimes grandma or grandpa, the family dog, and the older brothers and sisters, and younger brothers and sisters. This makes it a family affair, and everybody really gets into it, and really, really seems to have a good time."
Since the second tour, attendees have decorated their automobiles, too.
"People have really been going all out, it's really quite insane," says Kinney. "People are so inventive and joyful. It really is special, because they're decorating their car for me out of love. It's very, very well received."
In addition to his 12 stops at independent bookstores in NC, SC, VA, PA, and NJ, Kinney partnered with NBA teams and Boys & Girls Clubs for this tour. In six cities, every Boys & Girls Club will receive "Diary of a Wimpy Kid" books and tickets to an NBA game, along with a surprise visit from players from the city's NBA team.
Kinney admits it's not always easy "to keep writing funny" during these times, but he has not struggled to concentrate on his work. Big Shot is the third book Kinney has written during the pandemic.
"It's been a busy, creative time," he says. "I don't know why, but these types of things tend to cause me to be more focused. Even if there's something really difficult going on, I'm able to work through it."
He just had to find a place to do that work. During the pandemic, his house turned into a remote school for his kids, and sometimes his shared office space was too distracting. So he found a new and unique workplace.
"I would just go to the cemetery—bring a bag of Skittles and some Double Stuf Oreos, a blanket if it was cold," he says. "I'd work until my iPad died."
In his car, he found himself once again battling the doubts that always creep in: Nobody is going to find this funny, nobody is going to read it.
"It's really hard for me to make that jump in my mind from it being a thought in a car in a cemetery to it being a published work," he says. "I just can't stress how lucky I am to be in that position."
Three books would be more than enough for most, but Kinney has also been creating an animated movie of the first book in the series. Diary of a Wimpy Kid will stream on Disney+ movie beginning Dec. 3.
"I'm the writer, full producer, I'm involved in every step of it really—all the character creation and the approvals of the animation, and I sit in on every performance of every actor," he says. "My involvement is very complete, and I hope that shows up on the screen."
The Disney+ process and upcoming release of the film have given new life to the characters and story for Kinney.
"I really feel like it's at the very beginning in a way, because I know that these characters and this story are going to reach kids all over the world for the first time," he says. "It feels like a rebirth."