One school library's Graffiti Books program lets students connect and have "conversations" by writing in books. It also keeps some previously weeded titles in the stacks.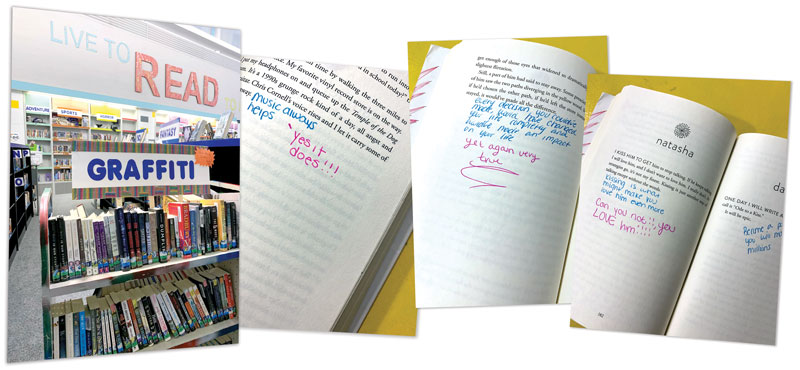 Graffiti books let students create a conversation of reader response on the pages.
Books tell stories. Not just the ones within the pages, but ones told by their worn covers, cracked spines, and folds in the corners of pages to be remembered. These are the stories readers create during the time they spend with the books. So how can a librarian justify weeding such loved books?
Sure, there are books that must go, and that's okay. Weeding is necessary to address accuracy, currency, usage, diversity, and subject area gaps, according to the American Library Assocation. Logically, we know it has to be done for a healthy collection, make room for new books, to keep it fresh, and remove topics that are no longer relevant.
But how do you address books with an emotional attachment, a sentimental value gained when you suggested the title to a student who fell in love with it, or watched as students excitedly waited for their turn to check out? There's something uncomfortable about throwing away a copy of a well-loved book.
Librarians, by nature are collectors. We collect words, and there's something uncomfortable about throwing away a copy of a well-loved book. What if we don't have to get rid of those books? What if there is a way to resurrect them and give them a new purpose? That's where the idea of graffiti books came from, and the project has taken on a life of its own.
Graffiti books invite students to write (yes, write!) all over the book while reading. We encourage readers to share their views, likes, dislikes, questions, and doodles as a way to create a discussion with past and future readers. They each annotate in a different color so that the next student knows who "said" what. This continuing process, as more and more people add their own graffiti to the book, creates a visual history of readers.
When we started this project, we used books purchased through a grant. But as the popularity grew, it was soon obvious we needed more books. Budgets are tight, and administrators are skeptical of writing in books. So instead of seeking new books, we looked to what we already had—the weeded titles that we couldn't quite part with. Suddenly, we had new material for the students' notes and gave new life to those books once destined to leave the library. And it was free!
So how can you create your own library of graffiti books on a budget?
Do your regular weeding, but before deleting, select titles in good condition that you think deserve another opportunity to be read.
We mark the spines of all our graffiti books with colored or patterned tape without covering the call numbers.
In the Marc records you can indicate it as a graffiti book under special notes if you choose. Our collection has a designated shelf in each genre for the graffiti books. We also have a cart labeled "graffiti books" for new books and those recently revived as graffiti books.
When students check out a graffiti book, they receive a bookmark with suggestions for how to comment and a colored pen to identify their voice among the others who write in the book.
During our orientation with classrooms each semester, we talk about the project. We also presented the books to the teachers in our district during staff meetings and invited them to participate. Many did, which helped to promote, model, and gain even more interest. We found that our students wanted to read what their teachers were writing in the margins and were excited to see how others would respond to their comments.
Academically, students are building important skills in a fun way. Graffiti books ask students to be active learners through annotation. They encourage independent reading and foster self-directed learning as they select books and create conversations on the pages. Each comment contributes to the ongoing dialogue that helps readers gain new insights.
The impact has been immense. Students who don't usually read are excited to check out a graffiti book, and the project has given a voice to those students who are often quiet during class conversation.
After we ignited the spark among our school, we wanted to make it bigger. We weren't satisfied with the books being only a district-wide movement. We wanted to offer it to those in the community, too. We provided copies of some of the books to our local library that homeschooled students and other patrons could check-out and add to.
Graffiti books breathed new life into weeded titles and have students "talking" about what they read within the pages of a book.
---
Rachele Alpine is an English teacher and author of "The Invincible Girls Glub" chapter book series (S. & S., May 2021). Jodi Rzeszotarski is the media specialist at Perry (OH) High School.