The grieving process can open new spaces for expression, writes author B.J. McDaniel, including picture books.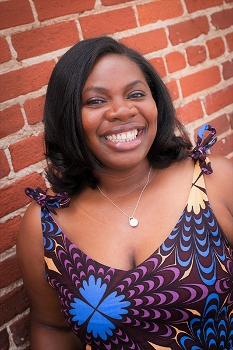 Breanna J. McDaniel
I could have thrown a parade with the tissue confetti in my hands in the counselor's office. She knew that I'd come today to talk about my suicidal ideation; she didn't know that a walk with a friend had revised my plan to realize the ideation just a few blocks down from her office.
I've had friends clipped by buses on their bikes as they've ridden through Cambridge, England, one falling head over heels as they tried to leap out of the way over a curb to avoid being crushed by the vehicles that were much faster than their sizes suggested. Somehow, I always missed the number one bus that stops closest to Homerton College when I had to go into town and so, walking, I've watched it zoom through the funky intersection next to the Church of Our Lady and the English Martyrs and the road that leads down to Parker's Piece.
My plan was to simply wait. I'd wait for the perfect time when the light was green, when there was no one at the bus stop right before the light so the bus would pick up speed to make it through and then… I would jump. Easy. I was willing to wait for however long it took, but a friend found me on what I thought would be my last walk down Hills Road and we ended up in front of the counseling services office together.
In my first session, I was introduced to my depression, the always sinking feeling that suffocated me and wouldn't let me go; that had stopped me from seeing sunshine for weeks by that time, even when I was outside, and England's clouds broke for blue skies. "It's the losses," my counselor explained. The loss of my grandmother's home, the deaths one after another that I could only attend to via funeral programs my aunt sent in the mail and, "Especially," she said gently, "The loss of a safe experience here at Cambridge."
My counselor was able to give me a toolbox to deal with my depression, but for the layers of racism that was being enacted on my spirit and my body, I still felt helpless. I was constantly being touched, my hair, my body, one student yanked my arm at a formal event to try to physically get me to accept her friend request on my phone so that I would "give [her] permission to know what's going on in my life." I was cornered in stairwells, by elevators and in bathrooms by people who also wanted access to me and were willing to wall me into spaces with their bodies in order to get it. I hated leaving my room and eventually I stopped doing so.
This was even before the harassment by a white lecturer started. Harassment that I reported up and down authority lines to no avail. I told so many people, begged for help, but with the exception of some truly incredible students, no one thought it mattered.
I worried all the time about not being able to recover or find peace. I worried that I would be sat in my darkness forever. I used to think recovery meant that I needed to find a way back to where I believed I was before the trauma of my experiences at Cambridge. I still cannot stop apologizing to people for not being as quick to respond or to think through questions and then have an answer. I apologize for not being as fast with a laugh, kind word, or connection, because the Former Breanna performed in those spaces without hesitation. Her strength, her outspokenness, her desire to try to do right no matter what, had been replaced with confusion and fear.
I think this is a part of the project of dehumanization that the institutions and people I worked with perpetuate with their racism. They push us toward a belief that our mechanized excellence is a reflection of collective progression, and when it fails, we aren't just losing ourselves; we're losing an opportunity to support our community. They do not think we are human beings; instead, we ourselves become the master's tools to be abused and discarded; and even with that realization, we yearn to return to these systems. At least I did. I wanted to recover the person who felt like she could take on the world, "for the culture." I left no space for my grief or my mourning.
By the time I officially escaped Cambridge, my toolbox was a jumbled mess, and all I had was my writing. I needed therapy. I needed to talk to a therapist. I needed some stability. Dealing with being unhoused in one instance, or jumping from couch to couch in others, was draining. I needed to know that I was human, even though I'd entered an institution that depends on people questioning their humanity so that they will seek affirmation in that name and their degrees. I didn't think I needed my writing, even though it eventually provided the space I needed to grieve.
That was key.
It was a peculiar time for me to be so invested in writing picture books, because my environment, moods, thoughts, felt so dark around me. I was worried that my writing would hold that darkness, because everything I wrote and edited during that time was about grief.
Impossible Moon, the story of a little girl who wants to touch the moon because she believes it will help her sick Grana get better, is our newest book, illustrated and brought to life, by the inimitable Tonya Engel. That's about grief. Another story is about two sisters who have a farting contest. That's about grief. A poem written in the summer of 2020 in D.C. That's about grief. I felt and feel a bit weird that grief has shaped so much of my work, even though it actually makes sense. In a global community where Black women especially are lauded for resilience, making room for grief was also me making room for rest, for imagining a space to express my grief openly, which is so rarely afforded to many folks, including children. It even made space for humor.
What if two normally boisterous sisters were playing quietly because they'd picked up on the stress the pandemic was having on their mom? In the quiet, things that may go unnoticed in louder, faster playtimes might be more… impactful. Like an unexpected toot! That was the very first draft of one book that had me imagining how children, with their amazing awareness, might try to help in their own way during troubled times. And how that can become an opportunity for different types of relief for an entire family.
The more I write, the more I appreciate the ways that grief can transform us and our stories. I didn't feel like I could run away from the grief in my writing before, and now I know that I don't want to try. If my imagining and reimagining of grief and how to grieve can open up new spaces for expression and release for readers of all ages, I think I want to keep going with it for a while. I am crossing my fingers that my books can show the spectrum of experiences that come with opening up ourselves to hold hands with grief just for a minute. In her 1975 article, "High John Has Risen Again," Virginia Hamilton encourages, "Writers need to take chances, as we all should. Chance love, chance terror, chance misunderstanding, chance truth. But chance." In this season I am chancing grief in my writing.
May I leave you with a some of my poem, "I Imagine Grief and Healing for Black Girls (Refreshed)":
For Black girls,
I imagine a celestial ascension.
A comforting kickback in the clouds
Where they are protected by constellations who've seen and know it all.
Nothing is too big or too small to come to the table where love is always served, and
Where there's always generous helpings of understanding, trust and belief.
They believe her when she says,
"I hurt."
And her when she says,
"I overcome."
And her,
"I thrive."
And her,
"I survive."
And her,
"I exist."
They believe each other.
***
They shout any and everything they can think of to help each other get through,
To help each other learn to grieve and heal.
To explore a process that many Black girls have snatched away by expectations of resilience and grit.
"Be better
Be brave
Be stronger
Be OK…even when you're not."
They laugh together, cracking jokes and
kiki-ing 'til they fall to the floor of the heavens with mighty booms.
Then they fall into each other's arms and emotion fills their eyes
And they cry,
And cry,
And cry,
And cry.
Their heaving, grieving bodies crackle thunder and flash lightning as their tears transform into shooting stars that grant wishes wherever they fly.
Because grief looks like a lot of things, snickers and sobs and fulfilled dreams…
sometimes it's even really, really quiet
It may be eons before they descend again to press play on their lives in this plane,
and that's just fine,
Because where they are, grief for Black girls is embraced and encouraged.
Plus, they have all the time and all the space in this world and beyond.
---
B.J. McDaniel is a writer, book reviewer, education consultant and youth literature researcher. She holds an MA in Children's Literature from Simmons University and is currently pursuing her PhD with research focused on representations of Black children in contemporary picture books. She's also the cofounder of Researchers Exploring Inclusive Youth Literature. She is originally from College Park, GA, and splits her time between the US and UK.