The author of Brown Girl Dreaming is one of 21 members of the MacArthur Foundation's Class of 2020.
Jacqueline Woodson, author of Brown Girl Dreaming, Harbor Me, and The Day You Begin, has been named a MacArthur Fellow for "redefining children's and young adult literature to encompass more complex issues and reflect the lives of Black children, teenagers, and families."
The MacArthur Foundation announced the 21 members of its MacArthur Fellows Class of 2020 today.
"In the midst of civil unrest, a global pandemic, natural disasters, and conflagrations, this group of 21 exceptionally creative individuals offers a moment for celebration," Cecilia Conrad, managing director, MacArthur Fellows, said in the announcement. "They are asking critical questions, developing innovative technologies and public policies, enriching our understanding of the human condition, and producing works of art that provoke and inspire us."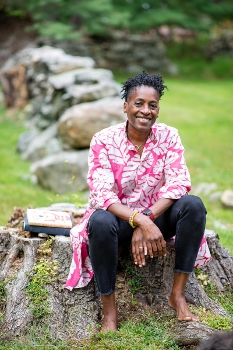 Jacqueline Woodson
Photo credit: John D. & Catherine T. MacArthur Foundation
On her dedicated page of the MacArthur site, Woodson said, "I don't want it to be overlooked that for me, it's been about creating a road where, as a young reader, there wasn't one. I wanted to see myself in books because I couldn't believe the audacity of a "canon" of young people's literature conjuring me invisible. I wanted to say to my young self 'You're loved. You're beautiful. You're complicated. You matter.' I know that by saying this to myself with each book I write, I am saying it to every reader who has ever felt otherwise."
The MacArthur Fellowship is a five-year grant to individuals "who show exceptional creativity in their work and the prospect for still more in the future. The Fellowship is designed to provide recipients with the flexibility to pursue their own artistic, intellectual, and professional activities in the absence of specific obligations or reporting requirements."
It is not a lifetime achievement award. It is for "individuals on the precipice of great discovery or a game-changing idea." Winners must be U.S. residents and cannot hold elective office or advanced positions in government. They do not apply; they are nominated.
The MacArthur Fellowship stipend is $625,000, paid over five years.