With the release of "Rowley Jefferson's Awesome Friendly Adventure," the best-selling author found a way to embark on an in-person tour despite the pandemic.
There were―and still are―a lot of unknowns about the pandemic, but one thing was clear as soon as preventative measures took hold in the spring: Book signings couldn't happen for a long time. A crowd of fans bunched together while standing on line inside a store? Books passed from the hands of a publicist or store employee to the author then to the buyer? Sometimes there's a handshake. Always, there's close conversation and someone pushing up from behind. It could not be done.
Well, it couldn't be done the traditional way.
"We've got to innovate," said "Diary of a Wimpy Kid" author and illustrator Jeff Kinney, who was determined to find a way to connect with kids over his April-turned-August release, Rowley Jefferson's Awesome Friendly Adventure, the second book narrated by Wimpy Kid Greg Heffley's best friend.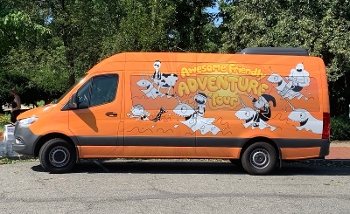 His solution was driving an orange "Awesome Friendly Adventure" van to some Northeast states, where the coronavirus cases were under control, for an honest-to-goodness, in-person (with all pandemic precautions in place), 10-day book tour.
It may seem like an unnecessary risk for an author who is likely to sell millions of books without needing to show up in person. While Kinney admits that a couple of people may have tried "just a little bit" to discourage him from hitting the road, he couldn't be dissuaded.
"I owe it to the kids who are readers," he said before the tour began. "I owe it to my publisher, who's taking a huge risk ordering so many copies of the book. And that's my job. That's what I've got to do. Plus this is the way I have always done it, and it has worked out. The books have always done well and at least a part of that is because I've gotten around the country a lot and around the world. I am always very fearful for the day this ride ends. I would hate for it to end because I didn't do my job."
Kids coming to the signings either pull up in a car or line up in a socially distanced outside, depending on what the bookstore's location allows. In Montclair, NJ, the second stop on the Adventure, kids (and the adults who brought them) waited on line outside. Kinney used a 92-inch "grabber" fashioned into a trident to take a pre-signed book from a staffer. He then swung the trident around and had each young reader take the book off.
"Technically, I am still handing the kids their books, just in a way that there's no risk of anything contagious being passed," he said, noting the books were also being disinfected between him signing them before the events and passing them over to readers.
At the New Jersey stop, after kids got their books, they stood in front of the van with (but not too close to) Kinney for a picture.
"I think it's really important to connect with the kids―for them and me," he said. "I write these books in isolation. I wrote this book in a hotel in Providence [RI] in a period of about a month. It's really lonely and you kind of need that payoff. You need to see someone receiving that book. You need to see the book in somebody's hands to make you feel like there's a sense of closure and completion."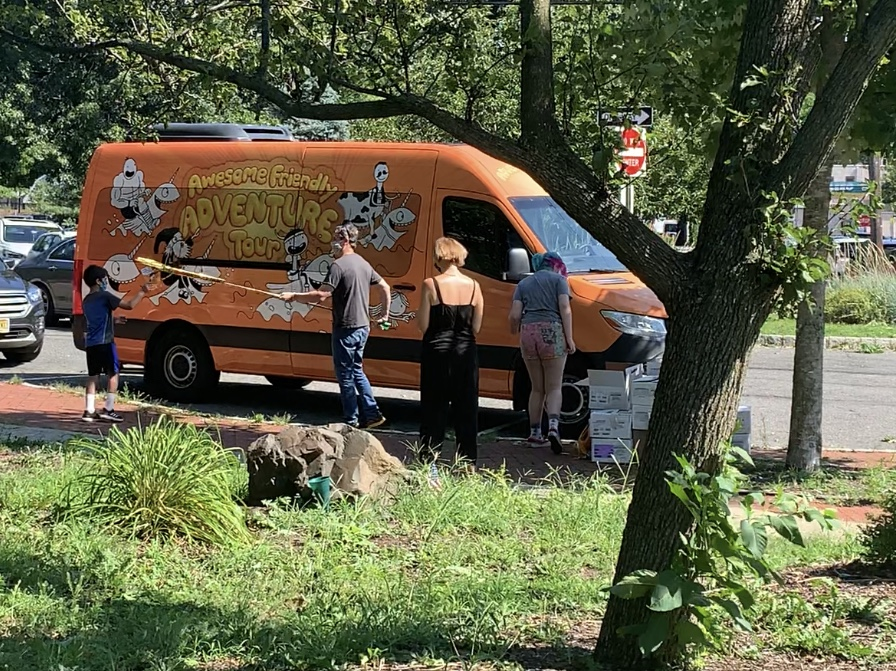 Jeff Kinney safely "hands" his newest book to a young reader in Montclair, NJ.
Originally, Kinney planned to go across the country for the Awesome Friendly Adventure tour in the spring. In a twist, he wouldn't know his destination until he got to the airport. When the novel coronavirus pandemic pushed back the release of the book and made traditional touring impossible, Kinney and his team started to think about options.
At first, they were going to go virtual. "But we figured by August, people might be a little tired of that," he says. "So we wanted to do an in-person tour to the degree that was allowable and safe."
He also wanted to let people know that independent bookstores, like his own in Plainville, MA, are open for business with curbside pick-up. A drive-in movie event, which was discussed as an option for Diary of a Wimpy Kid: The Deep End, the next book in the series, in the fall, was also under discussion. Then, other authors and entertainers did that. Author Stephenie Meyer's Midnight Sun Drive-In and Virtual Book Tour was hosted by Kinney's store. He wanted to do something no one had tried before.
The "fresh" idea for the Awesome Friendly Adventure actually takes Kinney back to what he used to do―road trip with books in the back of a vehicle, and stop to sell them at local bookstores.
"There's something really appealing about going back to my roots in the early days of being a published author," he said. "I would drive around and bring some books with me in a Pontiac Sunfire. There's something kind of romantic about that."
The timing wasn't great, however. In a typical year, Kinney spends the month of August drawing for 12 to 16 hours a day in order to meet his deadline for the next release in the "Wimpy Kid" series. The 10-day tour, which involves driving up and down from Pennsylvania to Vermont, involves the maximum distance, and time commitment, that will still allow him to still deliver illustrations to his publisher for the late October release deadline of The Deep End, the 15th book in the series.
The plan was to draw in the van, as well as the hotel―anywhere he could "draw like crazy." But coronavirus testing issues made having someone else drive the van impossible. So Kinney took the wheel and embarked alone.
With that van, he is bringing more than books and the trident. He's offering a little bit of fun and normalcy, and a special event for parents and kids in a summer devoid of typical socializing, outings, and celebrations.
"I am feeling an energy behind it that I haven't felt in a while," he said before the tour began. "It feels like a spot of good news. It feels like there's a little more interest in this than my bigger tours. That's kind of exciting for me, because I am just driving a van and I've got a grabber."
At the Montclair stop, fans were masked, outside, and excited—even though the signing was delayed by a day because of tropical storm Isiasis, which caused damage and extensive power outages in New York and New Jersey.
"Thank you for what you do," one woman said to Kinney. As she walked away with a young fan who had received a book, she added that the author had inspired her child to read.
Kinney is already thinking about what kind of tour he can do for The Deep End. He anticipates that fall might be a tough time, as experts predict spikes in coronavirus cases, and the weather may be too cold for outdoor events in many places across the country.
"We're going to see what we can learn from doing a tour this way, see if it made people happy, see if it was effective then probably build on it," Kinney said as he started brainstorming ideas. Maybe a drive-thru experience. Maybe something that included a car wash.
"Everybody goes through a car wash, and I hand you a book at the end of it," he said. "That would be pretty fun."