The children's publishing world is coming together to raise money to fight anti-Asian racism, NCTE is accepting applications for the Early Career Educator of Color Leadership Award, Amazon and Code.org team up to create equity-minded AP computer science course, and more in this edition of News Bites.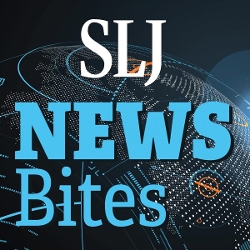 The children's publishing world is coming together to raise money to fight anti-Asian racism, NCTE is accepting applications for the Early Career Educator of Color Leadership Award, Amazon and Code.org team up to create equity-minded AP computer science course, and more in this edition of News Bites.
---
In response to the rise in anti-Asian violence, children's publishing authors and publishing professional put together an auction to raise money for Stop AAPI Hate and Hate is a Virus. The auction launches today, Friday, February 26, and runs through Sunday, February 28.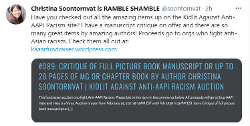 Christine Soontornvat tweeted, "We are a group of Kidlit writers and publishing professionals who are horrified about the intense rise in anti-Asian violence after a year of xenophobic rhetoric and racist attacks. … We are running an auction to raise funds for two organizations that work against anti-Asian racism and racism of all kind."
The Kidlit Against Anti-AAPI Racism Fundraiser (#KAAAR) auction items include signed books, query and manuscript critiques, calls with authors, characters named after the winning bidder, and more.
During the last year, AAPI authors have experienced harassment and racist attacks online and during virtual events.
---
NCTE Early Career Educator of Color Leadership Award
Applications are being accepted for the 2021- 2022 cohort for NCTE's Early Career Educator of Color Leadership Award, which will double in size from six to 12 thanks to a donation from Penguin Random House.
The purpose of the award is to support early career teachers of color. Literacy educators from preschool to college in their first five years of teaching and are NCTE members are eligible. The NCTE award page notes, "People of color refers to historically underrepresented groups: African American, American Indian, Asian American, Latinx, and Pacific Islander."
Those selected will receive two years of support from a mentor, the opportunity to present at the NCTE annual convention, round-trip airfare, hotel, and meals for the EC-EOC Institute and airfare and registration costs for the NCTE Annual Convention
Application deadline is April 15. Award recipients will be announced in June.
---
Young readers' Becoming out on March 2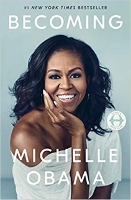 The much-anticipated young readers' edition of Michelle Obama's Becoming will be released March 2. The adaptation, aimed at age 10 and older, includes three photographic inserts and a new introduction.
In her new introduction, Obama writes, "Growing up on the South Side of Chicago in the 1960s and '70s, my parents, Fraser and Marian Robinson, always kept it straight with me and my brother, Craig. They never sugarcoated hard truths or presented their reality as anything other than what it was—because they knew we could handle it. I want to give you all that same respect."
---
STEM Careers Coalition adds resources celebrating Black leaders
The STEM Careers Coalition , with Discovery Education, has added new classroom resources to celebrate Black leaders in STEM. The new on-demand resources leverages the power of digital content aims to "connect the dots between classrooms and careers." The STEM Careers Coalition includes a wide range career profiles introducing students to leaders such as Boeing aircraft maintenance technician Brandon James, engineering project manager Antoine Sande from American Society of Mechanical Engineers, Microsoft program manager Wadood Daoud, drilling engineer Jesica Holley at Chevron, and senior policy advisor Uni Blake from American Petroleum Institute. The content shows how students can use their STEM skills to make a difference in the world. Each career profile video is accompanied by activities to help students gain a deeper understanding of the work, helping them see themselves as the next generation of STEM leaders.
Discussions about diversity in STEM can be viewed on demand.
---
New boutique children's publisher
Angus Yuen-Killick, whose career has included positions with Macmillan Children's Publishing Group, Penguin Young Readers Group, Disney Publishing, and DK, is creating his own boutique children's publishing company. Red Comet Press will launch its first list in fall 2021 with the publication of three picture books and one illustrated novel for older readers. The picture books—Before We Sleep by Giorgio Volpe and Paolo Proietti, Mister Fairy by Morgane de Cadier, illustrated by Florian Pigé, and Cat & Dog: A Tale of Opposites by Tullio Corda— will publish in early September. The Secret of the Magic Pearl by Elisa Sabantinelli and Iacopo Bruno, a middle grade illustrated novel, will release on October 12.
---
Amazon, Code.org creating "equity-minded" AP computer science course
Amazon Future Engineer made a $15 million donation to Code.org to support the development and launch of a new equity-minded AP Computer Science course.
The course will be designed to "reflect the unique cultural perspectives, interests, and experiences of minority students, especially Black, Latino, and Native Americans (BLNA)."
Code.org and Amazon Future Engineer want to increase equitable access, participation, and achievement in computer science among high school students and encourage more BLNA students to pursue careers in engineering.
Georgia, New Mexico, Ohio, Oklahoma, and Pennsylvania have signed on to participate in piloting the new AP CSA course in the 2021-2022 school year. Educators and administrators interested in the program can sign up to receive news and updates on the course development and piloting.
---
The Guest Book podcast shares behind-the-book stories
Launched in June 2020 by Holiday House and Pixel+Ink, The Guest Book podcast asks children's, middle grade, and young adult authors and illustrators from Holiday House and Pixel+Ink to share the stories behind their titles. Each episode pairs a creator with a fellow author, editor, or publishing professional for a conversation about a recent project.
Recent and upcoming episodes include Candace Fleming and Eric Rohmann (Honeybee, 2020), middle grade series author Steven Banks, debut novelists Crystal Maldonado (Fat Chance, Charlie Vega, 2021) and Kate Albus (A Place to Hang the Moon, 2021), and more.