When school librarian Lisa Egan was offered a visit from movie stars to help her connect with students and generate interest in her library, she jumped at the chance and hosted a Q&A with Greta Gerwig, director of the film "Little Women," and its stars, Saoirse Ronan, Florence Pugh, and Eliza Scanlen.
Lisa Egan is the librarian for six different NYC high schools that share a campus. Six administrations, six student bodies, more than 3,000 kids. One library. One librarian.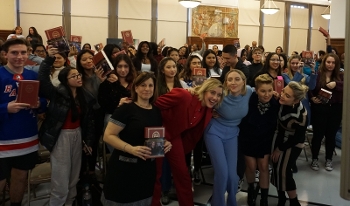 Photo by Connor Smith
Always searching for a way to bring the population together—and get more kids interested in the library—she helped bring the cast and writer/director of Little Women to her library to speak with her students.
Egan saw a post on a library listserv from Rachel Breinin, an educational consultant for Sony Pictures Entertainment. When there is a movie coming out with a book connection and programming possibilities, Breinin reaches out to teachers and librarians. She provides lesson plans, discussion ideas, and activities. Egan contacted her about running a Little Women program at her school, and Breinin told her it might be possible for the director and some stars of the movie to visit. Egan jumped at the opportunity.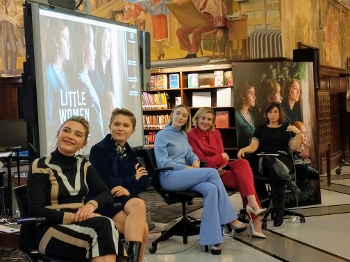 Photo by Ariel Birdoff
"I thought it was a great way to bring all the schools on our campus together and do something really special for our students," says Egan, who runs the Humanities Campus Library on the Bayard Rustin Educational Campus for Hudson High School of Learning Technologies, Humanities Preparatory Academy, James Baldwin High School, Landmark High School, Manhattan Business Academy, and Quest to Learn High School. "This was just a way to try to connect with more patrons and get more students into the library and create an exciting event that would draw participation."
A couple of weeks before the movie's December 25 release, writer and director Greta Gerwig and cast members Saoirse Ronan (Jo), Florence Pugh (Amy) and Eliza Scanlen (Beth) came to speak with about 80 of Egan's students. The event was moderated by NYC Public Schools director of library services Melissa Jacobs.
"It truly was an amazing day, and I have Lisa to thank for being so responsive and supportive," Breinin wrote in an email. "She was a great partner. The students asked very perceptive questions, particularly about the four sisters and their ambitions, and showed why Little Women is both timeless and timely."
Before the movie and event, the classic title by Louisa May Alcott wasn't exactly flying off her shelves.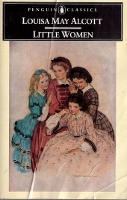 "Most of my students in New York City aren't looking for Little Women," she says.
For Egan—who can now boast that three Academy Award nominees have been to her library—this was an opportunity to introduce her students to the book and the themes and ideas in it that she feels are important.
"Little Women, especially with this new movie version, has a lot to do with strong women. And I think it's kind of neat to show students even when this book was written there were strong female personalities," she says, noting Alcott and her character Jo.
Each student who signed up for the program received a copy of the book and brought them to the Q&A.
"When Greta Gerwig saw all the students in front of her holding their copies of Little Women, she almost began to cry as Little Women meant so much to her growing up," Breinin wrote. "She was thrilled that a new generation of diverse students was being introduced to this classic."
The event was a success by all measures. Egan says she received positive feedback from administrators and kids and—most importantly—since the event, she has seen more student interest in the library.