Library Ideas debuts Immersive Reality Books, a new line of children's nonfiction titles featuring integrated virtual reality and augmented reality content.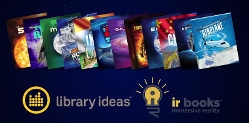 On Sunday, June 23, Library Ideas debuted Immersive Reality Books, a new line of children's nonfiction titles featuring integrated virtual reality (VR) and augmented reality (AR) content. Created in partnership with Bellwether Media, the new line of hardcover books will be available exclusively to libraries beginning this fall.
Aimed at 7-12 year olds, an initial run of 12 titles will focus on educational topics such as the Moon, Asteroids, Polar Bears, Great White Sharks, and the geography and culture of countries such as China and India. Library Ideas—developer of Freegal Music, Freading eBooks, GoChip Beam streaming devices, and other services for libraries—plans to publish 12 new titles per quarter. Each book will include three AR/VR experiences accessible via an Android or iOS mobile device with the free-to-download Immersive Reality Books app installed.
LJ was provided with a pre-publication copy of The Moon, one of the titles in the "Space Science" series, along with early access to the Immersive Reality Books app using a Google Pixel smartphone loaned by Library Ideas. The AR and VR content works by opening the app and scanning an on-page QR code. VR content prompts users to place their phone in a headset (such as Google Cardboard) during a brief loading period. The Moon's VR experiences included a 360° simulation of a Saturn V rocket lifting off beyond the Earth's atmosphere, and a 360° simulation of the moon's surface during the Apollo 11 landing.
The AR module simulates the formation of the moon, which is theorized to have been created 4.5 billion years ago when another celestial body collided with Earth. In addition, the app gives users the option to view VR content without a headset, altering the interactive, 360° perspective to a single, full-screen view. Although the experience is not as immersive, it will enable small groups to view the content on a tablet, for example.
"This isn't just a gimmick. It's an actual learning experience," Library Ideas co-founder Brian Downing told LJ.
Although Downing said that the format could potentially support fiction, travel guides, and other types of content, Library Ideas plans to focus on educational and STEM (science, technology, engineering, and math)-related nonfiction children's books in the near term. Noting that many public and academic libraries have been enthusiastic about potential educational uses for VR, he said that book reports of the future could have students recounting first-hand VR experiences alongside other content.
VR "delivers something that the printed page [alone] just can't," he said.
Library Ideas plans to begin distributing the shelf-ready books (with MARC records) in September, Downing said. Pricing has not yet been determined, but titles will be available to libraries via standing order or individual purchase.
---
Matt Enis is Senior Editor, Technology for Library Journal.