It's been quite a year. And we have lists.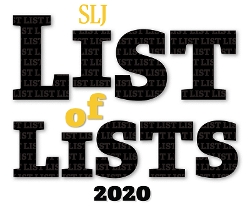 SLJ Best Books 2020
SLJ announces Best Books 2020
Best Picture Books 2020 | SLJ Best Books
Best Chapter Books 2020 | SLJ Best Books
Best Middle Grade Books 2020 | SLJ Best Books
Best Young Adult Books 2020 | SLJ Best Books
Best Nonfiction 2020 | SLJ Best Books
Best Graphic Novels 2020 | SLJ Best Books
The Year in SLJ Covers 2020
From the pandemic and a presidential election, to school boards and systemic racism, SLJ's cover design and illustration helped tell the tale that was 2020.
SLJ's Most Popular Stories of 2020
In an unprecedented year, managing the pandemic dominated attention. SLJ covered the gamut, from publisher policies adjusted to accommodate
remote learning, to tips on running a virtual book club for middle schoolers. Despite all, fostering literacy and celebrating great books persisted as key topics of interest for our readers.
SLJ Book Reviews Editors' Favorite 2020 Best Book Covers
As we look back at the tumultuous year that was 2020, the SLJ reviews editors have compiled a series of "favorites" roundups. Here, we share the 2020 Best Books covers that most left an imprint on our eyes (and hearts).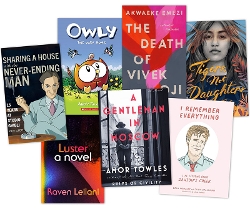 SLJ Book Reviews Editors' Favorite Books Read in 2020
The SLJ Reviews editors share the books we read in 2020 that have stuck with us—whether as a welcome respite from the year's upheaval or as a work that resonated long after the last page was turned.
SLJ Book Reviews Editors' Favorite Quotes from 2020 Best Books
Sometimes there are lines that stick out and linger, burrowing themselves in our memories. Here are some of these unforgettable quotations from this year's Best Books.
2020 by the Numbers: Stats on Education, Access, and Reading
Amid the upheaval this year, there were bright spots: Audiobook sales surged, more kids tuned into podcasts, and children's book sales continued to grow.
SLJ's 2020 News Stories That Gave Us Hope
It was a tough year, but there is always an author, educator, or young person to remind even the most cynical among us that there are reasons to believe better days are coming.
Most Popular Posts in 2020: Graphic Novels:
My Top Books of 2020 | Read Woke
It's been a long year. And a great one for books.
Top Trendsetting Podcasts of 2020 | Kidcasts
One in four kids tuned in to a podcast in 2020, drawn to stories and discussions about the coronavirus, money, activism, racial justice, and other topics.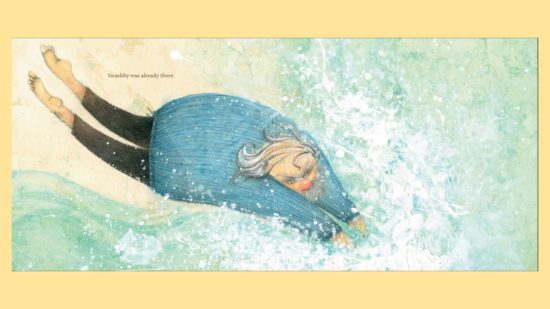 100 Scope Notes
Top 10 Posts of 2020
2020 Children's Lit: The Year in Miscellanea
Pictured: "Two-Page Spread of the Year": Swashby diving from Swashby and the Sea, illustrated by Juana Martinez-Neal
The Ultimate Children's Literature Illustrator Gift Guide 2020
A Fuse #8 Production
31 Days, 31 Lists: 2020 Board Books
31 Days, 31 Lists: 2020 Transcendent Holiday Picture Books
31 Days, 31 Lists: 2020 Picture Book Readalouds
31 Days, 31 Lists: 2020 Rhyming Picture Books
31 Days, 31 Lists: 2020 Funny Picture Books
31 Days, 31 Lists: 2020 Caldenotts
31 Days, 31 Lists: 2020 Math Books for Kids
31 Days, 31 Books: 2020 Picture Book Reprints
31 Days, 31 Lists: 2020 Bilingual Children's Books
31 Days, 31 Lists: 2020 Books With a Message
31 Days, 31 Lists: 2020 Fabulous Photography Books
31 Days, 31 Lists: 2020 Translated Picture Books
31 Days, 31 Lists: 2020 Fairy, Folk, and Religious Tales
31 Days, 31 Lists: 2020 Wordless Picture Books
31 Days, 31 Lists: 2020 Children's Poetry
31 Days, 31 Lists: 2020 Unconventional Children's Books
31 Days, 31 Lists: 2020 Easy Books and Early Chapter Books
31 Days, 31 Lists: 2020 Comics & Graphic Novels for Kids
For more "31 Lists," visit "A Fuse #8 Production" slj.com/Fuse8
Teen Librarian Toolbox
Five of the Best YA Books I've Read in 2020
Take 5: 5 of the Best Books I've Read in 2020, Middle Grade Edition
The Classroom Bookshelf
From SLJ and the Horn Book to Kirkus and The New York Times, all the 'Best' Lists of 2020