The Nobel Laureate was remembered for her words and inspiring countless writers to follow her lead.
"Put the world on pause," author Jason Reynolds tweeted on Tuesday, seeming to sum up the feeling of the literary community as it mourned the death of author Toni Morrison.
The Nobel Laureate, Pulitzer Prize winner, and creator of the seminal works Beloved and The Bluest Eye, among others, was 88.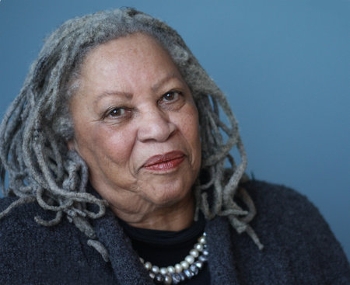 Morrison's family released a statement through Princeton University, where she was a professor emeritus: "It is with profound sadness we share that, following a short illness, our adored mother and grandmother, Toni Morrison, passed away peacefully last night surrounded by family and friends. She was an extremely devoted mother, grandmother, and aunt who reveled in being with her family and friends. The consummate writer who treasured the written word, whether her own, her students or others, she read voraciously and was most at home when writing. Although her passing represents a tremendous loss, we are grateful she had a long, well lived life.
"While we would like to thank everyone who knew and loved her, personally or through her work, for their support at this difficult time, we ask for privacy as we mourn this loss to our family. We will share information in the near future about how we will celebrate Toni's incredible life."
Heartfelt reaction from admirers and authors she influenced flooded social media.
Reynolds, the Newbery Honor winner and National Book Award finalist, wrote about Morrison's impact on him.
"You taught me boundlessness. No Boxes. That I get to fight for freedom, and make my own simultaneously. Thank you, Mother Morrison."
He continued, "I had to grow into Toni's work like growing into a suit meant for me, when it was time. When I was ready. But the suit had always been meant for me. Had always been waiting for me."
Over her six-decade career, Morrison's work centered the black experience, particularly that of black women. She wrote more than 10 novels, multiple children's books and plays, even an opera. She was also an editor and a professor and mentor to many younger writers. Her first novel, The Bluest Eye, was published in 1970, Song of Solomon in 1977, but Morrison's recognition as one of this country's great writers wouldn't come until years later with Beloved, which won the Pulitzer Prize in 1988. Five years later, Morrison became the first African American woman to receive the Nobel Prize for Literature.
Her other accolades include the 2012 Presidential Medal of Freedom and 2016 PEN/Saul Bellow Award for Achievement in American Fiction. This past May, she received the gold medal from the American Academy of Arts and Letters. She was also a library advocate.
Librarian of Congress Carla Hayden tweeted her thoughts.
"Toni Morrison's strong voice and stories touched her readers to the soul offering them hope and inspiration," she wrote. "The Library of Congress joins the nation in mourning this American literary icon and humanitarian. Toni Morrison was a literary change maker and was honored with the 2011 Library of Congress Prize for American Fiction. Her words and books will forever be etched in this country's collective culture and history."
Many of Morrison's novels are part of high school reading assignments across the country, and her work was and is frequently challenged. The Bluest Eye, Beloved, and Song of Solomon are titles that teachers and librarians must still fight to keep on the shelves and in the curriculum. In 2006, The Bluest Eye and Beloved were in the top ten most challenged books. Beloved made the list again in 2012, 2013, and 2014.
Angie Thomas, who faces similar attempts to ban her books, dedicated her day's work to Morrison.
"I'm writing in her honor today," the author of The Hate U Give tweeted. "All day if I can. Rest in power to a true queen."
Tiffany D. Jackson called her "Literary Grandmother," and Dhonielle Clayton said Morrison will "live forever in the bones of generations of black writers."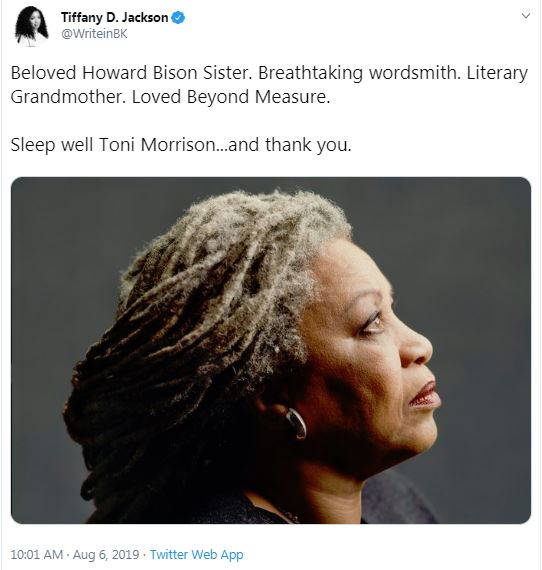 Morrison joined the Princeton faculty in 1989 as part of the creative writing program until she transferred to emeritus status in 2006, according to the university. She reminded her students of their social responsibilities as she taught.
"I tell my students, 'When you get these jobs that you have been so brilliantly trained for, just remember that your real job is that if you are free, you need to free somebody else. If you have some power, then your job is to empower somebody else," she said.
Morrison inspired not only with her words on the page but also in speeches and interviews she has given over the years.
"Of course I am a storyteller and therefore an optimist, a firm believer in the ethical bend of the human heart, a believer in the mind's appetite for truth and its disgust with fraud," she told graduating seniors during her 2005 Princeton commencement address.
At the 50th anniversary celebration of the Coretta Scott King Book Awards, author Jacqueline Woodson said she had recently been watching that documentary on Morrison and began thinking about legacy—"that which we can only imagine and, at the hardest moments in our lives, seems unimaginable, shifting into believing, shifting into doing, shifting into the thing we couldn't imagine the world being without."
On Tuesday, Woodson tweeted, "Peace on the journey, Ms. Morrison. And Thank You."
Many posted Morrison quotes after learning of her death. This one was shared repeatedly:
"We die. That may be the meaning of life," Morrison said. "But we do language. That might be the measure of our lives."