I was the child born into the loving arms of storytellers. Just weeks before I came into this world, Martin Luther King, Jr. delivered his landmark "I Have a Dream" speech as 250,000 believers listened to Martin's hope for a better tomorrow. It was August 28, 1963.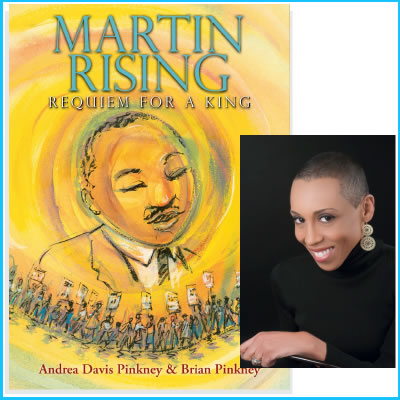 I was the child born into the loving arms of storytellers. Just weeks before I came into this world, Martin Luther King, Jr. delivered his landmark "I Have a Dream" speech as 250,000 believers listened to Martin's hope for a better tomorrow. It was August 28, 1963.

My father, who marched with King, was one of the first African American student interns to work in the U.S. House of Representatives. He attended the march with great expectation. Daddy stood among the dreamers, praying Martin's vision would become a reality, as his baby daughter was soon to be born.

Mommy wanted to join the march, but stayed home since my arrival was just days away. My parents had been active members of the NAACP and the National Urban League, and were participants in many civil rights demonstrations. That's why the March on Washington held special importance for Gwen and Phil.

From my parents' inner-city apartment, Mommy listened to Martin's speech, which was happening just blocks away. It seems Martin's inspirational words were one of the very first stories I ever "heard," even though I had yet to be born.

Though Martin gave a resounding speech, I believe Martin's message somehow whispered to me, and that his oratory invited every child to dream. Today I refer to this as "Martin's story-whisper."

As I grew, I came to learn that stories, delivered in many forms, have a special power — they summon hope.

With Martin's speech imbedded into what would become an essential thread in our family's storytelling legacy, my parents clung to an unshakeable faith that someday all of us would be judged by the content of our character.

This powerful conviction became the hope-narrative that Mommy and Daddy stitched into the hearts of their three children. By keeping alive the story of that unforgettable day when Martin told the world of his dream — and whispered that dream to me — my folks instilled an important message:

Believe in a bright tomorrow. Hold fast to hope. Trust that a power greater than all of us presides for good.

I clung to this belief that began as an utterance from Martin to me, but became an unwavering affirmative that lit my path with its promise. But soon the story — the steadfast faith — was shaken. In April 1968, when news came that Martin — "our Martin" —had been assassinated, it was hard to hold onto any light. I was a schoolgirl when the magnitude of Martin's death sounded an ominous bell in our home. Stories of hope that I had grown up with, the abiding belief in good that had comforted me for so long, had now become uncertain.

News reports about Martin's death were very upsetting. I was also confused by Martin's assassination. I kept wondering: Why would someone kill Martin Luther King, Jr. if he was such a good man? None of it made sense.

Thankfully, the adults in my life were very comforting and had a gentle way of explaining the tragedy. They told me about Martin's devotion to peace principles, and talked about how important it was to believe that although Martin was no longer with us, the intent behind his actions was still very much alive. Mommy and Daddy also reminded me that even as a little girl, I could carry on Martin's legacy by taking a kind view of every person I knew, even those who had been mean to me, or would wrong me in the future. Like the best stories, these words were the soothing balm I needed.

Soon after Martin's death, my father organized a procession at our church in honor of Martin. I remember the day very clearly. Mommy and Daddy had created a large placard bearing a photographic portrait of Martin. It was my job to lead the procession while holding the placard, which was taller and wider than I was, and very heavy. The large poster-board covered my entire front. When I carried it, my legs were the only things showing. Because the poster blocked my view, I had to keep my head down as I walked to make sure my feet were moving in the right direction.

The portrait kept slipping as I tried to move stalwartly down the aisle of our church. Whenever I lost my balance, I would be forced to hoist the image of Martin back into my hands with a swift kick of my knee. Daddy, who walked close behind, guided my steps and helped prevent the portrait from falling completely.

Finally, when I made it to the alter, I was to place Martin's image at the front of the church as a powerful presence among this day's religious services at which Daddy delivered remarks. My father told our fellow parishioners everything he'd told me about Martin's beliefs — that love's presence would heal the world, and that it was now up to all of us to carry on in faith.

A new narrative was now being woven into my consciousness. The story of what it means to endure.

Services ended with the chorus filling our church with the warmth of their voices. My mother's singing was among the sweetest on that morning, filling the church. Mommy's vocal powers brought music to the storytelling prism.

As a grownup, I have this tapestry of storytelling elements stitched into my awareness. That's how I began writing Martin Rising: Requiem for a King. I was led through the book's storytelling journey by the childhood memories that started with "Martin's story-whisper" — that same spiritual essence that met me on the memorable day in 1963.

Martin Rising is written through a series of docu-poems, a narrative form that brings readers into the daylight of Martin's childhood, plunges us into the darkness of his sad passing, but then — as my very own Daddy had done when he told me about Martin's beliefs — lifts us to a higher consciousness.

The embroidery of poems can be enjoyed aloud, in a group setting, so that the power of story can come alive through the narration of young voices, in the same ways my own mother's choral singing illuminated storytelling's breadth. In Martin Rising, there's a mythic character named Henny Penny, who appears in select places within Martin's life-story. Henny is fashioned after my own mother, and also so many women, Martin's beloved wife, Coretta, among them. These are the knowing souls of women who lead us forward.

The Martin Rising poem entitled "Quiet Storm" shows us the essence of Coretta's power, and thereby speaks to the unique storytelling ways of women. It says: Coretta carries herself with a black swan's dignity. . . determined. . . pushes past all ignorance. . . inspires striding. . . ignites pride.

In Martin Rising Coretta represents the mothers, aunts, sisters, and grands. With heads held high, their omniscient wisdom is what I call "griot grace." This form of storytelling, told simply through the elder presence of women, illuminates, punctuates — tells it like it is. In the case of Martin Rising's Henny Penny, she is the choirmaster, conducting stories that swell from a place deep-down. Henny Penny's insight delivers the most powerful story anyone can convey — the essence of eternal expectation. The promise of what it means to rise when a story enters all souls.

The final poem in Martin Rising celebrates this promise:

Can a dream ever die?
A burst of sun replies:
His life well lived for peace and good.
Martin's spirit — still alive!
And with love,
we all shall rise.

Andrea Davis Pinkney is the bestselling and award-winning author of numerous books for children and young adults, including Martin Rising, a School Library Journal Best Book of 2018
---
This article is part of the Scholastic Power of Story series. Scholastic's Power of Story highlights diverse books for all readers. Find out more and download the catalog at Scholastic.com/PowerofStory. Check back on School Library Journal to discover new Power of Story articles from guest authors, including Lamar Giles, Sabina Khan, book giveaways and more.
SPONSORED BY