The annual event celebrates, elevates, and affirms the excellence of educators of color, while forcing readers to think and act for a more equitable, informed school and community.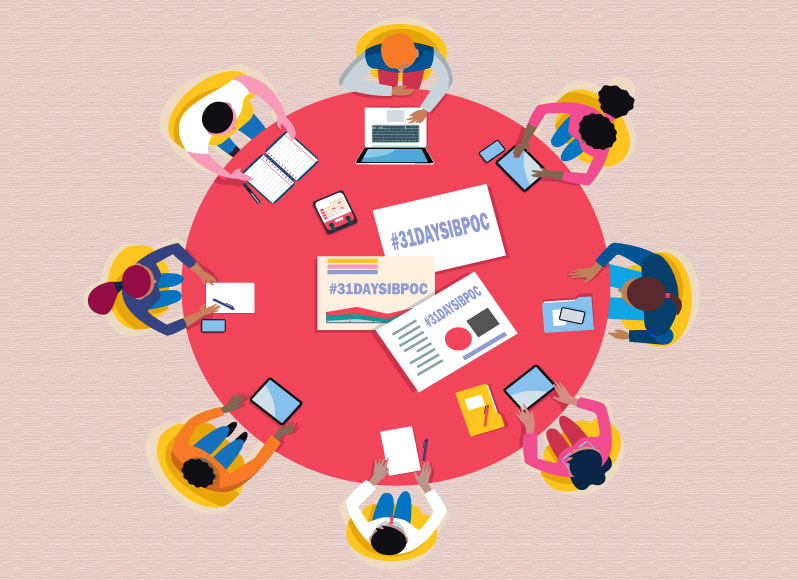 Jesussanz/Getting Images

"If they don't give you a seat at the table, bring a folding chair."—Shirley Chisholm
May 1st heralded the start of what has become an important marker of my spring. When Tricia Ebarvia and I envisioned creating a space that centered IBPOC (Indigenous, Black, and people of color) voices, we spoke our dreams into existence. We hoped to include classroom teachers, librarians, academics, and community organizers who would spend the month of May sharing their voices.
What we began last year, #31DaysofIBPOC, has been a powerful event that celebrates, elevates, and affirms the excellence of educators of color.
Why #31DaysIBPOC
The purpose of 31 Days IBPOC (#31DaysIBPOC) is explained on the website: "As Indigenous, Black, and people of color in education, we have too often found ourselves at the margins in conversations about our work as teachers in a field where white women make up 80 percent of the workforce. By sharing our voices—one voice at a time each day—this project centers our unique and varied experiences. As activist DeRay McKesson said, "We have never been the voiceless; we have been the unheard." And as IBPOC teachers, we have powerful stories to tell.
"Given the problems our society faces, now more than ever do we need to listen to IBPOC educators who can lead the way forward—to learn from the collective wisdom of our IBPOC communities if we have any chance of setting us all free from this disease of racism," Ebarvia said.
I had similar hopes. I've also grown weary of all-white spaces that gave a passing nod (if that) to "equity," but consistently ignore BIPOC voices in panels, conferences, and conversations. I wanted a way for others to know what we know through our lived experiences: BIPOC educators have been expert, reflective practitioners. We have always been here.
A community of educators
We cast a wide net for the May 2019 inaugural 31 Days of IBPOC class. We expressed our admiration and deep respect for the work of potential bloggers. We drew on what we saw as a need to create a virtual community. We also wanted that space to be multidimensional: flexible enough to enable deep sharing as the writers were comfortable, and celebratory because a larger audience could see, read, value, and reflect upon the vibrant words from educators many white readers did not know. What we didn't want, though, was for BIPOC writers to feel any need to educate readers. Instead, we hoped they would contribute their voices and write about whatever they wanted.
All said yes.
Reflective practices, reflective practitioners
Ebarvia often says: "You cannot disrupt if you do not understand how systems of oppression work. You cannot understand how systems of oppression work until you come to terms with how they have worked on you."
A new 31 Days post is released daily on the website and on Twitter. No entry is the same, although throughlines of liberation, identity, deep love of practice, and humility weave throughout many of the essays. Repeatedly, we've heard from many different people—BIPOC and white—who tell us how the series has impacted their practice. They say reading stories from a range of writers significantly alters their understanding of race, gender, ethnicity, and other important markers of how we live our lives. Reading the essays urges them to begin their own self excavations, of depth previously unknown to them, they've said. White readers confront and question ways their whiteness has functioned to silence and harm BIPOC educators. For a few (and what I hope will be an increasing number of readers), they are moved to act to change.
Racism, anti-racism, and other complex issues come up, too. Every reader, regardless of background, has something to learn about how they have internalized systems of oppression as they read the series. What is important is that readers lean into any discomfort they feel as they build their own racial literacy and think about how reading the experiences of others can impact our own lives. Then, if they are truly committed to moving beyond their discomfort, they can think about how to change their beliefs. I'm also reminded of equity practitioner Elena Aguilar's words, "Our beliefs drive our behavior." What anti-racist and culturally responsive behaviors might we begin to practice if we use the essays from 31 Days of IBPOC to change our beliefs? That is the lasting impact we're after with this series.
Beyond 31 days
The series lives on the website throughout the year. Given the multi-layered complexity of the essays, it makes sense for many readers of all disciplines to return again and again. I reread, especially when I'm trying to understand something about myself, my students, or the world. Realizing, too, that no writer is representative of any experience other than their own, I avoid essentializing, instead, pushing for how an individual's essay can be a catalyst for me to learn more, guide me in a direction of more learning, or help me engage in broader discussions with colleagues, administration, or preservice teachers. The opportunities for continued engagement are vast.
It is our hope that readers to the series will consider how to change their practice, their libraries, their classrooms. We hope they think about absences and omissions we have all made because we "didn't know." 31 Days of IBPOC demands we know more about others, many of whom could be our colleagues, our students, or community members. Then, with that growing knowledge, we should actively work to make our lives, and our practices, more inclusive and anti-racist.
Kimberly N. Parker currently prepares preservice teachers as the Assistant Director of the Teacher Training Center at the Shady Hill School in Cambridge, MA. She is a co-founder of #disrupttexts and #31DaysIBPOC.