School librarian Jaynie Korzi made an interactive digital book display spotlighting challenged books that are in the library's collection.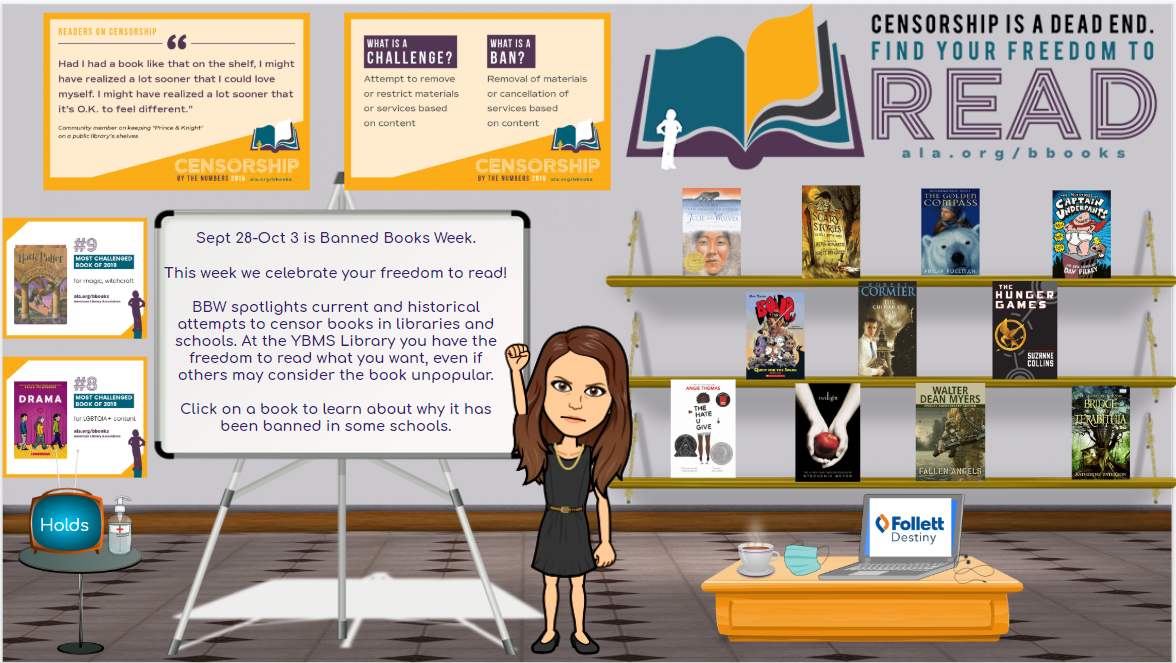 It's Banned Books Week, and students at Yellow Breeches Middle School (YBMS) in Boiling Springs, PA, can drop into their virtual library to celebrate their freedom to read.
School librarian Jaynie Korzi has designed a special interactive Bitmoji library with a book display showing some oft-challenged titles that are in the school's library collection. Students can click on the book to hear a recording of Korzi sharing a brief summary of the title and why it was challenged.
"BBW spotlights current and historical attempts to censor books in libraries and schools," reads the whiteboard on the site. "At the YBMS Library, you have the freedom to read what you want, even if others may consider the book unpopular."
The books in Korzi's Banned Books Bitmoji Library are:
Harry Potter and the Sorcerer's Stone by J.K. Rowling
Drama by Raina Telgemeier
Julie of the Wolves by Jean Craighead George
Scary Stories to Tell in the Dark by Alvin Schwartz
The Golden Compass by Phillip Pullman
Captain Underpants by Dav Pilkey
Quest: Out from Boneville (Bone series) by Jeff Smith
The Chocolate War by Robert Cormier
The Hunger Games by Suzanne Collins
The Hate U Give by Angie Thomas
Twilight by Stephenie Meyer
Fallen Angels by Walter Dean Myers
Bridge to Terabithia by Katherine Paterson
This is Korzi's second year at the school, but the first time she has spotlighted Banned Books Week—something she was encouraged to do by her district's high school librarian.

[READ: Top 100 Most Banned and Challenged Books of the Decade]
"My goal is to diversify the [middle school] collection and part of that includes celebrating students' freedom to read," Korzi says.
When they visit Korzi's site this week, students can click on the computer icon to access Destiny and place a book on hold. As part of the pandemic precautions and restructuring, Korzi's physical library space is not open to students this year. Instead, they request books online and she delivers them. Without the ability to browse in person, Korzi is trying to create interest with her Bitmoji library that highlights different titles each week.
"I believe having a strong presence on the internet is the best way to keep students engaged in reading during hybrid and remote learning," she says. "Bitmoji libraries are a fun, fresh way to share books with students."

[READ: Virtual Libraries and Bitmoji Classrooms Bring New Kind of Book Browsing]
Let us know what you are doing this week in the comments below.