Miles McKenna, actor and author of Out!: How To Be Your Authentic Self (Abrams/Amulet; Gr 8 Up) reflects on his childhood love of reading and J.K. Rowling's recent anti-transgender social media posts.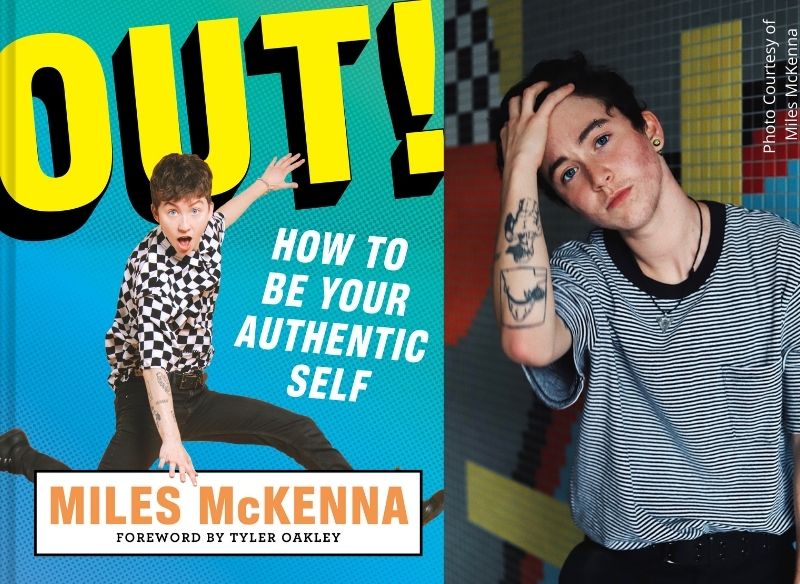 I've been thinking a lot about how I was taught as a small child by the adults around me to love reading. Back then, the most anticipated field trips would be to the public library. I'd spring through those double doors covered with colorful construction paper in the shapes of stars, with the names and ages of children who were the top readers. Big wooden planks with branches like trees held puppets that helped tell a story. Before we were given biographies of American presidents for a fifth-grade report, we had fantasy, adventure, and opportunity. We didn't read to escape—those imaginary worlds were our reality and it was okay.
I don't know exactly when the switch happened, but I know that it did. It's as vivid as my first-grade school picture but as vague as not knowing when it was taken off the fridge. I don't know if it was during the time we were assigned The Catcher in the Rye, with a due date and letter grade at stake. Or maybe this memory lives somewhere in the space between being asked, "What do we want to be?" and "Be more realistic." I'm talking about the freedom to be yourself.
Teachers and librarians taught me the power of self-liberation when I ran into an unfamiliar jungle filled with words I had never heard. Every trip to the library allowed me to gravitate in any direction I wanted—live through the eyes of any protagonist I chose. One day that freedom to express and love the way I wanted was okay, and the next it was not. All of a sudden it was unnatural, shameful, and hidden—treated as if it was never there at all. Reading presented the opportunity to quietly explore a world we wanted to live in, without interjection from the antagonists in our own lives. Why did that have to stop once the last page was turned?
Why can't we live the life we want?
That's what I'd like to ask people, namely authors like J.K. Rowling. When I think of a story as whimsical as wizards and witches attending a magical school, I think of that innate childhood spark inside us that lets us be ourselves even if we don't have the words to define it. Not to mention—Harry Potter is a story about a wizard who finds himself in a new community that accepts him. Additionally, he has to hide his true identity from the ordinary "muggle" world. All the while, he lives in a closet for the majority of his adolescence. I mean, come on! Hello LGBT!
As someone who was raised in a world where I felt different, as many of us do, I turned to art to find comfort. When I saw Rowling use her social media platform and visibility to direct hate toward the transgender community, the meaning of these worlds she had created disappeared (if by some dark magic). Suddenly, her themes of bravery and uniqueness that flow throughout her books vanished when I saw how she combated real people's differences.
I am one of the scary transgender people that Rowling thinks is endangering the livelihood of women by simply existing. I think we are all familiar with her hate speech disguised in tweets, calling for women's spaces to not allow transgender females. Her new literary endeavor, Troubled Blood, features a "man who dresses as a woman" as the villain of the series. Not only is her language harmful, but it is equally confusing.
I am a transgender male with my own journey, and to me, that means I am a guy. I am seen as male by strangers and on my government-issued IDs. I use the men's restroom. If trans women were no longer accepted in women's restrooms like Rowling constantly advocates in her posts, would they be welcomed back in men's restrooms? If keeping women in women's spaces is the goal, then wouldn't a bunch of actual men in the women's restroom be pretty counterproductive?

[Read: SLJ's Starred Review of Out! How To Be Your Authentic Self]
Rowling may now be a polarizing figure, but she still possesses the ability to influence her young fans. Her words ultimately encourage them to carry the same torch of hate in their own communities. This callousness kills people, plain and simple. Trans people have come so far. We see ourselves represented in the media and political offices that our elders, even just a decade ago, never did. However, we are still the target of hate crimes. In the first seven months of 2020, the total murders of transgender people surpassed that of 2019. Not to mention—the large percentages of suicide attempts by trans youth, who are often stuck in unsupportive and abusive environments.
I could go on about gender theory and my own experiences of euphoria when it comes to being who I am now. I think the real message here isn't gay vs. straight, it isn't cis vs. trans, it's that everyone has intersecting identities that make them who they are. (Your religious background, your race, your relationship with your family, your location, etc.)
Children are taught by adults just like Rowling to be kind to everyone and to be ourselves. That's the core of so many books. That's the core of her books. Why does that have to stop? Why can't you live the life you want?
---
Miles McKenna is an actor and social media icon known for his comedic voice and LGBTQ+ advice and activism. He was recently awarded the Shorty Award for Best LGBTQ+ Account of 2017, headlined two nationwide tours that covered a total of 35 shows, and has creatively collaborated with companies like Google, HBO, ATT, and Lyft. Find out more on his YouTube channel, MilesChronicles, or on Instagram at @themilesmckenna.