To help the next generation learn the "fundamental life skill" of news literacy, the organizations will educate people of all ages on how to identify misinformation and the importance of a free press.
News Literacy Project (NLP) and the E.W. Scripps Company have partnered to launch National News Literacy Week (NNLW) from January 27 to 31. Calling news literacy a "fundamental life skill," the partners aim to educate the public about the importance of news literacy and the role of the free press in America.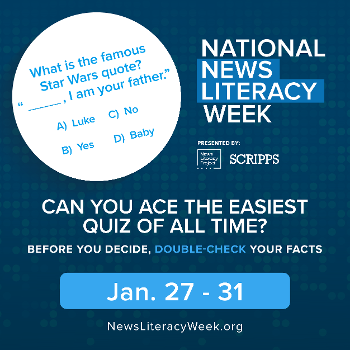 "Our democracy faces a significant threat from disinformation. and the solution is news literacy—the ability for the American people to discern fact from opinion and journalism from advertising or even propaganda," Scripps president and CEO Adam Symson said in a statement about the week.
NNLW is part of the organizations' mission to help the next generation of news consumers learn to differentiate credible information from misinformation. NLP is a nonprofit that offers nonpartisan, independent programs to teach students how to know real from fake as they are inundated with media and messages
All next week, educators and the public will have free access to lessons from the NLP's Checkology virtual classroom and its lessons and resources. Each day focuses on a different theme.
● Monday: Navigating the information landscape
● Tuesday: Identifying standards-based journalism
● Wednesday: Understanding bias—yours and others'
● Thursday: Journalists as democracy's watchdog
● Friday: Recognizing misinformation
"News literacy education helps young people become active participants in their communities," NLP's founder and CEO Alan C. Miller said in the press release. "This generation is inheriting the most challenging and complex information landscape in human history, and it is incumbent upon us to ensure they know how to navigate it effectively. And once they're taught, they develop critical-thinking skills and habits of mind that will last them a lifetime and benefit the communities where they live."
While the focus may be on young people, there is value in the initiative for all ages, and the partnership with Scripps allows the message to reach a wider audience.
"By encouraging an open dialogue about this topic with our audiences as well as with students and educators, we hope to equip the public with tools and resources they need to be informed and engaged citizens," said Symson.

During NNLW, Scripps' news channels and media platforms will run stories on news literacy. In addition, it will publish articles from an initiative in which Scripps journalists worked with high schoolers to identify, research, and produce news stories focused on issues important to the local communities of the student journalists. The stories will premiere throughout the week on air and online across Scripps' stations. Some will be available at newsliteracy.org, as well.
Anyone wanting to test their news lit abilities can take " The Easiest Quiz of All Time ." Adults and children can also use Informable, NLP's free app that offers different levels of questions in four categories: Checkable or not? Evidence or not? Ad or not? and News or Opinion.
To learn more about NNLW, visit NewsLiteracyWeek.org and follow #NewsLiteracyWeek on social media.