Applications are being accepted for the annual honor highlighting outstanding achievement by a K–12 library professional. Sponsored by Scholastic, this year's expanded award program features new prizes and participation in an upcoming event.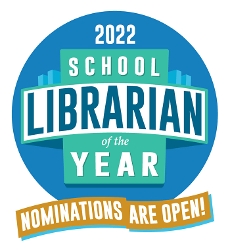 Nominations for 2022 School Librarian of the Year are open!
The 2022 School Librarian of the Year Award, sponsored by Scholastic, honors a K–12 library professional for outstanding achievement and the exemplary use of 21st-century tools and services to engage children and teens toward fostering multiple literacies.
Throw your hat into the ring or nominate a colleague for this exciting award, joining previous winners including Amanda Jones and Diane Mokuau (2021), Cicely Lewis (2020), and Ali Schilpp (2019).
To be considered, applicants must meet state requirements for school library media certification and be currently employed in a media specialist, teacher librarian, or equivalent position. They can be working in either a public or private school at a site level—supervisors or managers of library programs (including at a district or regional level) are not eligible.
Winner:
$2,500 cash award and a full year Scholastic subscription to one digital program (valued up to $3500)
$500 Scholastic Power of Story collection for their library
A feature profile in the April 2021 issue of SLJ.
An expensed trip to the American Library Association annual conference, Chicago, June 24—27
This year, the School Librarian of the Year award program will honor two finalists, who will receive:
$250 Scholastic Power of Story collection (See the award page for prize details.)
A full-year Scholastic subscription to one digital program (valued up to $1000).
The School Librarian of the Year will be invited to participate in an event sponsored by Scholastic and SLJ (details to come).
Applicants will be judged per the following criteria:
Exemplary service to fulfill the needs of students and the school community
Creativity in programming and use of content
Collaboration with teacher peers, staff, and administrators
Effective integration of library services with curricula
Demonstrated student engagement
Exemplary use of technology tools
Outreach to parents, families
Effective promotion of the library and what it offers
2022 APPLICATION PROCESS
A written statement of up to two pages describing the award nominee and the services implemented must demonstrate how the librarian's accomplishments fulfill the award criteria above. Provide context regarding the school and its library, including:
A description of library services and how they are delivered (i.e. scheduling)
The size and makeup of library media center resources, including staff
Budget information (school and library, and technology funding)
The physical plant (include the approximate square footage of library)
Student demographics
A description of the community served
Two letters of recommendation must also accompany the application.
Photographs, video, links, including related blog posts and press coverage, and other supportive material, may also be submitted but will be considered supplementary.
Applicants can nominate themselves. Supporters (i.e. administrators, peers, institutions) can also nominate a librarian for the award. But due to the responsibilities of the winner (the production of related content for SLJ), the nominee must be aware of the application and attendant responsibilities of participation.
All required application elements, including both recommendation letters, must be emailed in one submission to sljlibrarianoftheyear@mediasourceinc.com. Required elements sent separately will result in an incomplete application, which will render them ineligible.
KEY DATES
Nominations open: October 18
Nominations close: December 29
Winner announced: March 2022
Winner profiled in SLJ: April 2022
For more information and prize rules, visit slj.com/SLOTY.