A New York City parent and educator who is one of four siblings with school-aged children discusses her family's different options and struggle to make the best choices for their kids for the 2020-21 school year.
I am an educator and public school parent in New York City. I am also one of four siblings with school-aged children. Nationally this year, school is a motley arrangement of remote and in-person learning that varies greatly depending on the state you live in, your district, and your school. My family is a microcosm of what is happening with schools and families across the country. As my brother, two sisters, and I worked through decisions about our kids and school this fall, we've compared notes about our options and then the reasons for our choices.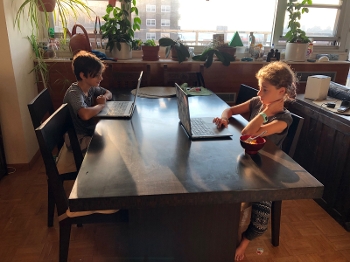 The author's two children are following a hybrid schedule
in New York City. Here they are on a remote learning day.
We are an extended family with eight kids from preschool to 10th grade. School looks and feels very different for each student in our clan. Our collective school situations include two public schools, four private schools, and two learning pods; two kids attending school fully remotely with mostly live instruction; one attending school fully remotely with very little live instruction; three kids attending school full time in-person; and two following a hybrid schedule with some days in-person and others remote. Whew.
When schools across the country abruptly shut down their buildings and went remote last spring, families didn't have many choices about how their kids would learn. Aside from switching to homeschooling, the only option for most was to attend school fully online. As it became clear over the summer that school in the fall would not resume in the way many parents hoped, it also became apparent that parents were going to have some tough choices to make.
As we muddle through this stressful and unprecedented year, I have been closely observing what school looks like now and how choices are being made. My husband and I strongly support public schools, but it's hard not to feel envious of the plentiful resources and personalized instruction I see my niece and nephews receiving at their private schools. And I know there are some in my family who question my choices.
My two daughters attend a small elementary school in Manhattan's East Village neighborhood. Like all New York City public school families, we were offered a choice: Our kids could either attend school all remotely or in a hybrid model. Remote learning was a real struggle for my younger daughter in the spring, while my older daughter, an extrovert, cried often the last six months because she missed being around other kids. We weighed the risks and decided to opt for the hybrid model. My mother and some of my siblings wondered if I should consider sending our girls to a school outside the city where schools were opening in early September with consistent in-person learning. (Remote learning in NYC was pushed back until Sept. 21 and in-person instruction only started on Sept. 30 for my kids.)
We also created an informal pod with a group of families whose kids go to the same school and have the same schedule. On the days when the kids in our pod are fully remote—two or three days a week depending on the week—they do their schoolwork at a studio space that one family was already renting. Parents take turns helping the kids, giving each of the adults some much-needed time to do our own work. It has been helpful to have a place for the kids to do their work outside of our apartment, though the kids in our pod are in different grades and have live meetings and lessons at varying times, which can be a challenge. Even though the kids all wear headphones, one of my daughters finds it distracting when other kids talk during their meetings and lessons.
The situation is very different for my niece and nephews who attend private schools. Their schools clearly have the technology and staffing needed to provide high-quality instruction both remotely and in person. My three nephews, who live in northern California, started school in late August. They attend two different Jewish day schools, both of which offer synchronous remote instruction for each subject. One of the schools is phasing in in-person learning; the youngest of the boys began full-time in-person instruction in early October. My niece who attends a Jewish day school in Albany, NY, had the option to learn remotely. But with the school providing very small class sizes and lots of social distancing, her parents felt it was safe to send her back in person, full time, five days a week. The large class sizes in city schools made it much more difficult to figure out social distancing for in-person learning, while in private schools, class sizes were already small, which made it much easier to facilitate safe learning environments.
The first day of in-person learning at school.
My other sister lives with her family in Brooklyn and has a son in first grade in public school and a daughter in a private preschool. At first, my sister and brother-in-law chose the hybrid model for their son, but they moved him to fully remote learning in early October due to NYC's chaotic school opening and planning. (Many educators and parents—including me—feel that NYC officials massively mishandled the re-opening of schools this fall. It was confusing and disorganized; plans changed often and at the last minute.) Even though their son is getting remote instruction every day through school, they have also joined a formal learning pod with other families, and he now attends the pod every day in-person. The pod meets in a basement space owned by one of the families in the pod. It has been set up to resemble a classroom with small cubbies, work tables, an easel, and even a bulletin board. Their pod pays an instructor, who helps the kids with their schoolwork and also takes them to the park and facilitates enrichment activities such as music and art.
Observing my family's situation has caused me to reflect on the role of schools during the pandemic, as well as typical years. I have been thinking deeply about the expectations placed on some schools to address the many needs of students. Public schools in my city, and other places, now provide many social service programs and resources to helps their students with needs that go far beyond classroom learning. I recently worked at a New York City public school that provided kids dental care at the school and had laundry machines available or families to use.
My family's experience shows the inequity in schooling and school choices across the country. Private schools can handle the transition to remote and blended learning much better than many public schools, mainly because they have more resources. Operating any giant system is always challenging, but the pandemic has highlighted the extreme inequality in American education. Many public school systems around the country need more government funding and better resources to provide the many services and level of instruction that all students need and deserve.
---
Melanie Kletter, a freelance writer and editor in New York City, was previously a senior editor of TIME for Kids.