Organizers of the Rally to Restore Philadelphia School Librarians hope to capitalize on the spotlight and crowds of ALA Midwinter to educate the public and push to bring librarians back to the city schools.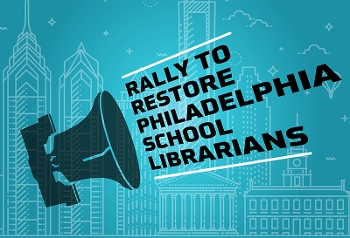 School librarians are educators, and the Pennsylvania School Librarians Association (PSLA) has planned a public seminar of sorts during ALA Midwinter in Philadelphia this week.
The Rally to Restore Philadelphia School Librarians will be held at 12:30 p.m. on Friday at the School District of Philadelphia Administration Building on Broad Street in Philadelphia. The goal is to call attention to the loss of school librarians and libraries and the impact that has had in the city, as well as across the state and nation.
The PSLA's goal this year is to build coalition partners to help with their advocacy, according to the organization's president, Cathi Fuhrman. When brainstorming ideas for the year, they wondered what they could do with the ALA Midwinter being in Philadelphia. The idea of a rally was broached and planning began with the help of EveryLibrary, which stepped in as an advocacy partner and guided the PSLA and event organizers through the process.
With the library and publishing world in town, Fuhrman is hopeful for a big turnout and plenty of media attention on the issue. With a couple of days to go before the event, they had about 50 people were expected. Organizers are hoping that with cooperative weather and librarians gathered together, word will spread and even more people will attend.
The goal is to educate all stakeholders, including the members of the public whether they have kids in school or not, about the negative impact of not having libraries staffed by certified school librarians and create public pressure to get them back into the city's schools. There are currently two bills in state legislature—one in the house and a complimentary on in the senate—that would ensure a certified public librarian in every school.
When schools offer a complete and well-rounded education, including a quality school library curriculum, it benefits the entire community by creating informed citizens who can compete for jobs, according to Furmin. But people are "not aware" of the loss of school librarians that has occurred gradually over the years or the negative impact that has had on preparing these future members of the world and workforce, she says. Many parents might think because their child's school has some books, it's not missing anything.
"We try and Band-Aid situations with volunteers and donated books, but we want to make people understand that having access to books is not the answer," says Fuhrman, who is the library department supervisor in the Hempfield School District just outside Lancaster, PA. "The answer is having a certified school librarian, because that's who is going to be able to instruct students with the skills they are going to need. It's an information-rich world, globally, and they need to be ready for it."
Philadelphia may be the best and bleakest example. It's a situation that Fuhrman calls "appalling." With more than 200,000 students, there are fewer than 10 school librarians in the city district. According to the National Center for Education Statistics (NCES), 34 percent of the families in the School District of Philadelphia (SDP) live below the poverty level, and more than 68 percent are on SNAP benefits. Sixty-two percent of the students live in single-parent homes.
"We know that the most at-risk students will benefit the most from school library programs and certified librarians," says Debra Kachel—a former high school librarian and the project director for a Pennsylvania school library impact study in 2012—who helped plan Friday's event.
"The bottom line is there is inequitable funding, across our state and nationally, especially when it comes to school libraries," says Fuhrman.
A school without a certified school librarian leaves its students unable to compete in the work or collegiate world when they graduate, she says, adding they lack the information literacy skills to be informed citizens, and they don't know what resources are available never mind how to use them.
The loss of school librarians an issue that impacts not only those professionals but all libraries.
"If we have students in schools who have absolutely no concept of what a library is, what resources are available, what kind of services they can get from the library, we're going to grow them until they're 18, then we're going to send them out to the community or send them to college and suddenly, do they know that there's a library, do they know what it's used for?" Fuhrman says. "How will they possibly make use of resources as they become citizens if they have no concept of it growing up K-12?"
The organizers sought to have all stakeholders' voices heard during the rally, including state and local politicians. This is not a place that should avoid politics, because public policy is the only long-term solution.
"We recognize these school districts have such a funding issue that unless there is funding made available or some kind of standard mandate, we're not going to be able to solve this problem," says Kachel. "It's much larger than just trying to convince a school board to hire staff. We have got to get the financial support, and we have to get our state legislator to understand the importance of school libraries."
With that in mind, the speakers for the event include Pennsylvania state representative Thomas Murt and state senator Larry Farnese, who are sponsors of the two bills currently in Pennsylvania legislature. Also scheduled to speak: Jerry Jordan, president of the Philadelphia Federation of Teachers; Jessica Way from the Caucus of Working Educators; Philadelphia city council members Kendra Brooks and Helen Gym (who will speak as a representative of city parents as well); Debbie Grill, a retired SDP librarian and leader at the Alliance for Philadelphia Public Schools; and Kayla Johnson, a senior at Masterman High School in Philadelphia. Lauren Comito, co-founder of Urban Librarians Unite, will emcee the rally.
Fuhrman will also speak. It's a bigger platform than usual, but just another day in the life of a school librarian.
"All school librarians know," says Fuhrman. "It's just constant advocacy, explaining our impact and our roles."