Caitlin Gooch, founder of Saddle Up and Read, gets kids excited about reading, riding, and Black equestrians at her family horse farm.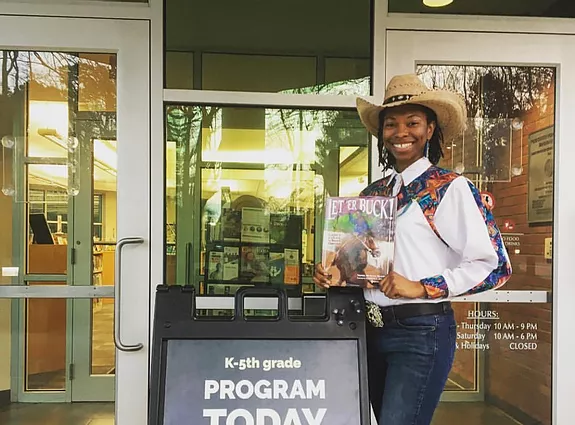 It's not every birthday you get a shoutout on Twitter from Oprah Winfrey.
"For a second everything in the world just stopped," says Caitlin Gooch, founder and executive director of Saddle Up and Read in Wendell, NC.
The morning the mom of three girls turned 28, she was running on just a few hours of sleep. Messages were pouring in on her phone. A few days before, she'd asked the Twitterverse to spread the word about her children's book giveaways that also featured a chance for kids to meet her horses. Never in her wildest dreams did she expect what happened next.
More than 30,000 people retweeted her, including Oprah, who wrote: "I'll retweet to help get the word out...and donate to your non-profit, Saddle Up and Read. I think what you're doing is great: Getting kids to fall in love with reading (and horses). Will call with details. Happy Birthday, Goooooooch!"
Gooch fell in love with horses as a young girl. Her dad, who has a horse farm in Wendell, started her riding at age three.
"Just having access to horses, they made me feel so magical," she says. "Growing up with horses, it was definitely a wonderful experience."
Originally, she thought she would become a veterinarian, but she found that she really loved working with children. Growing up in a large family, she enjoyed putting together activities for the kids and says she felt like a natural teacher. After earning a sociology degree from East Carolina University, she began working in childcare and noticed many children struggled to read.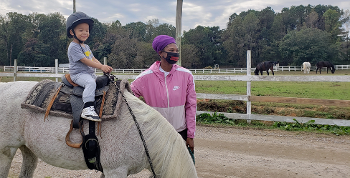 "I actually took the time to research the literacy rates in my area," says Gooch. "I searched them in North Carolina and the United States, and what I found is that when it comes to Black children, their literacy rates are much lower than anyone else's."
She also noticed how excited her students would get when they saw pictures and video of her horses on her phone. That's when she got the idea for what would become Saddle Up and Read.
"It just felt right to combine those two things together and use meeting a horse or getting to ride a horse as an incentive to get kids to be excited and do their work," Gooch says.
She approached her local library in June 2017 and proposed a horse reading program. Children who checked out three or more books from the Wendell Public Library would be entered into a drawing to win a day at her father's horse farm, where they would get to meet and read to a horse.
"It was a great response," says Gooch. "We had 180 entries by the end of the month. People were going to the library, and their kids were wanting to check out books."
The program was so popular that it expanded to a second library in the nearby town of Zebulon. Gooch would like to expand it further.
"I would love to do this in every library," she says.
Teia Evans, who visited the Gooch family farm with her two young sons, says her boys haven't stopped talking about their visit.
"When we got there, we went directly into the stables," says Evans. "The boys were immediately in love. They met the horses and fed them. Caitlin let them get to know the horses while she prepared the things for their first ride. It was a pleasure seeing them interact with the horses.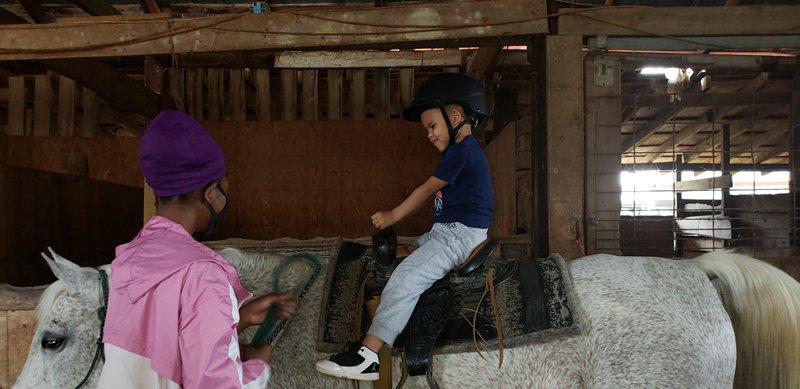 "The books were the icing on the cake. We didn't know about the black equestrian history! It has been a joy learning right beside them as we read the books that Caitlin provided and also gives them an opportunity to explore and learn more about horses and young men that look like them who train horses."
Gooch is passionate about highlighting the history of black equestrians. She recently released Color and Learn Black Equestrian Coloring Book Volume One: The Trailblazers, the first in a series of coloring books.
Providing kids with diverse literature is also an integral part of her mission.
"When kids have books and characters that look like them, they are more [likely] to read those books," she says. "I feel it's important for me to be able to give a child a book where the character looks like them, whether it's their skin color, whether it's them seeing a character with a hearing aid or a character in a wheelchair or character who has a different hair type, something that says I can identify with that character."
With in-person programming temporarily on hold at libraries, Gooch has started taking her truck and trailer around to different communities giving away bags of books to kids and giving them the opportunity to meet her horses.
"We need kids to know how to read; we need them to love reading," she says. "We need them to be avid readers because if they aren't what is our future going to look like?"
Kelli Brooks is a freelance writer living in California's Bay Area.