Scholastic releases its latest Kids and Family Reading Report.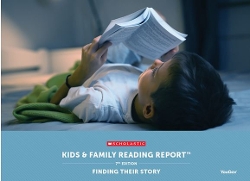 Scholastic released the results of its Kids and Family Reading Report, a biennial national survey of children and parents reading habits and attitudes toward reading and books.
This seventh edition of the survey finds a large drop in reading—and enjoyment of reading—between age eight and nine. Also, fewer children between eight to nine said "yes" when asked if reading for fun was important.
In more positive news, the survey showed more children and parents seeking books with diverse characters and storylines. And while more kids are looking for something to read that makes them laugh, a larger percentage is also seeking titles to help them explore new worlds and learn about new topics.
Once again, access to books was a key factor in reading frequency, and children reported their favorite books were the ones they chose for themselves.
Read Scholastic's full press release, with access to the complete report, here: