The new initiative with "Dog Man" and "Captain Underpants" creator Dav Pilkey focuses on the importance of reading being fun. This year the week is March 25-29.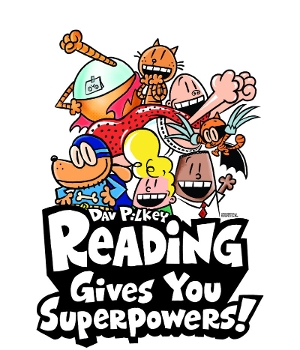 Scholastic is launching a new annual reading campaign with "Dog Man" and "Captain Underpants" creator Dav Pilkey, it announced today. Reading Gives You Superpowers Week will kick off March 25-29 and celebrate reading in school libraries and classrooms, highlighting Pilkey's message about the importance of associating reading with fun.
"I have fond memories of going to the library with my mom who let me pick whatever book I wanted to read," Pilkey said in a statement. "This led me to discover many other books from different genres. Reading for fun and without judgment was a turning point in my life and is what made me a lifelong reader."
The campaign also celebrates school librarians and teachers, whom Pilkey considers "everyday superheroes," and provides resources for educators to promote the benefits of reading for fun.
The beloved author has often talked to students about his challenges in school and struggles with reading after being diagnosed with dyslexia and ADHD. His books are often enjoyed by kids going through difficulties similar to the ones he faced.
"Dav Pilkey's mission with creating 'Captain Underpants' and the 'Dog Man' series is to make kids laugh and to give children—especially struggling, or dormant, readers—a positive experience with reading at a crucial time in their lives," says Lizette Serrano, executive director, educational marketing and event strategy at Scholastic. "The impact of Dav's books, specifically the beloved fans of Captain Underpants and Dog Man is to be positive and affirming for children—that it's awesome to be who you are. Scholastic is supporting this mission and championing the vital role that teachers play in creating a lifelong love of reading."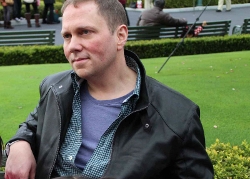 Dav Pilkey Photo by Kai Suzuki
The annual campaign will be built around Pilkey each year.
"We'll introduce new activities and a new fun theme," says Serrano. "This year's theme, 'Be a Reading Supa Buddy' is to encourage reading books together for fun. We of course welcome suggestions from teachers and librarians for possible themes in 2020."
Reading Gives You Superpowers Week leads right into School Library Month in April when Pilkey will serve as the national spokesperson this year.
With today's announcement, the campaign's dedicated website goes live. It features a turn-key event planner with reading activities for school libraries and classrooms. The activities will be available beyond Reading Gives You Superpowers Week for use throughout the year. A Reading Gives You Superpowers poster, as well as Dog Man Comic Mad Libs, Create-Your-Own Supa Buddies Flip-O-Rama, and more will be available to download.
Before the week itself, Scholastitc Book Clubs and Book Fairs channels will receive event kits.