Natural disasters are taking a toll on schools and public libraries across the country. SLJ checked in with some librarians hit by Hurricane Ida and the Dixie and Caldor fires in California to see how they are and how people can help.
Across the country, school and public libraries are dealing with the damage from natural disasters over the last few months. While storms brought deadly and destructive wind and flooding to the East Coast, the West Coast was once again battling multiple raging wildfires.
SLJ checked in with just a few of the librarians to learn about their library recovery efforts as they also manage the personal impact of the storm.
California wildfires
In early August, the Dixie Fire in California engulfed the entire town of Greenville, including the library.
"It was completely destroyed," says Plumas County librarian Lindsay Fuchs.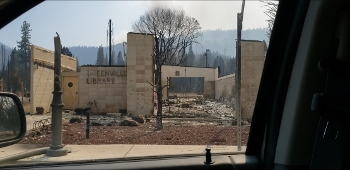 Greenville Public Library
Photo: Gabriel Hydrick
Unable to get to the library and see the damage herself, Fuchs looked at photos and video footage, noticing details like a handle from a book cart and what was left of the sign outside.
More than a month after the fire tore through Greenville, it still burned in some areas of the state, forcing warnings and evacuations, and disrupting the opportunity to move ahead with the next steps.
After seeing the destruction in Greenville, Carolyn Brooks, director of library services in El Dorado County, wanted to create a GoFundMe for the branch. During her efforts, the Caldor Fire forced nearby evacuations and her branches to close. Despite the scare, her libraries were not damaged.
"My Pollock Pines Branch Library was four miles from the fire, and if the winds have not shifted, we would have lost it," Brooks says, adding that a staff member lost their home to a different fire. "My South Lake Tahoe library is only eight miles from the flames that leapt over the Sierras. It is solely due to the heroic efforts of the firefighters that we did not lose all of South Lake Tahoe, including the library."
Throughout all of this, in El Dorado and Plumas counties, the library staff continues to serve their patrons. El Dorado County libraries provided food, water, shelter, Wi-Fi, public rest facilities, food cards, and emergency services (including medical as community health workers are part of the staff) to patrons displaced by the fire. They also opened two 10-day voting centers and set up a COVID testing center in the parking lot of one branch.
"Our community hub model with our partners in the community has really come together and demonstrated this model is very effective, especially during a crisis," says Brooks.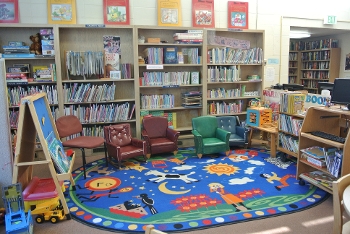 Greenville Public Library children's section before the fire.
Photo: Sharon McKay
Branches also opened to serve as schools for many of the children in the six school districts displaced by the fire. One day in September, there were 132 kids and teachers at the one library "trying to maintain some sense of normal."
It is much to soon to say what will happen in Greenville in the future. Will the branch be rebuilt? Will community members return? For now, Fuchs is planning pop-up services to help residents, including a way to access books, audiobooks, and DVDs--"something to kind of keep their mind off things when they need a break"--as well as computers, Wi-Fi, printing, scanning, copying, and other services.
Fire season, and the destruction and evacuations, has become part of life for California residents. At Fuchs's headquarters and branch in Quincy, there is a collection of one-of-a-kind books. At the beginning of each fire season, which runs from June to September, she takes precautionary action to protect as much of the collection as she can.
"I box up about three to five boxes," she says. "I actually just keep them on me, so when I evacuate, I can just take [them]."
Fuchs, who does this voluntarily, says she would never ask her staff to take that responsibility or have library materials occupy space in a car forcing them to leave personal items behind during an evacuation.
Hurricane Ida
As fires raged in California, the East Coast dealt with Hurricane Ida, which hit Louisiana particularly hard. One of the high schools in St. Charles County, Destrehan High School, suffered structural damage.
"We are not able to get into the library to assess damage for ourselves, but the insurance company has started the process to replace the entire library collection," says Matthew Spitz, supervisor of curriculum and instruction at St. Charles Parish Public Schools. "Our collection was cataloged in Destiny, so we have a list of every item. That collection contained over 30,000 items. Most of the items in the library were books, but the library collection also contained instructional resources and laptop computers."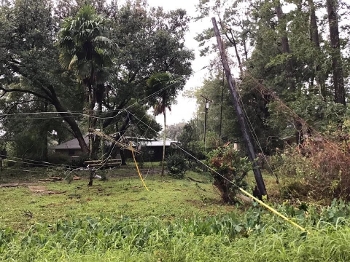 Winds from Hurricane Ida ravaged parts of Louisiana.
Photo: Nikki Lavergne
After weeks out of school, the district decided to have students and staff from Destrehan share Hahnville High School. Students from both high schools are alternating days, and teachers create assignments for kids to complete on the days they are not in the school building.
"These assignments will be paper-and-pencil based, as many of our students still do not have internet access at home," says Spitz.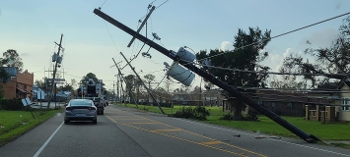 Power outages lasted weeks in some areas of Louisiana.
Photo: Jill Leblanc
In some places, a lack of power for air conditioning, combined with high temperatures and humidity, impacted buildings and books that withstood the storm. And much like in California, educators had to manage their own return to school and serve students experiencing personal loss and upheaval.
Even when schools manage to get through with minimal damage, students and staff are still dealing with the aftermath at home, which is often disruptive to their education.
While schools in teacher-librarian Amanda Jones's district reopened two weeks after Ida hit, "a large percentage" of students were absent, she says, because they didn't have power at home, or roads remained blocked by downed trees and power lines.
Live Oak Middle School, in Watson, LA, where Jones works, did not suffer significant damage. But the 2021 School Librarian of the Year wasn't so lucky at home: A tree hit her house, and many large trees fell nearby, damaging homes, blocking roads, and taking out power. In the days following the storm, members of her family suffered from carbon dioxide poisoning when the generator broke and sent fumes through the soffit of their home.
Further up the coast, Ida was downgraded to a tropical storm but still packed deadly and destructive powers. In New Jersey, the Caldwell Public Library suffered extensive damage, its lower level and children's collection destroyed despite sandbagging efforts before the storm hit.
The Caldwell staff has branched out, providing services in nearby libraries and virtually. They are working to recover and restore whatever items they can while seeking a temporary space.
Amid the destruction, Spitz saw one bright spot.
"Hurricane Ida provides an opportunity to remodel the library space at Destrehan High School," he says.
While the school has undergone some improvements since it opened in 1975, larger renovations to allow flexible usage areas were difficult to implement in the old space. The school's librarians will have input on the renovations.
In the meantime, they will begin the process of restocking the library's collection.
"Lots of reading reviews," says Spitz.