This month's exemplary titles include the latest from Nicola Yoon, two "grandpa" books, and a new chapter book by Kate DiCamillo.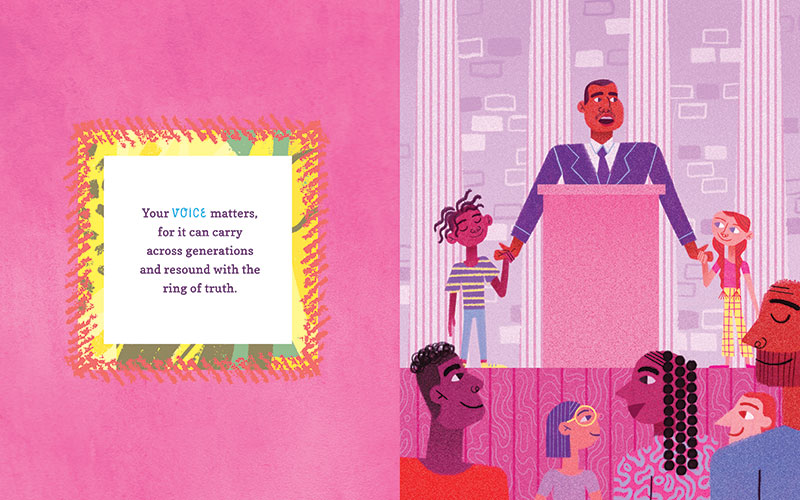 Your Life Matters (Singleton) ©2021 by Taylor Barron.
Picture Books
Chaim, Shoshana. I Am a Peaceful Goldfish. illus. by Lori Joy Smith. Greystone.
Cooper, Elisha. Yes & No. Roaring Brook.
Craft, Aimée. Treaty Words: For As Long As the Rivers Flow. illus. by Luke Swinson. Annick.
Crumble, P. The Cat Wants Cuddles. illus. by Lucinda Gifford. Orchard.
Erskine, Kathryn. All of Us. illus. by ­Alexandra Boiger. Philomel.
Kerbel, Deborah. Sunny Days. illus. by Miki Sato. Pajama Pr.
Singleton, Chris. Your Life Matters. illus. by Taylor Barron. Bushel & Peck.
Theule, Larissa. Kafka and the Doll. illus. by Rebecca Green. Viking.
Woodgate, Harry. Grandad's Camper. Little Bee.
Yum, Hyewon. Grandpa Across the Ocean. Abrams.
Chapter Books
DiCamillo, Kate. Franklin Endicott and the Third Key. illus. by Chris Van Dusen. Candlewick.
Middle Grade
Blake, Ashley Herring. Hazel Bly and the Deep Blue Sea. Little, Brown.
Guidroz, Rukhsanna. Samira Surfs. illus. by Fahmida Azim. Kokila.
Puller, J.S. The Lost Things Club. Little, Brown.
Standish, Ali. The Mending Summer. HarperCollins.
Trebincevic, Kenan & Susan Shapiro. World in Between: Based on a True Refugee Story. Clarion.
Vrabel, Beth. To Tell You the Truth. Atheneum.
Warga, Jasmine. The Shape of Thunder. HarperCollins/Balzer + Bray.
West, Jacqueline. Long Lost. HarperCollins/Greenwillow.
YA
Garza Villa, Jonny. Fifteen Hundred Miles from the Sun. Amazon/Skyscape.
Mafi, Tahereh. An Emotion of Great Delight. HarperCollins/Harper. POP
Thomas, Leah. Violet Ghosts. Bloomsbury.
Yoon, Nicola. Instructions for Dancing. Delacorte. POP
Graphic Novels
Holm, Jennifer L. Turtle in Paradise: The Graphic Novel. adapt. & illus by ­Savanna Ganucheau. Random/Graphic.
Ostertag, Molly Knox. The Girl from the Sea. Scholastic/Graphix.
Nonfiction
Hooks, Gwendolyn. Planting Peace: The Story of Wangari Maathai. illus. by Margaux Carpentier. Crocodile.
Munro, Roxie. Anteaters, Bats & Boas: The Amazon Rainforest from the Forest Floor to the Treetops. Holiday House.
Treuer, Anton. Everything You Wanted to Know About Indians but Were Afraid to Ask: Young Readers Edition. Levine Querido.
Whitney, Diana, ed. You Don't Have to Be Everything: Poems for Girls Becoming Themselves. illus. by Cristina González & others. Workman.