Inclusive holiday season reads, DVD recommendations, tales of strong women of faith are among 46 of this month's starred reviews, spanning picture books, middle grade, YA, and more.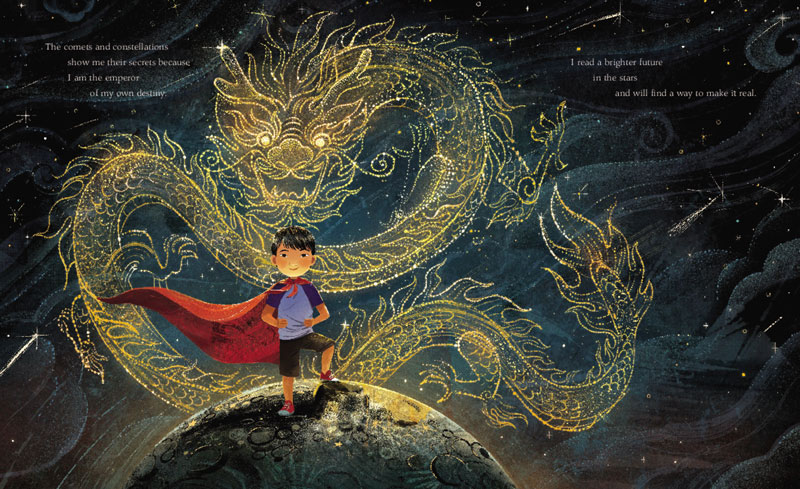 Eyes That Speak to the Stars (Ho) ©2022 illus. by Dung Ho
Holidays
lee, Mark. Twenty Big Trucks in the Middle of Christmas. illus. by Kurt Cyrus. Candlewick.
Jackson, Tiffany D. Santa in the City. illus. by Reggie Brown. Dial.
Kushner, Ellen. The Golden Dreidel. illus. by Kevin Keele. Charlesbridge.
Nebres, Charlotte. Charlotte and the Nutcracker: The True Story of a Girl Who Made Ballet History. illus. by Alea Marley. Random.
Novich, Susan S. Hello, Hanukkah! Kar-Ben.
Wind, Lee. Red and Green and Blue and White. illus. by Paul O. Zelinksy. Levine Querido.
Zoboi, Ibi. The People Remember. illus. by Loveis Wise. HarperCollins/Balzer + Bray.
Picture Books
Ainoya, Yuki. Sato the Rabbit, the Moon. Enchanted Lion.
Barnett, Mac. What Is Love? illus. by Carson Ellis. Chronicle.
Dill, Khodi. Welcome to the Cypher. illus. by Awuradwoa Afful. Annick.
Forsythe, Matthew. Mina. S. & S./Paula Wiseman.
Hrab, Naseem. The Sour Cherry Tree. illus. by Nahid Kazemi. Owlkids.
Ho, Joanna. Eyes That Speak to the Stars. illus. by Dung Ho. HarperCollins/Harper.
Loubriel, Oscar. In My Neighborhood. illus. by Rogério Coelho. Tilbury House.
Miller, Pat Zietlow. What Can You Do with a Rock? illus. by Katie Kath. Jabberwocky.
Russo, Brian. A Friend for Yoga Bunny. HarperCollins/Harper.
Taghdis, Susan. The Snowman and the Sun. illus. by Ali Mafakheri. Tiny Owl.
Wilder, Derick. The Longest Letsgoboy. illus. by Catia Chien. Chronicle.
Yamasaki, Katie. Dad Bakes. Norton.
Yang, Kao Kalia. From the Tops of the Trees. illus. by Rachel Wada. Carolrhoda.
Middle Grade
Finnegan, Margaret. Susie B. Won't Back Down. Atheneum.
Frazier, Sundee. Mighty Inside. Levine Querido.
Neri, G. Polo Cowboy. illus. by Jesse Joshua Watson. Candlewick.
Ormsbee, Kathryn. Candidly Cline. HarperCollins.
Selznick, Brian. Kaleidoscope. Scholastic.
YA
Baker, Kylie Lee. The Keeper of Night. Inkyard.
Gong, Chloe. Our Violent Ends. S. & S./McElderry.
Heaney, Katie. The Year I Stopped Trying. Knopf.
Mickelson, Marcia Argueta. Where I Belong. Carolrhoda Lab.
Graphic Novels
Alexander, Kwame. Booked. illus. by Dawud Anyabwile. HarperCollins/Etch.
Xu, Wendy. Tidesong. HarperCollins/Quill Tree.
Nonfiction
Colbert, Brandy. Black Birds in the Sky: The Story and Legacy of the 1921 Tulsa Race Massacre. HarperCollins/Balzer + Bray.
Epstein, Nadine. RBG's Brave & Brilliant Women: 33 Jewish Women to Inspire Everyone. illus. by Bee Johnson. Delacorte.
Golio, Gary. Sonny Rollins Plays the Bridge. illus. by James Ransome. Penguin/Nancy Paulsen.
GÓmez-CÓlon, Salvador. Hurricane: My Story of Resilience. Norton.
Jarrow, Gail. Ambushed!: The Assassination Plot Against President Garfield. Calkins Creek.
Kamei, Susan H. When Can We Go Back to America?: Voices of Japanese American Incarceration during WWII. S. & S.
Ogle, Rex. Punching Bag. Norton.
Todd, Traci N. Nina: A Story of Nina Simone. illus. by Christian Robinson. Putnam.
Toner, Jacqueline B. What to Do When the News Scares You: A Kid's Guide to Understanding Current Events. illus. by Janet McDonnell. Magination.
Weatherford, Carole Boston. The Faith of Elijah Cummings: The North Star of Equal Justice. illus. by Laura Freeman. Random House Studio.
Wong, Alice, ed. Disability Visibility (Adapted for Young Adults): 17 First-Person Stories for Today. Delacorte.
DVD
The Divided Brain. Bullfrog.
If You Come to Earth. by Sophie Blackwell. Weston Woods.
The Oldest Student. by Rita Lorraine Hubbard. Weston Woods.
Rap Squad. Video Project.