Lee & Low Books' Diversity Baseline Survey 2.0 shows the publishing industry has not become measurably more inclusive since 2015.
Lee & Low Books released the results of its updated survey on diversity in the publishing industry today. Diversity Baseline Survey (DBS) 2.0 is a continuation of the publisher's 2015 DBS. It gathers gender, race/ethnicity, sexual orientation, and disability information on publishing staff, literary agents, and reviewers to see if the industry is becoming more inclusive over time.
(SLJ and Library Journal participated in the study, sending the survey to the approximately 1,200 reviewers for the publications.)
The DBS results do not show much change since 2015.
"Given the sample size difference, this 3 percent change in White employees does not meet the bar for statistically significant change," according to the Lee & Low post analyzing the survey results. "There is no discernible change to any of the other racial categories. In other words, the field is just as White today as it was four years ago."
As these Lee & Low graphics show, the decision-makers in the publishing world and everyone involved in creating the books—and those who critique them—are still predominantly white. Only among interns do the numbers show any kind of diversity, with 51 percent white and 51 percent straight.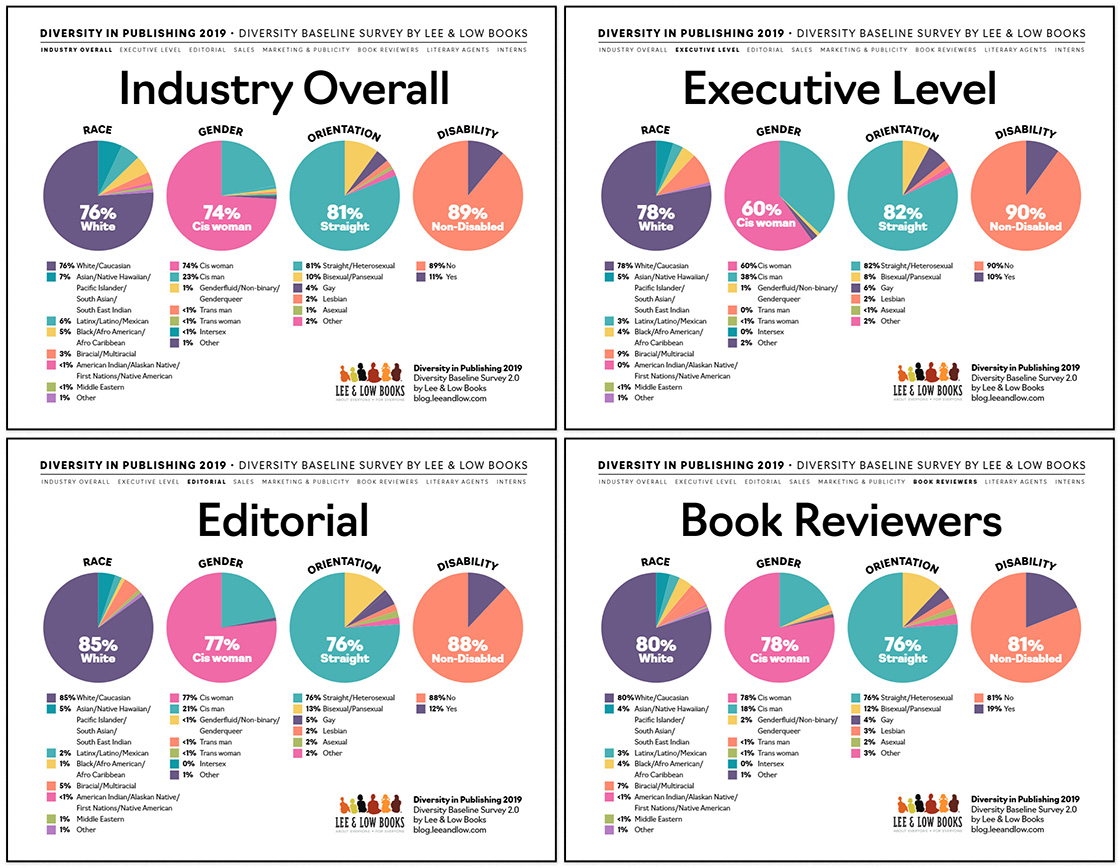 It is a hard truth for the children's literature world to take in while still basking in the glow of the 2020 Youth Media Awards (YMA) and its inclusive list of winners.
"My reaction overall is disappointment," says Kiera Parrott, reviews director at SLJ and LJ, who created a cultural competency professional development program that she facilitates with other SLJ staffers.
The work of the YMA committees to recognize more diverse and inclusive titles is worthy of celebration, said Parrott, but this is no time for the industry to pat itself on the back and say, job well done. This survey, along with the work of K.T. Horning and the Cooperative Children's Book Center at the University of Wisconsin-Madison, shows there's still a long way to go.
Parrott says she sees publishers shying away from creating more inclusive books for children, opting instead for anthropomorphic animals and machines because they are afraid to make a mistake.
"As publishers, editors, and authors, you can't be afraid to make a mistake," she says. "I'd rather see [them] take a risk. At the end of the day, we are serving these children and need to give them mirrors and windows that reflect and affirm.
"We've got a lot of work to do."
Read Lee & Low's full press release on the survey below.