For many young LGBTQ people, Max and Jordan from The Music of What Happens may be the best mirror of their own lives that they've ever read. It may be the first time they've seen themselves in a story, and that's a lifeline.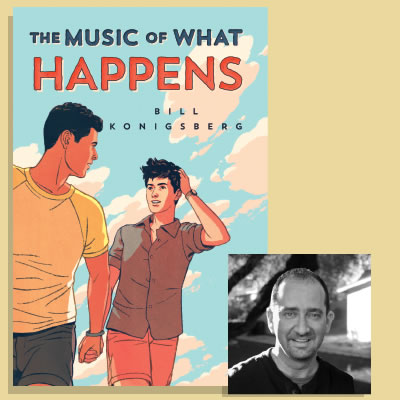 When I was in tenth grade, I snuck over to the library during a free period. My heart was pounding, and when I was sure no one was looking, I opened the card catalog for the letter H.
I'd already picked a decoy word, in case the librarian came over to help. Horticulture. Sure. Plants were interesting, sort of.
The word "homosexual" netted me only two results that day. One was an article in Time magazine about people just like me but older, who were dying of a terrible disease with no treatment. I wondered why I'd heard so little about it.
The other led me to the DMS-III. Because the school library hadn't updated their version of this psychological textbook since 1973, I learned that day that I was mentally ill.
That's a tough thing to learn during your free period before math class.
Of course, the American Psychological Association had removed homosexuality from their list of disorders in 1973. But I didn't know that. I also didn't have any idea of what it would be like to have found a book to read in which an LGBTQ person was a main character.
Our school library had no such stories. Despite it being New York City and the 1980s, I guess books about LGBTQ people were considered too risky. Which is ironic, of course. Because in reality, what's too risky is to have a library in which LGBTQ people are entirely erased.
We know that now. And it took me a few months after that fateful library visit to discover what I needed, which was the existence of the Oscar Wilde Bookstore in Greenwich Village. Where I found Edmund White's A Boy's Own Story and Jeanette Winterson's Oranges Are Not the Only Fruit, and Armistead Maupin's Tales of the City. And finally, for the first time in my life, I read about characters who were like me—characters who had a secret they couldn't tell their families, characters who had to go off on their own to find people who would accept them as they were.
To say those books changed my life would be an understatement. Those books gave me life. They opened my heart and told me I was not alone, which is exactly what I thought I was. Utterly alone.
And in doing so, they also saved my life.
These days, I feel like the luckiest person in the world. Not only did I make it through that extremely frightening, dark period, but now I get to write books for young people who were just like me. Who feel confused and lost, even as the world around us has gotten somewhat better for LGBTQ people. It's still hard to find out that you're different than your family of origin in such an elemental way, and it used to surprise me to get emails that were so seemingly over the top from readers. I thought: how can people get so attached to these fictional characters I created in my brain?
And then I thought about my own experience, and I put it all together. For many of these young LGBTQ people, Max and Jordan from The Music of What Happens may be the best mirror of their own lives that they've ever read. It may be the first time they've seen themselves in a story, and that's a lifeline. So I'd better believe it matters what happens to them. Which I knew already, but now I understand much more clearly.
These readers see Jordan, a sensitive boy who has the core belief that he has no voice, no power in his life, and they say, "That's me!" And they get to watch him find that voice and power.
They see Max, an athlete and dude bro who has been taught that having emotions isn't manly, and they think. "Yep. Me too."
Readers get to experience these characters fall in love one summer in Arizona while working on a food truck, and they get to witness them helping each other take on their demons, and it empowers them to do the same in their own lives.
To me, that's a huge responsibility, to get the stories right. To make the characters as authentic as I possibly can. Because in books, connections are made when readers seem themselves represented authentically.
And the more LGBTQ kids get to see themselves reflected in the literature they read, the more they'll feel like they belong in this world. That they have a place.
I feel so blessed and humbled to have this responsibility, and all I can do is hope I do it well.
Bill Konigsberg is the author of five books for young adults, most recently The Music of What Happens. His books have won awards including the Stonewall Book Award, the Sid Fleischman Award for Humor, and the Lambda Literary Award. Bill lives in Chandler, Arizona, with his husband, Chuck, and their two Labradoodles, Mabel and Buford. Please visit him online at www.billkonigsberg.com and @billkonigsberg.
---
This article is part of the Scholastic Power of Story series. Scholastic's Power of Story highlights diverse books for all readers. Find out more and download the catalog at Scholastic.com/PowerofStory. Check back on School Library Journal to discover new Power of Story articles from guest authors, including Angela Cervantes, Nafiza Azad, book giveaways and more.
SPONSORED BY