I know I can't go back and tell my 17-year-old self to be nicer to us. I can't tell him to only try to change the way he looks if it comes from a place of love. I can't change the way I treated myself for years. But I've written a little story that has helped me forgive myself. And, hopefully, it will help other young readers as well.

My debut novel Here the Whole Time came out here in Brazil in 2017, and for the past 3 years I've been asked why I decided to write a story about a fat gay teen. The short answer is that I wanted to see someone like me in books. But after a while I found out that the long one is a little bit more complicated than that.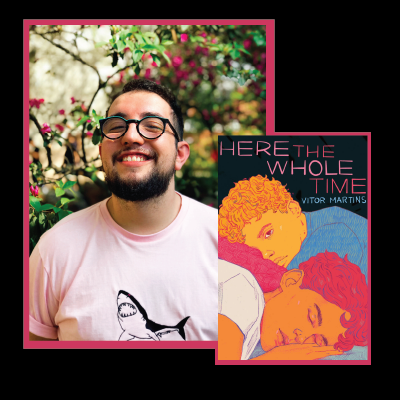 Just like my main character Felipe, I grew up knowing that I always had to compensate for the fact that I was fat. I could be fat, but I also had to be funny, or smart, or talkative—basically I had to be attractive to people in some other way than my physical self. In an ideal world, I would be all those things and I would be someone people liked so much that they could simply ignore my body and would fall in love with my personality instead.

On top of that, I was also gay. When we are young, discovering our sexuality and how we can express it, it feels like everything is about our bodies. We change by the minute, our voices get squeaky, we get taller and our arms learn some awkward moves by themselves. We sweat a lot and it makes us self-conscious about everything: our smell, our touch, our skin, and how other people notice us.

Since I started the first draft, I knew I wanted to write about all those issues, but I didn't want Felipe's weight to be his whole personality. I wanted to show the person behind his appearance. But how to do that without revisiting my own traumas and experiences? Well, that was impossible: I had to revisit my own traumas and experiences to write this book. And I can assure you it was a wild journey. But even though I started to write this book for me, Felipe ended up becoming someone entirely new. I fully realized this when I was at Rio de Janeiro's Bienal (one of the biggest book events here in Brazil) (oh, how I miss those!), talking to potential readers and doing my best elevator pitch to convince them to buy my book. A group of students approached me, and in an almost automatic way I started with "Hi, my name is Vitor Martins and this is my book. It's about a fat gay boy–", but then a girl interrupted me: "Oh, nice, is it about you?", and all the other kids laughed. The girl immediately started to apologize, like she had just offended me or something, as I kept saying "No, it's okay. Yes, I am also fat and gay, but this is not an autobiography. It's okay!"

Narrator: It was not okay.

I went back to the hotel at night overthinking that moment. It lasted less than a minute, but it got stuck in my head: I wrote a whole book just to "see myself in a book for the first time", but I still wasn't able to see myself in Felipe because he's a way better person than me. He is kinder, and braver. He is, in a certain way, everything I wish I were.

Writing Here the Whole Time got me questioning my own insecurities a lot. I wanted it to feel genuine but, at the same time, I wanted it to feel universal. The more I talked to other fat friends during the writing process, the more I learned how people can experience being fat in a lot of different ways. There are people who will try the hardest to make everyone laugh because the more they laugh, the less they notice you are fat (that's me!); other people will try to be invisible all the time and not to get noticed; some will try to lose weight at all costs, while others will not care about this at all. Girls will be introduced to super restrictive diets at an incredibly young age and gay boys will think their bodies are not worthy of love. There are infinite possibilities on how to be fat and how to deal with our bodies while we are growing up.

I wrote a book about a fat gay teen because I wanted to see myself in a book. But also because I wanted to create a fun and shy gay teen that loves musicals and comic books and bad TV shows and useless YouTube tutorials and talking to his mom and making new friends and drinking coffee with sugar and kissing a cute boy. And he has taught me a lot about myself.

I know I can't go back and talk to the 17-year-old Vitor and tell him to be nicer to us both. I can't tell him to only try to change the way he looks if it comes from a place of love of his body instead of a place of hate. I can't change the way I treated myself for years. But I've written a little story that has helped me to forgive myself. And, hopefully, it will help other young readers to do that as well.
---
Vitor Martins received his degree in journalism but works as an illustrator. He published his first YA novel Quinze Dias in June 2017 with Globo Alt in Brazil. It will be published as Here the Whole Time in the U.S. on November 10.

This article is part of the Scholastic Power of Story series. Scholastic's Power of Story highlights books for all ages that tell the stories of historically underrepresented groups specifically related to race, ethnicity, sexual orientation, gender identity, physical and mental abilities, religion, and culture. Hear from other speakers on this topic and download the Power of Story catalog at Scholastic.com/PowerofStory. Check back on School Library Journal to discover new Power of Story articles from guest authors, including Bill Konigsberg, Varian Johnson and Shannon Wright, Aida Salazar, and more.
SPONSORED BY