On July 9th at Nerd Camp Michigan, Scholastic sat down with New York Times Bestselling, award-winning author Jason Reynolds to discuss the Power of Story.

On July 9th at Nerd Camp Michigan, Scholastic sat down with New York Times Bestselling, award-winning author Jason Reynolds to discuss the Power of Story. A transcript of that conversation is below. Watch a video of the interview.
What does the power of story mean to you?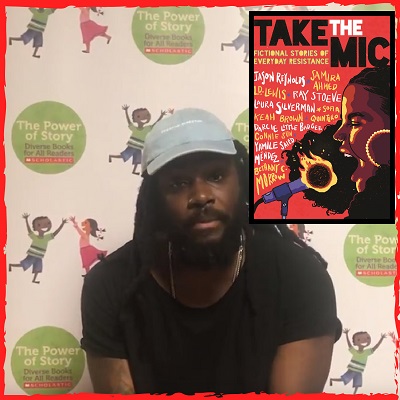 Jason Reynolds: The power of story. Honestly I think, I actually think that the most valuable thing that human beings actually own is a story. It's honestly the only thing that we truly have. Everything else can kind of be taken from you. Your home, you own it until a storm comes through, right? Your children, you own them until they – you don't really own them ever, but when they've grown, they leave your home, they begin make their own choices. But your story is yours. It's always yours even if people try to manipulate it, possess it and steal it. I think the greatest bond that a human being can create can be done through the exchange of narratives.


Do you remember the first time you saw yourself represented in a book?

Reynolds: Nope. That's the honest answer. I don't remember because it didn't happen for me until I was grown. I'm actually not even sure that I've seen myself in a book as of yet. Even right now as a 35-year old black man, you name me one contemporary fiction novel about a 35-year old heterosexual black man. If you can name me one, I'll give you a million dollars. I ain't got a million dollars so don't bother. We don't exist, it's not a thing. I'm still invisible. I was invisible when I was a kid, I'm invisible as an adult. No, I don't remember.

Have you witnessed a kid who has seen himself or herself in a book?

Reynolds: Oh, yeah. I'm fortunate that I get to experience it regularly, on a daily basis. Some kid was like, oh man, this reminds me of my family, or I've been what Ghost has been through. A Long Way down it's about me. I'm dealing with those issues. All American Boys; I've been through that. Lost my brother to police violence. I think it isn't always these conversations of these epithetic moments of, oh my god, I saw myself in a book. Sometimes it's like I found myself in a really tough story. I live a really tough life. And now I know that tough lives don't necessarily mean bad people. I'm not a bad kid. I'm just in a complicated situation and I'm not the only one. Sometimes that's way more important than like ah-ha, it is me, Eureka! It's more like ah, it's not just me.

Why do you think it's important to show all kinds of different representation in books for children?

Reynolds: Because all kind of books exist. All kinds of kids exist. There are children everywhere, come from different background, experienced different things. There's no way as a country, as a world in general, there's no way that we're going to be able to bridge gaps. There's no way we're going to be able to create networks and create conduits if we are afraid of each other's stories. I honestly believe that all kinds of stories have to exist. I hate this little buzz word, cliché. It's empathy, it's builds this. What it really does is it teaches young people how to manage relationships. How to manage the world. Not just because of the story, but because of the amount of discipline and consistency it takes to actually read one. We never talk about that part of it. The actual functional element of a book; that you got to sit down and devote time to in a same way you do a friendship, relationship, a lover, a job, a partner, a parent. It teaches you all these soft skills that we never discuss. They're also valuable for that.

Is there a book that changed your life?

Reynolds: I guess I have to say Richard Wright's Black Boy, because it was the first book I read at 17. Just the completion of it, the feeling of completion was enough to change me. Human beings need to know that we can do a thing, get it done. There's no euphoria, there's nothing like finishing a thing and then that addiction. I was a grown man. Then I think at 25, reading Walter D. Myer's Young Landlords. I didn't know that you could use language in that way. Especially for kids. That kind of opened me up to a whole world or possibilities, which is why I get to sit here today.

Jason Reynolds is a New York Times bestselling author, a Newbery Award Honoree, a Printz Award Honoree, National Book Award Honoree, a Kirkus Award winner, a two-time Walter Dean Myers Award winner, an NAACP Image Award Winner, and the recipient of multiple Coretta Scott King honors. The American Booksellers Association's 2017 and 2018 spokesperson for Indies First, his many books include When I Was the Greatest, Boy in the Black Suit, All American Boys (cowritten with Brendan Kiely), As Brave as You, For Every One, the Track series (Ghost, Patina, Sunny, and Lu), and Long Way Down. He is a contributor for Take the Mic: Fictional Stories of Everyday Resistance, which is available now.

---
This article is part of the Scholastic Power of Story series. Scholastic's Power of Story highlights diverse books for all readers. Find out more and download the catalog at Scholastic.com/PowerofStory. Check back on School Library Journal to discover new Power of Story articles from guest authors, including Alan Gratz, Rosiee Thor, India Hill Brown, and more.
SPONSORED BY