In Anh Do's chapter book series, WEIRDO, the author created a character whose first name is Weir, and whose last name is Do. He's a school kid who feels like he doesn't always belong, but who learns to embrace his uniqueness.

When I turned 8, I got to have my first and only birthday party of my entire childhood. I was very excited. I said to Mom, 'Mom, can I have helium balloons? You know, the ones that float up to the ceiling?'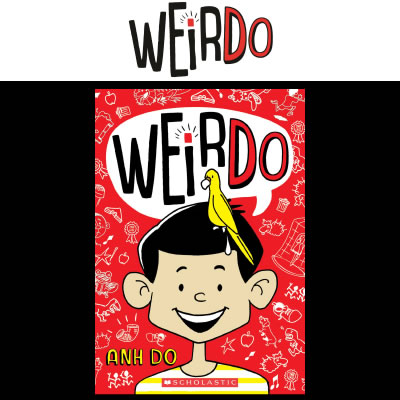 My mom said, 'Son, they're expensive, but I'll see what I can do.' When my birthday came around my mom bought normal balloons, blew them up, and sticky taped them to the ceiling!'

My friends and I tried breathing in the contents of the balloons... 'Is your voice changing? Mine's not.'

Johnny turned to me and said, 'this helium gas smells like spring rolls!'

So we discarded the droopy balloons and went in search of Vietnamese spring rolls, of which there were plenty.

My name is Anh Do (rhymes with 'go'). So my friends had fun with it. They liked to call me 'Weir Do'!

At first, I wasn't sure about the nickname, but I soon figured out my friends didn't mean any harm, so in the end I chose not to take offense and instead embraced the nickname.
I learned that it was okay to be unique, and to love the things that made me different. And over time I also learned that the things I thought were weird weren't so weird after all.

Like the fact that I love instant cheesy macaroni. I get a real thrill when I find that one really bright orange cluster of pasta with half the packet's worth of seasoning stuck to it. Yesssss!!!

I'll savor that salty-sweet hunk of pleasure super slow, because that's the highlight of the bowl.

Or how I asked my dad to buy me a really big pillow. I divided the pillow into left and right sides. I'd try to sleep on the left side, then when it got too hot at night, I'd slide over to the right. When that got hot, I'd turn the pillow over and have two fresh cool sides!

I thought it was just me who did these odd things, but the more I shared my weirdness with the world, the more I heard back from people who said, 'I do that too!'

In my chapter book series, WEIRDO, I created a character whose first name is Weir, and whose last name is Do. He's a school kid who feels like he doesn't always belong, but who learns to embrace his uniqueness.

The fact that the series has sold over 2 million copies in Australia alone has taught me something... Kids relate to Weir, and maybe ALL kids feel like they're a little bit different.

Thousands of parents have written to tell me, 'thank you for helping my daughter/son feel okay to be themselves.'

Each time I read one of these messages I get a burst of happiness. I know that sharing my stories helps kids around the country smile, laugh, and feel okay to be themselves. What a wonderful power to have. In fact, if I were a superhero and I could choose any power in the world, I'd probably choose this one.

Anh Do is an accomplished writer, actor, producer and stand-up comedian, as well as a runner up on Australia's Dancing with the Stars. His award-winning adult autobiography, The Happiest Refugee, is an international bestseller, and he's the author of two bestselling chapter book series, WeirDo and Ninja Kid. He lives in Sydney, Australia.
---
This article is part of the Scholastic Power of Story series. Scholastic's Power of Story highlights diverse books for all readers. Find out more and download the catalog at Scholastic.com/PowerofStory. Check back on School Library Journal to discover new Power of Story articles from guest authors, including Bill Konigsberg, Angela Cervantes, book giveaways and more.
SPONSORED BY