During the "Trauma-Informed Teaching and COVID" session of the SLJ Summit, panelists discussed students' response to trauma and the importance of educators taking a trauma-informed approach to teaching, especially right now.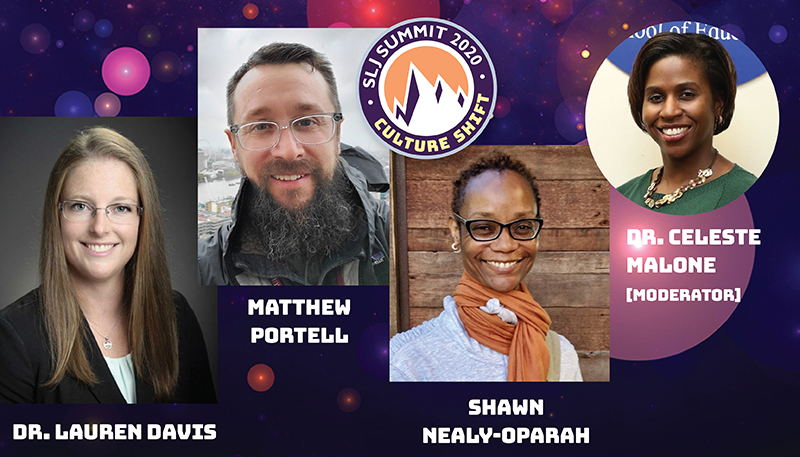 The SLJ Summit's "Trauma-informed Teaching and COVID" panel discussed the varying impact of trauma on students and the need to meet children's needs, create a positive school environment, and remember self-care, especially in this time of crisis. As difficult as it may be to take on trauma-informed teaching, the onus is on educators to take responsibility for this work, according to principal Matthew Portell.
"We can't wait for other people to do this work," said Portell, who brought a trauma-informed approach to Fall-Hamilton Elementary School in Nashville. "It starts with us. We have to be willing to be that disrupter within this realm of education."
Joining Portell on the panel were Shawn Nealy-Oparah, a trauma-informed education trainer and professor at Mills College, and Lauren Davis, a professor of curriculum and instruction at Montana State University. The panel was moderated by Celeste Malone, a professor and coordinator of the school psychology program at Howard University.
The realm of trauma-informed teaching has to include everything done at school, from looking at students with Individualized Education Plans to functional behavioral assessments to what it all looks like now with COVID, according to Portell.
Understanding trauma and its impact
As described by Malone, individual trauma results from an event, series of events, or set of circumstances that is experienced by an individual as physically or emotionally harmful or life-threatening and that has lasting adverse effects on the individual's functioning and mental, physical, social, emotional, or spiritual well-being.
"Not everyone experiences a traumatic event in the same way," Malone said. "Reactions to traumatic events are based on the subjective experiences of the individual. It's also impacted by someone's developmental stage as well as cultural factors. As a result, what is traumatic for one person may be less so for another."
She also shared the categories that comprise the Adverse Childhood Experiences (ACEs). These effects were first documented in a study conducted by Kaiser Permanente and the U.S. Centers for Disease Control. Information from that study has been translated into an ACE Quiz that helps assess an individual's exposure to trauma. High ACE scores indicate a high number of traumatic experiences.
In this framework, traumatic experiences are organized into three categories:
Abuse, which includes physical, emotional, and sexual abuse
Neglect, which includes physical and emotional neglect
Household Dysfunction, which includes the experience having someone in the household with a mental illness; witnessing interpersonal violence; experiencing divorce; having an incarcerated relative, and substance abuse.
Trauma is not limited to the ACE categories, Malone noted. "We also have to consider someone's experiences within a broader context. We can't just look at trauma on an individual level. We have to look at it on a community level also and consider a variety of structural factors that may place individuals at a greater risk for individual trauma as well as collective trauma."
She referred to the socio-cultural environment that concentrates poverty in specific neighborhoods, and the fact that Black and Latinx communities have been disproportionately impacted by COVID.
"When working with students, it is important to consider the multiple stresses and trauma that all of us our experiencing due to COVID and racism," she said.
"We have to dismantle the systems of racism and structural oppression which lead to these adverse community experiences and environments," said Malone. "We have to talk about the root causes."
The impact of trauma can vary based on if it was a one-time traumatic event or if it was chronic trauma, which can include community trauma. Students who have experienced trauma may have physical and emotional distress that can include physical symptoms, difficulty trusting others, social isolation, hypersensitivity to physical contact, impulsive behavior, and oppositional/antisocial behaviors.
Positive early life experiences can lessen the negative effects of ACE's on health and wellness in adulthood, she said.
"We have to provide a positive environment for children through relationships and through a sense of belonging in school, to help them have their best potential."
She outlined the key principles of a trauma-informed approach:
Promoting a sense of safety, both physical safety and psychological safety
Trustworthiness and transparency to include family and community voice
Providing opportunities for peer support so that individuals who have survived trauma can be in community together to promote resilience
Collaboration and mutuality with the families and the broader community
Empowerment, voice, and choice to help students develop self-advocacy skills
Recognizing culture, historic, and gender issues
A realization that "what I was doing to kids wasn't exactly what I should be doing for kids" let Portell to introduce trauma-informed teaching at his school.
"I realized. I was adhering to the systematic archaic processes around behavior that so many schools use—the behavioral mindset of reward and adjusting behavior," he said. "When really there are kids operating at the best that they can at the time."
A trauma-informed approach differs from this applied behavioral analysis (ABA), which focuses on changing the behavior, panelists said.
"When we decide what behavior to change, it's often based on someone's norms or expectations which may not be congruent with the child, with their culture or an aspect of their identity," Malone said.
Nealy-Opara added, "When we think about students who are receiving support and services, those services definitely need to become culturally responsive. We don't want to deem how they have adapted to or how they talk about trauma as a negative thing."
Getting staff support and buy-in
The panelists spoke about different ways that they have gotten staff support and buy-in for this type of approach. Portell started the transformation of his school's approach by presenting his staff with science and up-to-date research on the topic.
The second part of the transformation was supporting his teachers "as much as we support the kids." For example, his school started a "tap-in, tap-out" system, where teachers can contact another teacher or staff member to cover for them right away when they need a break.
"It's very important to recognize when people need to step out because they are being triggered," Malone noted. "From the beginning, a trauma-informed school has to build care for the caregiver. We need to make sure and build in systems proactively for the caregiver so they do not experience burnout from all the emotions that they are taking in from students."
She noted that educators also need to be aware of vicarious trauma, particularly in this age of social media and the 24-hour news cycle.
"A lot of the events happening now are being replayed on a loop often without any kind of warning that what you are seeing could be traumatic to those who are viewing it," she said. "Those kinds of events cause trauma since kids are on their devices constantly and adults may not be fully aware of everything coming down their social media stream."
Shifting educator mindsets
Davis uses yoga and service animals to help students mitigate trauma.
"Academic interventions can only go so far when we are not addressing the root cause," she said. "I am really interested in finding ways we can address the root cause, which is trauma, either in a school setting or outside of school."
A trauma-informed focus requires that adults shift their behavior and mindset to be able to help students, according to Nealy-Oparah.
"Your role (as an adult) is to give back and facilitate, not to have power over," she said. "Trauma-informed teaching is about the adults moving away from the traditional notion of power over. It is about facilitating and choice."
She introduced the African concept of Sawubona, which focuses on really seeing other people.
"Kids need to be seen and they want to be seen," she said. "Too often Black, Brown and Indigenous children are misdiagnosed, are overrepresented in special ed, and overrepresented in suspension. When you infuse Sawubona in trauma-informed practices, what you are saying is we see you, we respect you, we value you, you are important to us. We see the whole child."
The pandemic has made things more difficult for many children who have experienced trauma.
"Schools were so predictable and often schools are a safe haven for kids who have been exposed to trauma, and that's no longer the case," said Nealy-Opara. "Kids can only learn when they are regulated."
Melanie Kletter, a freelance writer and editor in New York City, was previously a senior editor of TIME for Kids.