These exercises in visual communication and short story analysis can impact students' understanding of library instruction and information literacy.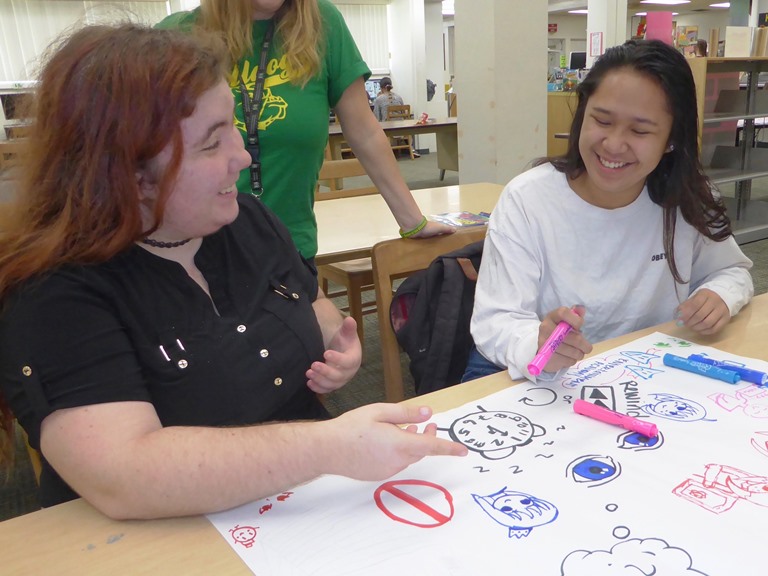 Kaimuki High School Students Kyla and Judy draw information conveyed in college application video essays.
Thinking and communicating visually aren't obvious ways to teach information literacy.
Nor is using stories to help students learn moral lessons about the value of being information literate. Yet both can change the way students understand and feel about library instruction and information literacy.
Anyone can draw. They may not render like Picasso, but they can visually represent information literacy principles in concept form. For the cost of markers and paper, they can begin drawing immediately without any prerequisite knowledge or skills.
Short stories (typically one to three pages) also offer students another easy, inexpensive tool to broaden understanding of why information literacy matters. Separately or together, drawing and stories get ideas out of students' heads and onto paper for discussions and insights.
Drawing
As the smell of scented markers drifted through the Kaimuki (HI) High School Library on a recent afternoon, students in Mindy Westenhaver and Lisa Donovan's English class were busy rendering information literacy concepts.
Drawing can be used to introduce or review lessons, learn how students feel, understand how they think something works, or focus on details they might gloss over. When introducing the topic of "fake news," for instance, you could ask students to draw what it is and how to spot it. Students might render an onion to represent one of America's famous parody news sites (theonion.com) or Fukushima nuclear flowers to depict a fake news story on mutated daises near the Fukushima nuclear disaster site.
If you just reviewed primary and secondary sources, ask them to illustrate the differences. If you want to understand how students think the Internet works, have them make a sketch of how it operates. Or if undertanding students' library anxieties is your goal, have them draw their fears. The possibilities are endless. Working with Kaimuki High School librarian Lori Chun, here's how we used drawing and stories.
After writing practice college admission essays in English class, students came to the library and drew the sources they used to learn about the universities where they applied. Their illustrations included websites, college fair representatives, alumni, current college students, coaches, teachers, counselors, social media, etc. We usually give students five to 10 minutes to draw.
The drawings provided a launching pad for questions: who produced the information, and why? Focusing on their drawings, students discussed how the purpose of the source and what information was and wasn't included.
Why, for example, might a college football coach recruiting at Kaimuki High School neglect to mention the dropout rate for football players at the university? Or, why might a university's website neglect to mention a shortage of on-campus housing?
In a subsequent exercise, students watched three college application video essays and then drew the unique messages each format enabled. What did the author convey with the sight, sound, and motion in the video that they couldn't in a written essay? What could they articulate better in writing? Focusing on the pictures yielded extended conversations.
Drawing information literacy concepts often requires students to think differently and with more detail than they would in oral or written responses. This, plus the tactile element of hands touching paper, often results in a greater feeling of engagement. Students who would never raise their hand and answer a question often come alive during drawing exercises. It's effective with all students, and particularly so for those with attention problems and those who don't speak English as a first language.
Stories
Working in pairs, our students also analyze short stories to engage the Association of College and Research Libraries (ACRL) Framework for Information Literacy.
Stories can introduce and review lessons, as well as teach information literacy-related lessons. Here's how we used them:
After discussing their drawings about sources with the class, students read the one page story "The King" by Alan M. Cvancara. The story uses a disagreement between a graduate student and a professor to understand the cause of death of a dinosaur and to explore the reasons why one should approach sources critically.
The story also raises questions about power, authority, and the need to seek a variety of sources. These themes are found in the ACRL Framework for Information Literacy and the American Association of School Librarians (AASL) Standards Framework for Learners.
Discussing the story, students discussed how one becomes an expert. With the teacher's guidance, they moved back and forth between their drawings of sources and authorities on colleges they applied to and "The King."
If, for instance, their parents were an information source about a college they applied to, how and when did their parents gain expertise on the college? In what sense, if any, are they experts? How might their parents' biased representations of a college mislead them? Who else might students seek out to learn more about the schools?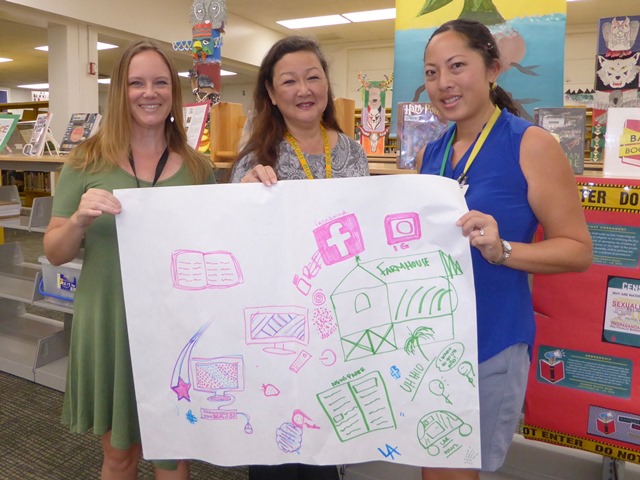 Kaimuki High School English teacher Lisa Donovan, librarian Lori Chun, and English teacher Mindy Westenhaver hold a student drawing.
Finding the stories
Stories are one way to engage the AASL's call for librarians to "initiate and elevate motivational reading initiatives by using story and personal narrative to engage learners." In our recent book, Teaching Information Literacy Through Short Stories, we explored how to use 18 works of short fiction linked to the ACRL Framework for Information Literacy.

"They're Made Out of Meat" by Terry Bisson is a dialogue between two extraterrestrials who cannot believe a species made of flesh is intelligent. The aliens lack the mental flexibility to consider conclusions differing from their view. The story is linked to the frame Searching as Strategic Exploration. Students are asked to consider how their approach to research may bias their conclusions.
"The People Who Owned the Bible" by Will Shetterly takes the reader through a series of outlandish legal decisions extending the length of copyright. Religious texts become the property of individuals. The story is linked to the frame Information has Value, offering the opportunity for discussion on copyright, fair use, and censorship.
"A Fable" by Robert Fox is a story of a young couple that meets and becomes engaged during a brief subway ride. Each person asks each other a series of simple questions whose answers appear sufficient to make a lifetime commitment. The story is linked to the frame Research as Inquiry. Students are asked to consider the thoroughness and complexity of their research.
Some of our students told us that reading stories was their favorite part of the class. Although we've used these techniques with high school and college students, numerous teachers have said that with the right stories, they work well with elementary and middle schoolers.
"Sam's New Pet," retold by Alvin Schwartz, for instance, is a one-page short story about a woman who travels to Mexico and adopts a new pet. What she mistakenly believes is a Mexican Hairless dog turns out, upon closer examination by a veterinarian, to be a rat. This tale gives younger students a reason one should, in the words of the AASL's Standard Framework, "seek a variety of sources" and "question and assess the validity and accuracy of information."
Tips for drawing activities
Organize students in pairs.
Each pair should have one blank sheet of 24 x 36 inch poster paper and 3 or 4 different (dark-colored, broad-tipped, scented) markers or crayons.
Limit the time on drawing (five or 10 minutes).
Selects a few pairs to share and explain their drawing to the class in a maximum of 60 seconds.
Librarian and students can ask questions or comment on each group's drawing.
Tips for story projects
Link the themes in the AASL and ACRL framework.
To help students find meaning and connections, explain the frame they should think about.
Prepare questions ahead of time to guide discussion.

David Brier is the head of the Business, Humanities, & Social Sciences Reference Department at the University of Hawaii at Manoa Library. He has written a book and several articles on information literacy. Vickery Lebbin, interim associate university librarian at the University of Hawaii at Manoa Library, has also written widely on information literacy. In 2001 she received the ACRL Instruction Section's Innovation Award, and in 2017 was awarded the Manoa Chancellor's Citation for Meritorious Teaching.