These titles should appeal to fans of this live-action movie about the iconic Disney villain.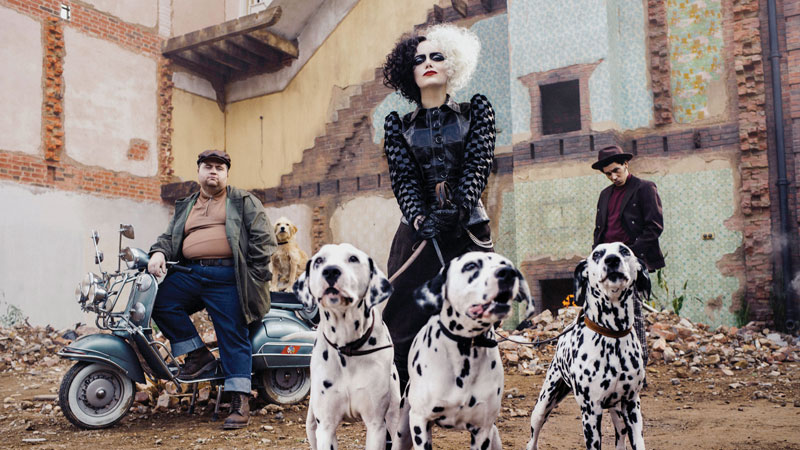 Disney +
Cruella
Disney+. Rated PG-13. In theaters now. Available on Disney+ for $29.99, free to all subscribers on August 27.
This live-action film stars Emma Stone as one of Disney's most dastardly villains, an ambitious young white fashion designer, Cruella DeVille.
READ-ALIKES
There are a couple of recent Cruella De Vil novelizations that would make logical starting points for fans of the movie:
Evil Thing by Serena Valentino. Disney Press. 2020.
Gr 7-9–This entry in the "Disney Villains" series came out last year and is written as a memoir by Cruella De Vil herself. If readers enjoy this one, they may also enjoy other books in this series, each starring a different Disney baddie.
Hello, Cruel Heart by Maureen Johnson. Disney Press. 2021.
Gr 7 Up–This recent media tie-in novel by YA powerhouse Maureen Johnson follows the plot of the movie and is a sure bet for viewers who can't get enough of the film.
Fans of the movie may also enjoy:
Artemis Fowl by Eoin Colfer. Hyperion. 2001.
Gr 5-8–A white, 12-year-old evil genius kidnaps a fairy and demands its gold to help restore his family's fortune, but he doesn't count on the fairies fighting back. This funny, fast-paced fantasy novel will appeal to readers who enjoy a not-always-likeable main character with big ambition.
A Dress for the Wicked by Autumn Krause. Harper. 2019.
Gr 7-10–In this dystopian novel set in a fashion-obsessed alternative England, white teen Emmy is thrilled to compete for a spot as a fashion designer, but soon realizes that the high-stakes world of fashion is corrupt. Hand this one to readers who enjoy over-the-top fashion and stories high in drama.
Bonjour Girl by Isabelle Lafleche. Ingram. 2018.
Gr 9 Up–19-year-old biracial (Chinese/French) Clementine transfers to Parsons School of Design with dreams of becoming a fashion blogger in this drama-packed story. While the tone is lighter than the movie, readers obsessed with fashion will appreciate this insider view of design school.
Abby Johnson is the collection development leader at the Floyd County (IN) Library.