Join us Saturday, October 24 for the SLJ Summit: Culture Shift. Now in its 16th year, this national convening will focus on creating a culture that promotes an equitable world and closes the opportunity gap for all children.
In this free, day-long event, you'll gain skills, ideas, and support in leading the change you want to see in your library, school, and community.
The day will host three concurrent tracks, with sessions on:
Reimagining School

Antiracism: Next Steps

School Library Leadership 2020

Challenging the Classics: Reimagining the literary canon

SEL (Social Emotional Learning) & Trauma-Informed Teaching

Coming of Age, Graphic Novels

Reimagining Youth Librarianship

How to Start an Online Book Club

The Latinx Experience, Genre Fiction

And much more
Facilitated discussions will follow core sessions, providing you the opportunity to convene, network, and advance ideas on subjects ranging from Reimagining School—what are the lessons of remote learning and how will this impact the classroom of the future?—to SEL and supporting students and families in the COVID-19 crisis (on Zoom, space is limited).
And, in a first-ever reveal, we'll announce SLJ's 2020 Best Books at the Summit.
All registrants will have access to the Summit's archived content for up to three months for on-demand viewing.
We are anticipating an unprecedented number of library and education professionals to attend this summit, so you may find the environment or live sessions become full during the day.
But fear not! All sessions and author chats will be available for viewing on-demand within an hour of their initial broadcast, and the entire event will be available on-demand until January 24, 2021.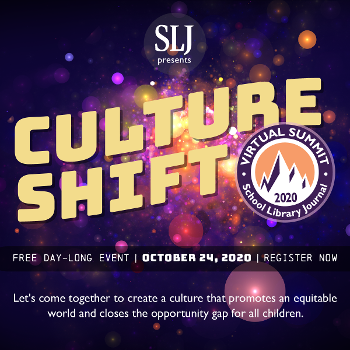 Any person who violates the Code of Conduct during our events, webinars or any online convening, will be removed immediately.
9:30-10:00AM ET | Visit the Exhibits; Zoom Social: Meet and greet some of your colleagues in a Zoom social event. Hop between breakout rooms on a variety of topics - from what I learned this summer to virtual community engagement - and take part in formal and informal conversations with some familiar faces, and probably people you have never met.

10:30-11:20AM ET | Reimagining School
Administrators and educators will discuss the lessons of remote learning and solutions that can be taken into the future to make school more equitable. Panelists will also discuss the impact of the racial reckoning in the country and spring and summer of protests on students and education. Is the moment when school can be reimagined to work for all students? Join the post-panel discussion in Zoom and we'll crowdsource ideas and resources together, in community.
Introduction: Beth Brezenoff, Associate publisher, Capstone
Susan Gauthier, Director, Library Services, East Baton Rouge Parish School District
Dr. Jacqueline Perez, Assistant Superintendent, Equity, Access & Community Engagement, Riverside (CA) Unified School District
Brian Schilpp, STEM Supervisor, Garrett County (MD) Schools
Marlon Styles, Superintendent, Middletown City (OH) Schools
Moderated by Kara Yorio, SLJ News Editor

11:20AM-12:10PM ET | Beyond Book Clubs: Next Steps in the Work of Antiracism with Children
The killing of George Floyd sparked an unprecedented response nationwide, with a call to address systemic racism. What does this work look like in schools and libraries? An expert panel will consider this question with actionables. Join the post-panel discussion in Zoom and we'll crowdsource ideas and resources together, in community.
Introduction: Nick Glass, Founder & Executive Director, TeachingBooks and Book Connections
Colleen Cruz, Director of Innovation, Teachers College Reading and Writing Project
Tiana Silvas, Public School Teacher, New York City
Moderated by Sonja Cherry-Paul, Director of Diversity and Equity at the TCRWP

11:20AM-12:20PM ET | Post-Session Discussion: Reimagining School (Session Track 2)
Follow-up your learning from the Reimagining School session by joining with your colleagues in Zoom breakout rooms. In our facilitated conversations participants will work together to plan for next steps, leverage of opportunities, and overcome obstacles in the reimagining school process. (On Zoom, space is limited)
Facilitated by Linda W. Braun, Learning Consultant with LEO

12:10-12:30PM ET | Break to visit booths

12:10-1:10PM ET | Post-Session Discussion: Antiracism Work with Children (Session Track 2)
Take the next step in thinking about how to bring antiracism to your institution in small group Zoom breakout rooms. In this Zoom session, participants have the chance to join in a facilitated conversation about how to take what they learned and heard in the large group presentation to their own organization and community. (On Zoom, space is limited)
Facilitated by Linda W. Braun, Learning Consultant with LEO
12:30-1:00PM ET | Tommy Orange
Orange, the author of There There, a 2019 Pulitzer Prize finalist, delivers a keynote address.

1:00-1:50PM ET | School Library Leadership 2020
Elizabeth Davis, President, Washington Teachers' Union
Kenneth Hamilton, Superintendent, Mount Vernon (NY) City School District
Moderated by KC Boyd, library media specialist, Washington DC Public Schools

1:50-2:15PM Break to Visit Booths

2:20-3:10PM ET | Challenging the Classics
Titles such as To Kill a Mockingbird and the "Little House" books face scrutiny for their racism, bias, and depiction of BIPOC by White authors. Three DisruptTexts cofounders, Julia E Torres, Kim Parker, and Lorena Germán, discuss and field questions about unpacking bias, decolonizing the canon, and developing critical consciousness while teaching classics and material by BIPOC authors.
Julia E. Torres, Language Arts Teacher and Librarian, Denver, CO.
Kimberly N. Parker, Assistant Director of Teacher Training, Shady Hill School, Cambridge, MA.
Lorena Germán, educator working with middle and high school students, Austin, TX.
Introduced by Sarah Bayliss, Editor, News & Features, SLJ

2:20-3:10PM ET | Trauma-Informed Teaching and COVID (Session Track 2)
Based on public health research and the ACES (Adverse Childhood Experiences) quiz, trauma-informed teaching takes into account how factors such as poverty, neglect, and racism impact children's health and ability to learn. Educators discuss COVID's impact and effective teaching strategies.
Mathew Portell, principal, Fall Hamilton Elementary School, Nashville, TN
Shawn Nealy-Oparah, Ed.D, Trauma-Informed Education Trainer, Adjunct Prof, Mills College
Dr. Lauren Davis, PhD, assistant professor of curriculum and instruction, Montana State University
Moderated by Dr. Celeste Malone, PhD, MS; associate professor and coordinator of school psychology program, Howard University

3:15-3:45PM ET | James McBride
James McBride is an award-winning author, musician, and screenwriter. His 2013 novel, The Good Lord Bird, about American abolitionist John Brown, won the National Book Award for Fiction and will be a Showtime limited series in fall 2020 starring Ethan Hawke.

3:10-4:10PM ET | Post-Session Discussion: Challenging the Classics (Session Track 2)
(On Zoom, preregistration required)
Facilitated by Linda W. Braun, Learning Consultant with LEO
3:45-4:25PM | Latinx Magic: Latinx Authors on Speculative Fiction
Aliens. Brujos. Ghosts. Shape-shifters. Hear from the up-and-coming author panelists as they chat about the marvels of genre-fiction writing, building intricate worlds, and how their Latinx identities and culture shaped and influenced their work.
Aiden Thomas, Cemetery Boys (Macmillan)
Raquel Vasquez Gilliland, Sia Martinez and the Moonlit Beginning of Everything (S&S) Maya Motayne, Nocturna (Harper)
Isabel Ibanez, Woven in Moonlight (Page Street)
Claribel Ortega, The Ghost Squad (Scholastic)
Moderated by Shelley Diaz, Reviews Editor, School Library Journal

4:30-5:00PM | SLJ Best Books 2020
The SLJ reviews editors offer an exclusive first peek at this year's Best Books. Come see whether your favorite works—whether YA, middle grade, nonfiction, picture book, or graphic novel—made our list.

Session Track 3 (available all day)
I Guess This is Growing Up: Coming of Age Stories in Graphic Novel Format
Adolescence is a rocky time, but literature can make it easier. These graphic novel creators will discuss how they crafted stories about growing up, dealing with identity, and learning to carve out a sense of self.
Tyler Feder, Dancing at the Pity Party (Dial)
Robin Ha, Almost American Girl (HarperCollins/Balzer + Bray)
Matt Lubchansky, Be Gay, Do Comics (IDW)
Ngozi Ukazu, Check, Please and Sticks and Scones (First Second)
Moderated by Mahnaz Dar, Reference & Professional Reading editor

Fast Learning: How to Launch an Online Book Club
Laura Gardner, Teacher Librarian, Dartmouth (MA) Middle School

Empowering Educators: Having Courageous Conversations with Students About Race and Racism
First Book and Pizza Hut have introduced a series of free resources designed to support educators in helping their students engage in effective, courageous conversations about race and social justice. Created in response to research uncovering educator needs, the Empowering Educators series of resources includes a guidebook, instructional videos, and other pedagogic resources informed by leading anti-bias and antiracism experts.
Julye Williams, Senior Advisor, First Book
Christine Platt, Interim Managing Director, Antiracist Research & Policy Center

Speaking the Language of Power
Sometimes, we get frustrated when we build a case for our stakeholders, and they don't bite. Why is that? Sometimes, it's a matter of framing: our library talk doesn't appeal to what stakeholders value and care about. We'll explore ways in which we can rethink our ask so that the answer is more likely to be yes.
Kristin Fontichiaro, Clinical Associate Professor, University of Michigan School of Information

Building Community for Connection and Learning with Facing History and Ourselves
The COVID-19 pandemic has upended schooling and sparked a massive, ongoing experiment in remote and hybrid learning. Join Facing History and Ourselves to explore how teachers and librarians can create community, sustain student-centered learning, and support students' social-emotional needs in this new normal. We'll share promising practices to engage students in inquiry, reflection, and discussion both online and off-screen, including Facing History's Guide to Remote Book Clubs and Back to School resource collection.
Laura Tavares, Program Director for Organizational Learning and Thought Leadership, Facing History and Ourselves

Innovating Solutions Together with and for Youth and Families
In this session, focused on our learnings from design sessions and interviews during summer 2020 with 139 library staff nationwide, we share the challenges that non-dominant youth and their families face during current crises; how library staff co-created solutions to connect, learn, and innovate with their community to mitigate those challenges; and highlight examples of leveraging community assets to meet critical needs of youth and families during crises.
Linda W. Braun, Learning Consultant, LEO
Mega Subramaniam, Associate Professor & Co-Director of the Youth Experience Lab, College of Information Studies, University of Maryland

Video Production Tips with Buttons & Figs
Kidcasting librarian & SLJ columnist Pamela Rogers, founder of Buttons & Figs (buttons&figs.com), and kid-tastic Chloe Anderson will show how they pivoted from podcasting to whimsical, wordplay-filled, short educational videos for their county's 2020 Summer Reading Program. They'll giddily guide you through the steps they took to quickly, easily, cheaply, alliteratively think about the visual, verbal and vocal ways videos work.

What If It's Not "Reluctant Reading"? A Discussion of Dyslexia for Librarians
An overview of dyslexia for librarians and teachers working with youth. We'll bust longstanding myths about people with dyslexia. Learn how to curate and champion multiple formats for accessibility.
Karen Jensen, youth services librarian, Fort Worth (TX) Library, founder, "Teen Librarian Toolbox," and parent of a pre-teen with dyslexia
Stacy Wells, youth services librarian, advocate, and parent of two children with Dyslexia
Nancy Disterlic, dyslexia consultant, Region 10, northeast Texas
Vote Woke: Empower Students to Vote with Books and Community Support
Cicely Lewis, 2020 School Librarian of the Year and founder of Read Woke, describes how she used Woke Wednesdays to educate her students about voting. The initiative helped Lewis and her students win an MTV Virtual Prom grant of $5,000 and participate in a a private Zoom call with Michelle Obama and Jenna Bush Hager. Learn how educators can win $150 for their classroom and start a student-led voter registration team with support from When We All Vote.
Cicely Lewis, 2020 School Librarian of the Year