Join us Thursday, August 5, 2021 for our tenth annual SLJTeen Live! virtual event!
Join us October 7 for the most anticipated librarian gathering of the fall 2021 publishing season—fully virtual and free to attend. Our daylong program of author panels, in-depth conversations, and keynote talks will keep you informed, inspired, and entertained, and provide insight into industry trends as you work to grow and diversify your collections.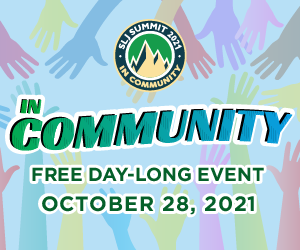 Join us Thursday, October 28 for SLJ Summit: In Community. Beyond geography, community can mean a lot of things. We all work and live in the context of community, and the fact of our interdependence—how all aspects of our lives, our very fates, rely on how we function together—has never been made more apparent than in our shared experience of the pandemic.