Dav Pilkey is very open about his childhood struggles with ADHD and dyslexia and this is why it matters.
The Secret Mountain Announces Fall Picture Books with Audio, Including Ana Gerhard's Little Creatures: An Introduction to Classical Music in September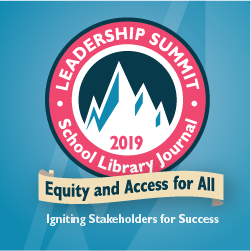 Summit attendees explored equity and access across different areas of education including technology, community engagement, and advocacy.
The two most recent editions of FROM THE DESK OF 100 SCOPE NOTES are out in the world. In August, I shared a bunch of drawings and writing from my sketchbook and notebook. This month, I share some of my favorite quotes about writing and creativity. Click here to sign up for FROM THE DESK […]
Medical doctor and international policymaker Alaa Murabit kicked off the SLJ Leadership Summit on Saturday with a challenge: find a way to translate their work in a way that compels the public and people in power to support libraries.
The finalists for the 2019 Kirkus Prize have been announced.
Sports-themed titles to empower all young readers.
You want something high class and snazzy? You know who to turn to. Today I sit down (virtually) with Marilyn Singer and I pull no punches, people! Good thing I really like today's book.
Here's a new idea. Let's see what you think of it. We're all familiar with "blog tours" at the moment. Heck, I'm hosting one today. The "blogger blitz" is a little different. Essentially, a publisher takes a high quality author (say, one Remy Lai of the magnificent 2019 release Pie in the Sky) then, instead of releasing their new cover on a single site, does so across the internet on a plethora of them. Today, I am one of a hoard.