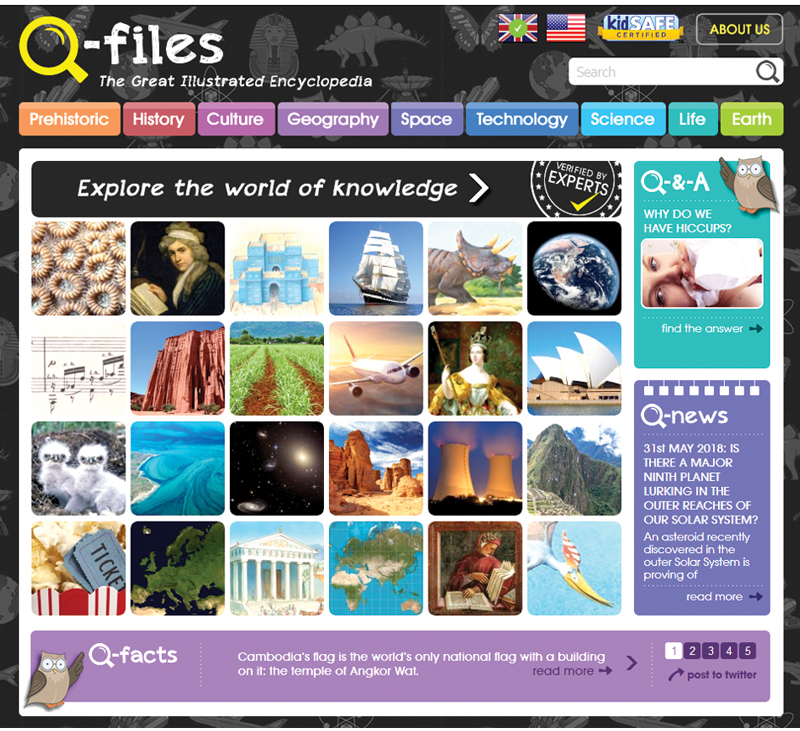 Browsers and researchers alike will appreciate this resource aimed at upper elementary and middle school students. Abundant visuals, enticing sidebars, and solid material will draw in scholars and educators alike.
Grade Level Gr 4-8
Cost An annual subscription for a school costs $125 for up to 250 students, plus 50 cents for each additional student. An individual annual subscription (including single-class use in schools) is $54. Pricing for public libraries is available on request.
Content Q-files is an online encyclopedia aimed specifically at pre–high school aged children. According to the site's FAQ page, content is "aligned with Key Stages 2 and 3 in the UK, [and] grades 3 through 8 in the US."
In addition to the search box, a menu bar stretches across the top of the page, with the headings "prehistoric," "history," "culture," "geography," "space," "technology," "science," "life," and "Earth." When users hover over these subjects, a drop-down menu with subtopics appears. After clicking on one of these subtopics, a submenu becomes available on the left side of the page. A "You are here" bread crumb trail helps orient students.
Produced by UK publishing house Orpheus Books, the database is in some cases more keyed to British history and culture than U.S. content. For instance, a search for "Boss Tweed" brings up articles on the "United Kingdom" and "Viking Warriors," whereas searching for "Robert the Bruce" reasonably yields articles on "Scottish history" and "Scottish kings and queens 11th–14th centuries." Nonetheless, U.S. history is covered by a number of articles that may be reached through a targeted search or by clicking on "history" and then "North America."
For reasons not made clear, "the Bible" has its own entry under "culture," though no other religious scriptures are represented as high up in the menu tree. A search for civil rights activist and author "James Baldwin" yielded no related results but did return "Jesus's teaching and miracles" as the first hit. This curious bias does not seem to affect coverage of scientific or ­historical topics.
Articles are richly illustrated with photos, drawings, maps, diagrams, and, often, useful sidebars. "See also" links at the bottom of each page direct users to related content.
Individual articles are uncredited, but the FAQ page links to a list of the publisher's "specialist children's writers," as well as brief biographies of all of the site's consultants, who are listed with the articles for which they are responsible.
Ease of use The design is vibrant, though not at the expense of significant, well-written, and engaging text.
In addition to the hierarchical search menu and open-ended search box, the homepage encourages browsing through a colorful array of photographs of, for example, the Sydney Opera House, a portrait of Mary Wollstonecraft, and a sheet of musical notation, which link to articles on Oceania, famous women, music and dance, and more.
All of the top-level menu buttons expand whenever hovered over, which can be distracting.
Brief sidebars appear on the homepage and throughout, including a Q&A, which presents a question such as, "How does an airliner fly?," along with a link to the article with the answer; "Q-news," which highlights a current topic (such as the death of the last living male northern white rhino); and "Q-facts."
Students can expand images by clicking on them, but these visuals are difficult to download in context. However, a "Q-pics" section at the bottom of the page makes images available to view and download.
A mobile-optimized version of the site automatically loads when using an appropriate device and can be accessed via a link from the desktop version.
Student and teacher resources Users may click a small button at the top of each article to generate a citation, with options given for APA, MLA, Harvard, and Chicago styles. A "listen" button activates an automated text reader. Users can adjust reading speed and opt to have the text highlighted as it is read. Read-alouds are downloadable as MP3 files.
A Google Translate widget at the top of the page provides automated translations in a wide range of languages.
Librarians and educators will appreciate the "About Q-files" page, which links to a short article on teaching children about online research, including distinguishing fact from opinion and making effective use of Wikipedia.
Verdict Given the reasonable cost, particularly for smaller schools, and the broad range of coverage, Q-files is a good resource for elementary and middle school students, whether for research or unstructured browsing. It's easy to use, visually appealing, and curated for the expectations of younger students. However, educators should be aware of its limited coverage of non-UK historical and cultural topics.
---
Bob Hassett, Luther Jackson Middle School, Falls Church, VA