The 2019 National Conference spotlighted equity and inclusion, along with advocacy, media literacy, makerspaces, reading, and other topics, in more than 130 professional development sessions.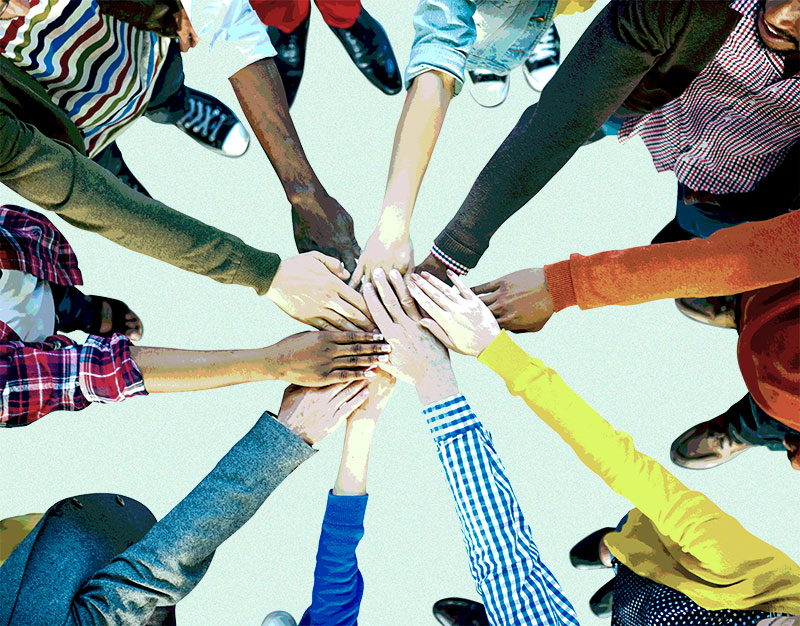 Getty Images/SLJ
Equity and inclusion were standout themes at the Association of American School Librarians (AASL) National Conference in Louisville, KY, on November 14-16. The interested generated in these topics says a lot for a conference that covered a lot of ground, with keynote speeches by Ellen Oh, Adolph Brown, and Jarrett Krosckza, and professional development sessions on social justice, design thinking, information and news literacy, advocacy, makerspaces, graphic novels, and nonfiction for more than 2,300 school librarians and others in attendance.
A new standard for inclusion
AASL's National School Librarian Standards took the spotlight in 2017, but this year, presentations on equity and AASL's "Include" mandate (one of their six Shared Foundations) stood out for addressing timely topics and trends gaining traction across the country, from teaching racial and social justice to youth activism, inclusive thinking, and developing each student's voice.
During Practical Approaches to the Shared Foundation Include, AASL Emerging Leaders Corey Hall, Matthew King, Beth Raff, and Bianca Spurlock spoke with AASL keynoter, author, and We Need Diverse Books co-founder Ellen Oh about putting these standards into practice. The presenters distributed the AASL Developing Inclusive Learners and Citizens guide and discussed, among other topics, strategies for labeling—or not—books with LGBTQIA+ themes. While one school culture might celebrate such a section, "Out and Proud" is not realistic in other schools, and could be a dangerous stance, they said. In handling flawed classics, such as the teacher favorite To Kill a Mockingbird, they suggested pairing it with a contemporary title about racial justice, such as The Hate U Give. Oh took issue with the "ideology that we have to teach pain books" that solely foreground diverse characters' difficult challenges, and suggested books make more room for other experiences.
The national shift toward youth activism and social awareness has created a sense of purpose and agency among students and educators—and ties closely to strategies for creating positive experiences with Include Everyone: Exploring Social Justice in the Library. School librarians Erika Long, from Metro Nashville Public Schools, and Susan Polos, of Greenwich (CT) Country Day School, discussed student activism and broader advocacy for school libraries. Long stressed that activism works best when it is driven by students' interests: Youth activists tend to embrace issues that are personally meaningful. In her school, students were focused on sustainability and domestic violence. Long also brought attention to World Hijab Day and GLSEN's National Day of Silence in her school.
Talking about equity with youth—who may be more open to embrace it—is one thing, but changing entrenched adult mind-sets and implicit bias is another. In Equity: Moving Beyond Intention to Inclusive Practice, Julie Stivers, librarian at Mt. Vernon Middle School in Raleigh, NC, and a 2019 Library Journal Mover & Shaker, spoke about intentions: "Good intentions are a low bar," she said. "We need to concern ourselves with impact." Libraries need a foundational shift toward becoming equity-driven, she said. That includes changing librarian mind-sets from a "scarce mentality" to an "abundance mentality"—for starters, by moving toward more collaborative projects and from fines to no check-out limits. "Do we care about the reader, or do we care about the books?" she asked.
To promote more inclusive thinking, Stivers shared Project Ready, a free anti-racist online course for school librarians with self-paced modules to work through individually or with a group. "Comfort builds courage," she said, describing "LibFive"—principles her students developed for a joyful, inclusive library environment. That sort of space enables young people to become courageous, speak up for themselves, and self-advocate, she underscored.
Helping students develop a voice and giving them permission to speak out is key to creating equity in and outside of the classroom. Donald Clayton and Tami Genry, principal and librarian from Mountain Brook Junior High in Birmingham, AL, put it clearly when they defined student voice as "each student's ability to influence and impact his or her educational experiences." In Student Voice: The Good, the Bad, and What Is My Role?, they said that at their school, teachers regularly ask students: "What's working, what's not working, and what suggestions do you have?" They invite students into the decision-making process and encourage them to take ownership of their education. Students develop their own assignments and assessment methods as part of their learning. Clayton's and Genry's way of getting students to look at the world critically and to self-evaluate is compelling because it's a more nuanced and less discussed aspect of equity and inclusion that not everyone thinks about. Genry noted that "Students who have a real voice in their assignments perform higher, often give themselves a more difficult task, and engage for a longer period with their learning." The school librarian can be a leader in prioritizing students' voices, she added, starting by inviting specific feedback, actively listening and engaging in dialogue, and meeting students' needs in the library.
One takeaway that everyone can learn from is the experience of Andrea Lawler of Campbellsville (KY) High School, who started a human library in Breaking Stigma and Stereotypes with the Human Library Project. The idea behind the initiative was that an individual who has often been a subject of prejudice serves as a living "book," and meets with others individually to foster empathy. Denmark's Human Library Organization asks people to "consider what it means to un-judge someone."
After Lawler invited guests to meet with her students, Ronni Abergel, who started the Human Library Organization, told her that she needed a license from the organization to run the program. Taken aback, she went through certification—and recognized the value of its guidelines for creating safe spaces and other important goalposts for these important conversations. Seeing how her ideas evolved is a useful starting place for all.
For those unable to attend—or #NotAtAASL—the organization crowdsourced a collaborative notes doc; presenters shared slide decks and relevant resources on the 2019 AASL app.