Check out these picture books that feature the Metropolitan Museum of Art in New York City.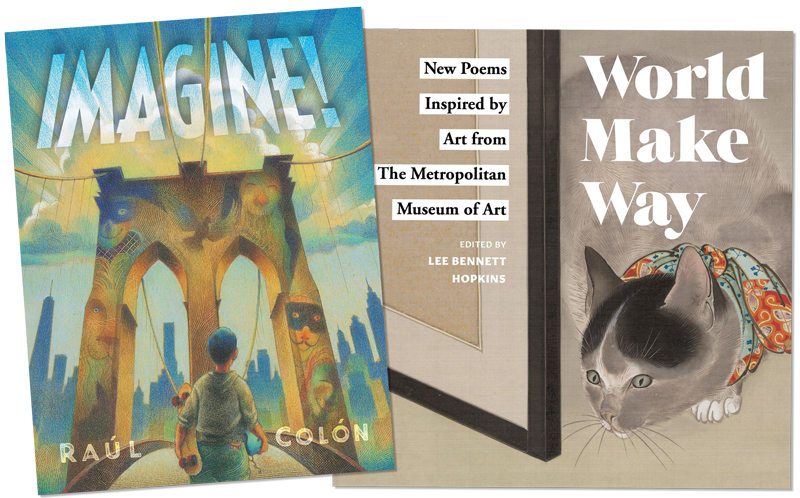 Examples of ekphrasis aren't too common for younger readers, but Raúl Colón's Imagine! and editor Lee Bennett Hopkins's World Make Way are wonderful testaments to artworks and artists, from Henri Matisse to José Guadalupe Posada to Mary Cassatt.

Raúl Colón. Imagine! illus. by Raúl Colón. 48p. S. & S./Paula Wiseman Bks. Sept. 2018. Tr $17.99. ISBN 9781481462730.
PreS-Gr 2–A young boy skateboards across the Brooklyn Bridge to the Museum of Modern Art in Manhattan. There he encounters works by some of the most famous artists in the collection: Rousseau, Picasso, and Matisse. The enchanting figures leap off their canvases and join the boy on a tour of the Statue of Liberty, Central Park, Times Square, and Coney Island before returning to their frames. On his way home, the newly inspired child envisions painting murals on the sides of the buildings he passes and falls asleep with his head filled with the images he's internalized.
VERDICT A compelling introduction to the power of art and an irresistible invitation to creativity, to boot. Best shared one-on-one or with a small group, with plenty of time to pore over the brilliant images within.–Miriam Lang Budin, Chappaqua Library, NY
Lee Bennett Hopkins, ed. World Make Way: New Poems Inspired by Art from the Metropolitan Museum of Art. 48p. index. reprods. Abrams. Mar. 2018. Tr $16.99. ISBN 9781419728457.
Gr 5 Up–Hopkins's latest gathers poetry from some of contemporary children's literature's established authors (most of which are not specifically known for writing poetry) inspired by artwork held by The Metropolitan Museum of Art. Many of the paintings, from Mary Cassatt's "Young Mother Sewing" to Oide Toko's "Cat Watching a Spider," include children or animals. The specially commissioned poems, which easily lend themselves to reading aloud, are well matched with their individual artwork and can be excellent springboards for further discussion about the picture. The art is annotated with its title, date of creation, name of artist, and type. Artists include José Guadalupe Posada, Frank Henderson, and Devidasa of Nurpur; poets include Alma Flor Ada, Guadalupe Garcia McCall, and J. Patrick Lewis.
VERDICT Recommended for larger libraries in need of a sophisticated and thoughtful poetry collection.–Jennifer Schultz, Fauquier County Public Library, Warrenton, VA
These reviews have been excerpted from the School Library Journal July 2018 issue.