Accomplished poet and author Nikki Grimes dives headfirst into childhood memories for her memoir Ordinary Hazards. Having created a work that simultaneously shares trauma and moments of light, Grimes discusses the process of excavating her personal history.
Accomplished poet and author Nikki Grimes dives headfirst into childhood memories for her memoir Ordinary Hazards (Wordsong, Oct 2019; Gr 7 Up). Having created a work that simultaneously shares trauma and moments of light, Grimes discusses the process of excavating her personal history. We spoke to Grimes about the project's style choices, her family relationships, and the often solitary nature of being a writer.
---
Why did you decide to write your memoir in verse, rather than narrative prose? What are the advantages and disadvantages in choosing to frame your story in this way?
I don't think in terms of advantage/disadvantage when it comes to form or genre. I look for what seems to be organic to the story I want to tell. In the case of Ordinary Hazards, poetry was what worked. Initially, I was unsure how I would tell my story. I'd made several attempts at this memoir, over the years, and had experimented with various prose and poetry forms. In general, though, poetry is my preferred vocabulary. It allows me to dive more deeply into the emotional realm than I've ever been able to reach through prose, and the realm of memory lies deepest of all. I've also found poetry especially effective when navigating sensitive or difficult subject matter. Verse allows me to treat material in as delicate or light-handed a manner as I choose, while still being honest and authentic. It also allows for a deft kind of power that pulls no punches, when need be. Poetry helps me manage the balance of the two.
Did writing your memoir prove to be a therapeutic process? How can memoir both preserve the past and exorcise old ghosts?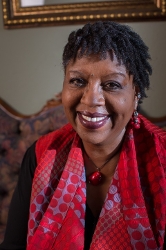 Photo by Aaron Lemen
I can't say this particular writing was therapeutic, per se, but that's because I've been processing these experiences, little by little, for years. However, I did find the work revelatory. The process brought back memories I'd long since forgotten, or didn't even know were there—like ice skating which I previously had no conscious memory of—and allowed me to grieve the loss of other memories that are gone forever. There was also the insanity of working out the math of my life, i.e. when and where each memory occurred within the broader stream of my life. Ordinary Hazards was a bit of an emotional rollercoaster, in that respect. I spent a lot more time in prayer than I thought I would!
As for excising old ghosts, I do have the sense that I never need to revisit certain dark memories again, and that's a relief. In that sense, writing about the past, if only for oneself, is a sure way to lighten the mental and emotional load. I highly recommend it.
You share that your mother struggled with alcoholism and paranoid schizophrenia. Asking as someone who is part of the community, why do you think the topics of mental health and mental illness are so difficult to address in the Black community? Speaking as a member of the community, why is it, for many Black people, still such a taboo subject?
As Black people in this country, we are permanently in a defensive posture, having to constantly prove ourselves, prove our worth. The last thing we can afford to do is show any perceived weakness, and weakness is precisely the way we view mental illness. It becomes something to hide, rather than something to talk about, or even acknowledge. However, mental illness is, in fact, a disease, not a flaw. In truth, we are only weak when we refuse to get the help we need to cope with that disease. We have to make that shift in thinking about mental illness in the same way we think about hypertension, or diabetes, diseases for which we are willing to seek medical help. We have a long way to go.
Your memoir contemplates what it means to not only have a home but to belong. As a child, was there a difference between having a place to call home and having a place where you truly belonged?
A child in foster care is always straddling that fence. A foster home is a place to stay, but rarely a place where a child belongs. In the best situation, it can become both, but that is not a given, and that sense of belonging certainly doesn't happen overnight. It takes time to be known by and to know, those around you who begin as strangers. So much of belonging has to do with shared memories, and shared memories take time to build. Foster children rarely stay in one place long enough for those memories to be created, and to take root.
In Book Three, in the poem "The Landscape," you write, "I half suspected / my slow-burning anger, / simmering beneath the surface, / made me more dangerous / than I wanted proof of." Can anger ever be a productive force? Do you feel that your own anger played a part in the shaping of your identity?
Anger, in itself, is both healthy and necessary. There are things in life that should make us angry, and it is vital that we own and express that anger, for our own mental and emotional health. I learned that by studying my mother. Suppressing anger was very much part of my mother's cycle of mental illness. She would routinely stuff her emotions, which she attempted to cover with bouts of drinking. That attempt would fail, of course, which made way for those emotions to eventually erupt, leading to a full-blown psychotic event. Not good. Obviously, paranoid schizophrenia is a lot more complex than that, but suppressing anger definitely doesn't help. We all need to let our anger out. The question is how. For me, writing was key. Writing became the safety valve that allowed me to release anger in a healthy way. Otherwise, the anger likely would have destroyed me, as it has destroyed others.
Who are your childhood literary heroes and how did they inform the person you wanted to be? How did your opinion of these characters change once you'd grown up and grown older?
I can't think of a single character that I thought of in that way. I know there were certain authors I wished to emulate, though. Chief among these were James Baldwin, Khalil Gibran, and Doris Lessing. I wanted to write like them. And Chinua Achebe. I wanted to write with that kind of power. I still haven't ascended to their heights, of course, but they still inspire me. Along the way, I've added poets like Yeats, Lucille Clifton, Pablo Neruda, Mari Evans and others to that important list. The authors, themselves, rather than their characters, are my literary heroes.
In the poem "English Class," you say, "Writing was / a lonely business." What is the loneliest thing about writing and being a writer? What is the most rewarding?
Until you're able to carve your thoughts onto the page—and you're never able to capture all of them—you can't invite anyone in to share the journey of your mind, and the mind where is the full story plays out. If only others could see what you see! But, alas, the view is always limited. On the plus side, though, it is amazingly satisfying as a writer to be able to share a bit of the wild play of thought and emotion, memory and imagination, that goes on in one's own mind. It is a gift that pays dividends to both the writer and the reader. As rewards go, that's kind of hard to beat.
---
Ordinary Hazards: A Memoir will be published on October 8th.
Click here to read our review of Ordinary Hazards.