The pandemic habit that we hope will last—reading together! We pulled together some favorites that allow for exploration, discussion, or just lap time.
Some books are just nicer when they are shared! We pulled together some favorites that allow for exploration, discussion, or just cozy lap time.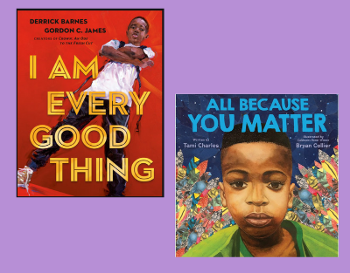 I Am Every Good Thing by Derrick Barnes. illus. by Gordon C. James. Penguin/Nancy Paulsen. ISBN 9780525518778.
Oil paintings bursting with energy and exuberance are the foundation for a layered manifesto of affirmation and industry, celebrating an empowered Black child while also briefly addressing and rejecting the painful sting of others' insults and dismissals.
Girl Versus Squirrel by Hayley Barrett. illus. by Renée Andriani. Holiday House/Margaret Ferguson Bks. ISBN 9780823442515.
It's a test of wills as Pearl uses Rube Goldberg–like ingenuity to build outrageous contraptions to outsmart a wily rodent squirrel—and instead of being vanquished, the squirrel excels at climbing higher, walking across tightropes, and jumping through nets.
Lion and Mouse by Jairo Buitrago. tr. from Spanish by Elisa Amado. illus. by Rafael Yockteng. Groundwood. ISBN 9781773062242.
What can another version of this classic fable possibly add to the canon? When it is created by Buitrago and Yockteng, the answer is quite a bit—from the first characterizations, readers understand that this is not their grandmother's Aesop.
All Because You Matter by Tami Charles. illus. by Bryan Collier. Scholastic/Orchard. ISBN 9781338574852.
A parent conveys a loving message to a Black boy who will be challenged by school, injustice, and more. Still, as a descendant of kings and queens, he is ready to take on his destiny and grow. Spirited, thoughtful illustrations depict a luminous journey from past to present.
Camp Tiger by Susan Choi. illus. by John Rocco. Putnam. ISBN 9780399173295.
A tiger joins a young boy and his family as they enjoy a camping weekend in the mountains. The boy and tiger spend the night together, and the creature remains throughout the weekend, even joining the family on a fishing excursion. Sharing this book allows alert readers to point out hints that the tiger is an imaginary comfort creature.
Birdsong by Julie Flett. illus. by Julie Flett. Greystone Kids. ISBN 9781771644730.
When a young girl moves to a home in the country, her initial loneliness is soothed by a new friendship. Simple and profound, this tender story is a reminder that finding a friend can make a strange place feel like home.
¡Vamos! Let's Go to the Market by Raúl Gonzalez. Illus. by author. HMH/Versify. ISBN 9781328557261.
It is an exciting day for Little Lobo. Today, he is going to the market with his dog, Bernabé. Gonzalez has created a simple narrative that includes Spanish vocabulary, which is playfully positioned surrounding the many streets, food stores, and buildings, encouraging readers to learn colorful new words.

Fry Bread: A Native American Family Story by Kevin Noble Maillard. illus. by Juana Martinez-Neal. Roaring Brook. ISBN 9781626727465.
Maillard explores the rich and varied cultures of modern Native Americans through the lens of fry bread. Each section opens with "Fry Bread" in red capital letters, followed by a short lyrical verses tying the food to different aspects of Indigenous life.
Saturday by Oge Mora. illus. by author. Little, Brown. ISBN 9780316431279.
In her second picture book, Mora continues to delight and impress with her unique collage style and storytelling tone, in a story about the one day each week a girl gets to spend with her mother.
The Proudest Blue: A Story of Hijab and Family by Ibtihaj Muhammad with S.K. Ali. illus. by Hatem Aly. Little, Brown. ISBN 9780316519007.
Faizah is excited for her first day of school but even more excited for her older sister, Asiya, who is starting sixth grade with her brand-new blue hijab. This is an empowering book for young readers who can see themselves in Asiya or know someone like her.
Snowy Race by April Jones Prince. illus. by Christine Davenier. Holiday/Margaret Ferguson. ISBN 9780823441419.
A young girl wakes up in her bedroom full of anticipation because today, "She's on her way." The child gets dressed as snowflakes fall outside her window and soon she and her dad march into the snowstorm and climb aboard a huge snowplow, preparing for the visitor who is worth all that effort.
My Papi Has a Motorcycle by Isabel Quintero. illus. by Zeke Peña. Penguin/Kokila. ISBN 9780525553410.
A radiant ode to a young girl's father and her L.A. neighborhood. Every evening, Daisy and her papi snap on their helmets (hers is purple with a unicorn, his a black vintage variety) and begin their ride on his electric blue motorcycle through Corona, CA.
Small in the City by Sydney Smith. illus. by author. Holiday/Neal Porter. ISBN 9780823442614.
Wordless panels show someone's silhouette looking out of a foggy window. The page turns and perspective shifts to show a child riding the bus dressed for winter. Snapshots, with snippets of city life—buildings, lights, crowds, and sidewalks—painted with dark ink lines that underscore the narrator's message about how overwhelming urban life can be, and makes this book ideal for sharing with reassuring adults.