Rosen's Teen Health and Wellness database provides fact-based, nonjudgmental information. The wealth of health care information will support teens for school assignments or adolescent curiosity.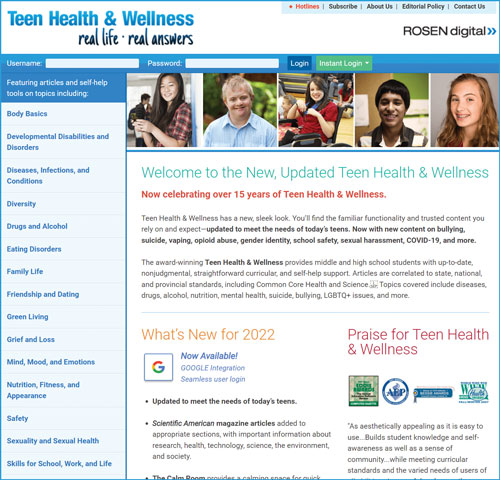 URL teenhealthandwellness.com/
Grade Level Gr 7 Up
Cost FTE-Based per Building: Up to 500 $395; 501-1000 $595; 1,001-2,500 $795; 2,500 or more $995
Overview Rosen's Teen Health and Wellness (THW) database provides fact-based, nonjudgmental information on acne, first credit cards, and biofuels. It addresses sensitive topics, such as body-shaming, an alcoholic parent, and date rape. Educators can take advantage of the linked curriculum standards and have students participate in the It's Your Voice video submissions, while students can search on their own to read about vaping, self-harm, and having an incarcerated parent. Articles are drawn from over 500 Rosen publications, as well as Scientific American. A review board of physicians, social workers, nutritionists, psychologists, and others vets all content. Links to a Calm Room, 24-hour crisis hotlines, In The News, and In The Know content benefit browsers.
Content Factual content articles, drawn from Rosen's Coping, Need to Know, and Teen Mental Health libraries as well as other Rosen publications and Scientific American articles, are the heart of THW. They follow a similar format with a left menu of subtopics. Many include myth and facts, 10 great questions to ask your doctor, resources, further reading, and glossary. Articles may include links to Rosen-approved Share Your Story student-written experiences, and student-created videos. A pop-up notifies users of links to resources outside THW, whether it's a .gov carbon footprint calculator or a product placement website to illustrate how movies market to teens. By the Numbers callouts signal statistics, while Call Your Doctor and Talk to a Trusted Adult callouts suggest when follow-up is recommended.
Licensed psychologist Dr. Jan answers featured questions with a library of hundreds of previously featured questions available. Dr. Jan often suggests talking to a trusted adult, counselor, or health care professional. The Calm Room (meditation resources) is accessible from every page as a ­soothing study accompaniment. Get Help Now ­hotlines are simple to navigate and appear on every page.
The video library features about 375 clips, each about two minutes long, both professional, and student-submitted. Student videos have parental permission from participants under 18 and are selected by the THW editorial team.
Student Ease of Use/Visual Appeal The home page prominently features photos of diverse teen faces, with the Calm Room link in a shaded box. The search box is easy to find at the top right, and a Browse By left menu lists subjects and an alphabetical browse. Tell Your Story and two current-interest areas encourage exploration or guide class assignments. Search is fast and intuitive.
Articles are written for teens, can be translated into over 100 languages, and read aloud, with options for text highlighting. Some articles feature a strictly factual presentation and others have nuanced, supportive content that encourages talking with a parent or professional. The article on teen pregnancy, for example, includes statistics, concerns for young people thinking things through, adoption options, information on the 2022 Dobbs decision, preparing for a newborn, teen pregnancy myths and facts, and 10 questions to ask a doctor or pregnancy counselor.
The Calm Room lives up to its name, with an interface of primarily blues and greens, featuring videos of falling leaves and a peaceful lake, rain sounds and a crackling fireplace, a kitten rescue cam, and links to mindfulness apps and podcasts.
Author information and formatted citations accompany every article and integrate with NoodleTools. Articles can be shared to Google Drive, downloaded, saved, printed, and emailed. The hotlines link is pinned to the top menu and appears on every page. Rosen also provides a free mobile app with national hotline information.
Educator Ease of Use/Visual Appeal With a subscription, schools can enable SSO through Google, Clever, and more, or authenticate via password, referring URL, or IP authentication. For the most part, educators and students have the same landing pages, search capabilities, and article access, although administrators can request that any topic group be toggled off and not visible to students. Administrators can also customize the hotlines seen by their students to include local numbers along with the national contacts provided by THW.
In The News and Did You Know? content showcases high interest, current topics for use across subject areas. It's Your Voice videos let educators tap student creativity by assigning a short public service announcement, and with parental permission, submit it for inclusion in relevant THW articles.
Educator Resources Librarian/educator resources include access to lesson plans, program ideas, case studies of successful implementation, promo materials, and a 10-page PDF Users Guide, along with a 37-minute video tutorial. Access to usage statistics add to usefulness.
The curriculum correlations are highly useful, and searchable by state, grade, and subject area along with CASEL, National Health Education Standards (NHES), science, language arts, and social and ­emotional learning.
Verdict The wealth of health care information, from anxiety and budgeting to West Nile virus and yeast infections, will support teens for school assignments, adolescent curiosity, or those in need of specific information. Inclusive and nonjudgmental language provides crucial information while steering teens towards asking for help. Numbers for 24-hour national hotlines are always at the ready. Highly recommended for all libraries serving teens.
---
Maggie Knapp, Trinity Valley Sch., Fort Worth, TX